I got a new baby niece last week (woo hoo!) and I will soon be sending my sister a copy of my friend Catherine McCord's wonderful new cookbook for families, Weelicious. Fans of Catherine's Weelicious.com blog know that she offers fresh, easy, healthy recipes for every stage of childhood – from baby's first purées to pulled pork tacos (we just had those last night – yummm!).
** One lucky reader will win a copy of Weelicious – read on for the giveaway! **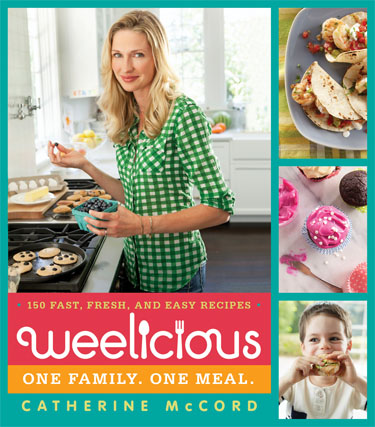 The pages of Weelicious are full of easy, family-friendly recipes along with photos of Catherine's beautiful family exploring and enjoying it all. A unique and insightful feature of the book are the quotes from Weelicious.com readers who have tried the recipes. If you've ever cooked for kids you know that they can be tough critics – as you're making a recipe it's reassuring to hear that real kids actually liked the dish!
I must have tried out 7 or 8 recipes from the book last week, and I've barely scratched the surface of everything I want to make. A few of our new favorites include: Mac, Chicken and Cheese Bites (extra portions freeze great), Sweet Potato Muffins (so moist!), Graham Crackers (sweet, delicious and I know exactly what's in them), Chicken Noodle Soup (much appreciated by my sniffly 4-year old) and, of course, the aforementioned Slow-Cooker Pulled Pork Tacos.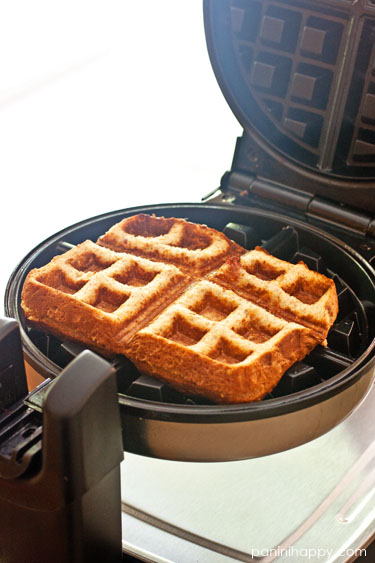 PBRB "Waffle" Sammies was the Weelicious recipe that was most perfect to share on Panini Happy. I'd heard about people grilling panini-like sandwiches on waffle irons before (in fact, there's a whole blog dedicated to "waffle-izing" food) but I'd never actually tried it myself. You just heat up a waffle iron, prepare your sandwich – for this one, Catherine combines peanut butter with a mashup of raspberries and bananas – and grill it off just like a waffle. The fillings are sealed inside and the outside turn golden and crispy. My kids think these are amazing! I'm going to have fun trying this technique with cheese and other fillings too. Read on for the recipe, but first…
** WIN A COPY OF WEELICIOUS! **
To enter the giveaway, please click on the "Log In to Enter" button below. NOTE: Don't worry, you're not creating an account or anything – it's just how this giveaway system works, we're trying something new here. 🙂
a Rafflecopter giveaway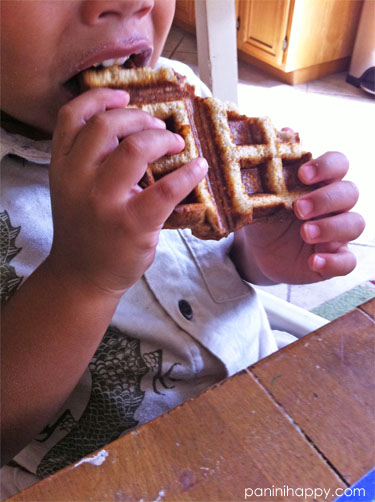 [print_this]
PBRB "Waffle" Sammies
Excerpted from Weelicious, reprinted with permission. (c) 2012 by Catherine McCord.
Prep time: 10 minutes | Cook time: 12 minutes | Total time: 22 minutes
Yield: 4 sandwiches
INGREDIENTS:
1

ripe banana

1/2 cup

fresh raspberries

8 slices

whole wheat bread

1/2 cup

peanut, almond or sunflower butter
DIRECTIONS:
Preheat the waffle iron.
Place the banana and raspberries in a bowl and mash with a fork.
Spread 2 tablespoons of the banana-raspberry mixture on 1 bread slice. Spread 2 tablespoons of nut butter on a second bread slice and press together to make a sandwich. Repeat to make the rest of the sandwiches.
Bake each sammie in the waffle iron for 3 minutes, or until golden.
Cool and serve.
[/print_this]