Big Game Week on Panini Happy continues with Grilled Crab Cakes and with Old Bay Aioli!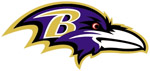 Having the Baltimore Ravens play in the Super Bowl this year finally gave me the perfect reason to grill crab cakes on the panini press. Maryland is known for both its crab and for it's classic seafood seasoning, Old Bay – I've combined the two for a flavorful grilled appetizer in honor of this team. (Don't despair, San Francisco fans –  I celebrated the Niners earlier this week).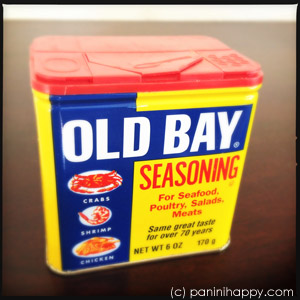 A dollop of homemade Old Bay Aioli is right at home on top of each crab cake (there's even some inside the cakes). Growing up on the West Coast, I didn't come to know (and love) Old Bay until just a few years ago on a summer vacation to the Delaware/Maryland coast. If you haven't tried it, it's a kicky blend of celery salt, pepper, paprika and other spices. The softshell crab sandwich and fries I ordered on the boardwalk came seasoned with it – plus there was the big shaker on the counter in case that wasn't enough. I am a new fan!
Grilling these crab cakes on the panini press, with just a tiny amount of oil brushed over the top for better browning and crisping, is a little healthier and maybe even a bit faster than frying them in the traditional way. The recipe makes 12 mini crab cakes – a nice amount for a party tray – or you could easily double it for a larger crowd.
Happy football-watching!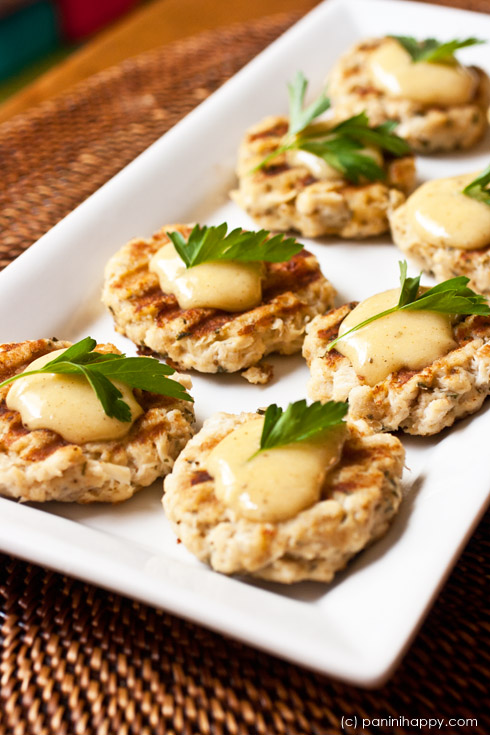 [print_this]
Grilled Crab Cakes with Old Bay Aioli
Crab Cakes recipe adapted from the side of the OLD BAY Seasoning package
Prep time: 20 minutes | Cook time: 8 minutes | Total time: 28 minutes
Yield: 12 small crab cakes
INGREDIENTS:
Old Bay Aioli:
1

large egg yolk

1 1/2 teaspoons

apple cider vinegar

1 1/2 teaspoons

freshly squeezed lemon juice

1

garlic clove, minced

1

anchovy fillet, minced

3/4 cup

vegetable oil

1/4 cup

extra-virgin olive oil

1 teaspoon

Old Bay seasoning
Crab Cakes:
2 slices

bread, crusts removed

2 tablespoons

Old Bay Aioli (see recipe)

1 1/2 teaspoons

Old Bay seasoning

2 teaspoons

parsley flakes

1/2 teaspoon

Dijon mustard

1

egg, beaten

1 lb.

crab meat

1 tablespoon

extra-virgin olive oil

Fresh parsley, for garnish
DIRECTIONS:
Old Bay Aioli:
Roll up a kitchen towel and wrap it around the base of a medium-size bowl to keep it stable. Whisk together the egg yolk, vinegar, lemon juice, garlic, and anchovy until well combined.
Start adding the vegetable oil a few drops of at a time while whisking vigorously. Continue whisking while gradually pouring in the remaining vegetable oil in a thin, thread-like stream. The mixture will slowly turn an opaque golden yellow. As you add more oil, the dressing will become thicker and creamy and take on a paler yellow color.
Whisk in the olive oil, also in a thin stream. Whisk in the Old Bay seasoning. Cover the bowl and refrigerate the aioli until you're ready to use it, up to 4 days.
Crab Cakes:
Heat the panini press to medium-high heat.
Break the bread into small pieces. Mix in the aioli, Old Bay, parsley, mustard and egg. Stir in the crab meat. Shape the mixture into approximately 12 patties. Brush a little olive oil over the top of each patty.
In batches, arrange crab cakes on the grill and close the lid gently so that the upper plate is touching them without flattening them. Grill until they're cooked through and browned on top, 3 to 4 minutes.
Transfer the crab cakes to a serving platter. Spoon a dollop of Old Bay Aioli on top of each crab cake and garnish with parsley.
[/print_this]