Longtime readers of Panini Happy could already predict what's happening on the blog this week – it's my annual Big Game Week, where I share football-worthy panini press recipes celebrating each of the two teams playing in the Super Bowl.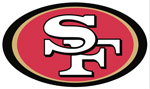 I can't claim to be a devoted football fan, but I do enjoy the spectacle of the Super Bowl…and its food. And, as a Bay Area native, I'm excited to see the San Francisco 49ers in the big game this year! There are a million different directions I could have gone in to honor San Francisco, it's such an incredible food town. Ultimately, I kept coming back to sourdough bread…I just couldn't make San Francisco-themed panini without it. And so we have Turkey, Bacon and Swiss Panini with Green Goddess mayonnaise on sourdough. Looking at the photos now, they're even sporting the team colors, scarlet and gold. 🙂

San Francisco is definitely famous for its tangy sourdough bread, but did you know that the city lays claim to the original Green Goddess dressing as well? I learned this back when I first made very garlic and herby, and very green Green Goddess Grilled Cheese Panini. Mixing those same punchy flavors into mayonnaise makes an especially tasty sandwich spread.
Even the turkey in these panini remind me of San Francisco, because of the time I visited the Columbus Salame plant up there, where they make some of my favorite deli turkey. The Columbus slices are a bit thicker than other deli turkey brands I've tried, which makes it easier to lay them neatly on a sandwich. I usually buy their low-sodium version at Trader Joe's, which to me is just the right amount of seasoning (some deli meats are incredibly salty).
Cut them up for appetizers or serve them as the main event – either way, these Turkey, Bacon and Swiss Panini are sure to please a crowd.
Baltimore fans: I've got you covered with another football-worthy grilled treat later this week – stay tuned!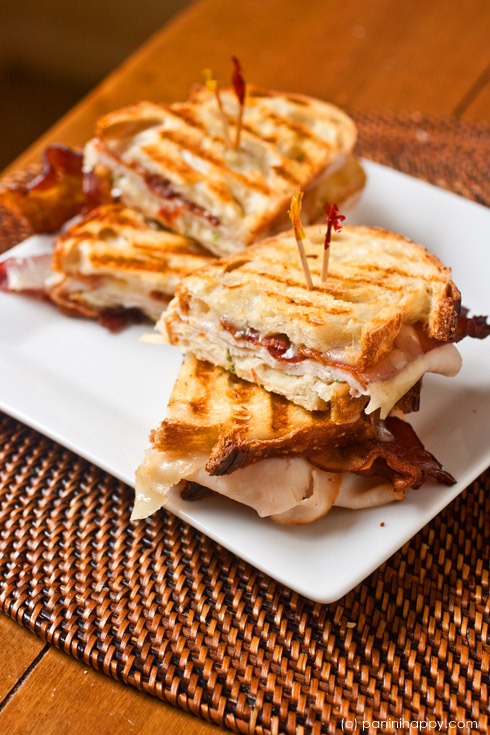 [print_this]
Turkey, Bacon and Swiss Panini with Green Goddess Mayonnaise
Green Goddess Mayonnaise recipe comes from Country Living
Prep time: 15 minutes | Cook time: 10 minutes | Total time: 25 minutes
Yield: 4 panini
INGREDIENTS:
Green Goddess Mayonnaise:
1/2 cup

mayonnaise

1

anchovy fillet

1/4 cup

chopped chives

1/4 cup

chopped parsley

1 teaspoon

lemon juice

1 teaspoon

white wine vinegar
Panini:
4 tablespoons

butter, at room temperature

8 slices

sourdough bread

8 ounces

turkey breast, sliced

8 strips

cooked bacon

4 ounces

Swiss cheese, sliced
DIRECTIONS:
Mix all of the mayonnaise ingredients in a food processor until the herbs are finely chopped and the ingredients are combined and smooth.
Heat the panini press to medium-high heat.
For each sandwich: Spread butter on two slices of bread to flavor the outside of the sandwich. Flip over one slice of bread and top it with a few spoonfuls of Green Goddess mayonnaise, turkey, bacon and cheese. Close the sandwich with the other slice of bread, buttered side up.
Grill two panini at a time, with the lid closed, until the cheese is melted and the bread is toasted, 4 to 5 minutes. Store any remaining mayonnaise covered in the refrigerator for up to 2 days.
[/print_this]