Panini Happy turns 5 this week! If there's one thing I've learned about the panini press through blogging about it over the past 5 years it's that it is far from a "just a sandwich maker". We love panini here, don't get me wrong. But I'll admit I get especially excited when I discover another great use for the panini press beyond sandwiches.
I screamed from the rooftops about ice cream cones…I was bullish over bacon…I rejoiced for mini layer cakes. Now…I'm all about Panini Press Brownies.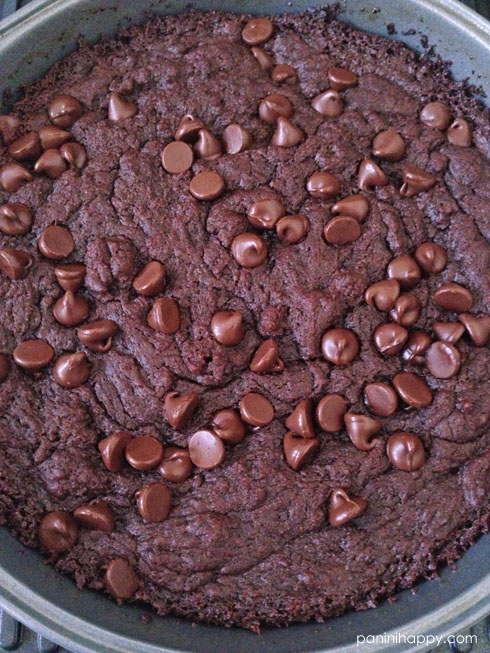 What? How? Why? Allow me to explain.
WHAT: You can bake brownies on your panini press. Really good brownies – chewy, fudgy, just like we like 'em.
HOW: Instead of putting an 8×8 square pan in the oven you just pour brownie batter into an 8-inch cake pan, set it on the panini press and close the lid. The square pan didn't quite fit on either of my presses, but the shallower round pan did. Set the heat to around medium and check it when chocolate aromas begin to fill the room, about 20 minutes. Brownies are rather forgiving, so even if you bake them a minute or two too little or too much they'll still taste great.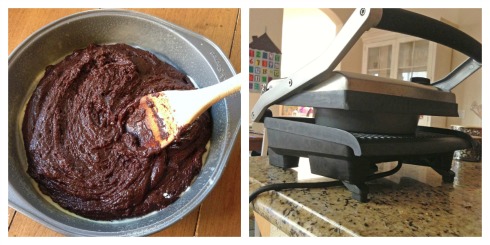 WHY: When I come up with these crazy ideas for alternative uses for a panini press, I always want to make sure it isn't a gimmick but there's a valid, beneficial reason for them. Panini Press Brownies solve the predicament of being without an oven – whether the oven is occupied by other dishes or there actually isn't one present, such as in a dorm room, workplace, cabin, etc. I purposely chose a brownie recipe (one of my favorites, from King Arthur Flour) that didn't require the use of a stove, because if you've got a stove chances are you've got an oven. Dorms, offices and vacation rentals often have microwaves so I adapted the instructions for a microwave. Now that I think about it, you could probably even melt the butter on the panini press as well, eliminating the need for any other appliance at all. Shoot…well, be on the lookout for an update to this post at some point once I try that. 🙂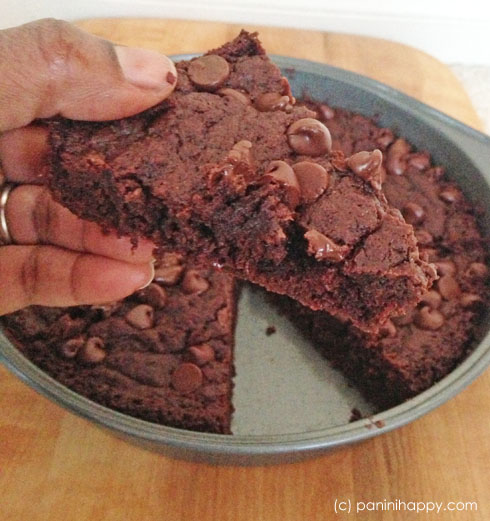 [print_this]
Panini Press Brownies
Adapted from the Best Fudge Brownies Ever recipe from the back of the King Arthur Unbleached All-Purpose Flour package
Prep time: 15 minutes | Cook time: 20 minutes | Total time: 35 minutes
Yield: 8 large brownies
INGREDIENTS:
1/2 cup (1 stick)

unsalted butter

1 cup plus 2 tablespoons

sugar

2

large eggs

1/2 cup plus 2 tablespoons

unsweetened cocoa

1/2 teaspoon

salt

1/2 teaspoon

baking powder

1 1/2 teaspoons

vanilla extract

3/4 cup

flour

1 cup

semi-sweet chocolate chips
DIRECTIONS:
Set an 8-inch round cake pan on your panini press and close the lid to verify that it will fit. The entire pan should be covered by the upper plate. If the pan fits, remove it from the panini press and lightly grease it or spray it with baking spray. Heat the panini press to medium-high heat.
In a medium-sized microwave-safe bowl, melt the butter in the microwave, then add the sugar and stir to combine. Return the mixture to microwave and heat it on high until it's hot but not bubbling, about 1 minute. Stir the mixture again until the butter and sugar are fully incorporated and the mixture is rather smooth and shiny.
Stir in the cocoa, salt, baking powder and vanilla. Add the eggs, beating till smooth; then add the flour and half of the chocolate chips, beating till well combined. Spoon the batter into the prepared pan. Sprinkle on the rest of the chocolate chips.
Transfer the pan to the panini press and close the lid, making sure the entire pan is covered by the upper plate. Bake the brownies for about 20 minutes. The exact baking time will vary according to your panini press. My best method of determining when they're done is by smell – if you start smelling chocolate, the brownies are probably close to done. When you insert a toothpick into the center it should come out dry. The brownies should feel set both on the edges, and in the center. Cool completely before cutting and serving.
[/print_this]