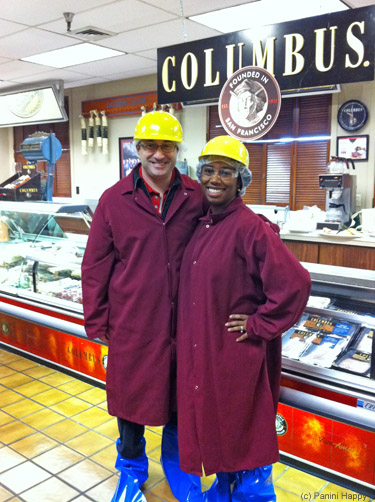 No, these aren't early Halloween costumes. Our stylish regalia – hair net, hard hat, glasses, plastic shoe covers and an enormous lab-style coat – are what one wears on a tour of a salami plant. Columbus Salame (you might remember the Columbus salami and cheese plate I posted earlier this year) was kind enough to invite my husband Mike and I to visit their South San Francisco production facility while we were in town for my 15th college reunion last weekend.
A little known piece of trivia about me – my first job after college was as a financial auditor and one of my first assignments 15 years ago was to visit the Columbus Salame factory. I've come full circle!
It was like jumping inside an episode of Unwrapped, if you know that show on the Food Network. Joined by the plant manager, vice president of operations and senior marketing manager, my husband and I had the chance to step (carefully) through the cool rooms and hallways, observing the salami-making process from start to finish. While I walked around wide-eyed with my little iPhone camera, snapping away, Mike took on the role of scribe, thumbing out copious notes on his Blackberry. This two-hour outing turned out to be a real highlight of our weekend.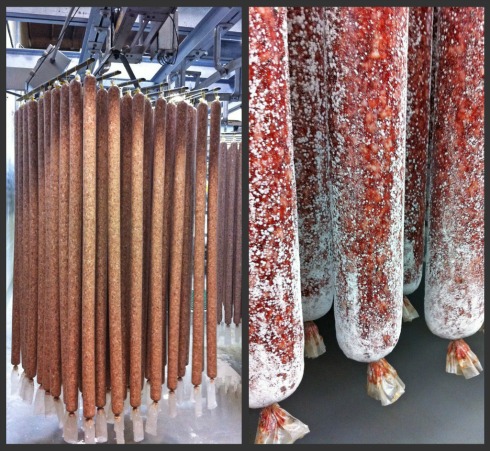 I'll admit I was hesitant to inhale when the doors first opened, out of fear of what tons of raw pork might smell like. But, much to my relief, the place actually didn't smell bad at all. It just smelled like…well, salami.
Columbus makes 38 different kinds of salami in this facility, one hundred percent from pork. The "paste" (aka, the pork filling) is combined with spices and stuffed into casings. There were hundreds of these encased "bats" hanging uniformly from racks overhead. The salami you see in the photos above were destined to become sliced product, so to get the highest yield in the slicing process they make the bats extra long. Their slicing machine can generate 5,600 slices in a minute.
After the salami are stuffed into casings they get inoculated with a live mold, which helps with flavor, controls how the salami shrink in the drying process and protects the red color. It creates a barrier that allows a natural slow fermentation to take place. I never knew that all salami are treated with mold – it's just that some for some varieties the mold is removed at the end. It takes about 30 days for the salami to cure, shrinking substantially in size as they sweat in the drying rooms.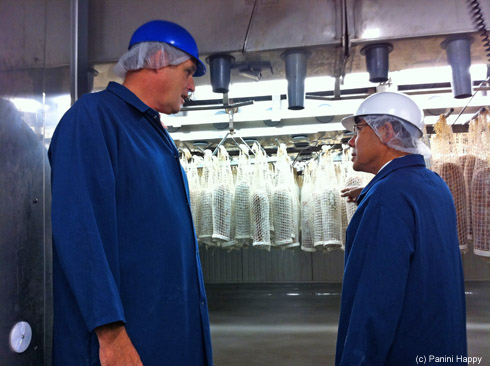 Plant manager Tom and VP of Operations Ken showed us how a number of a different types of salami are made. For this jumbo variety, called finocchiona, they have to stitch two casings together in order to fit the wide diameter. Salami this size take considerably longer to cure, about 90 days. You can actually see an imprint of the supportive netting in the final product.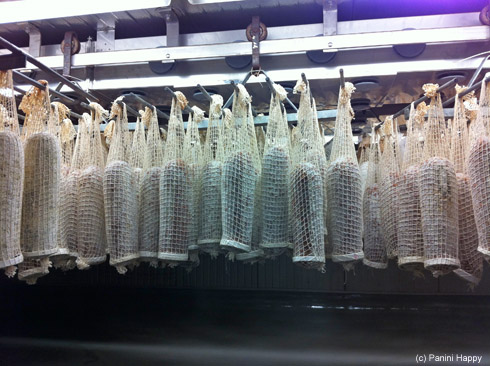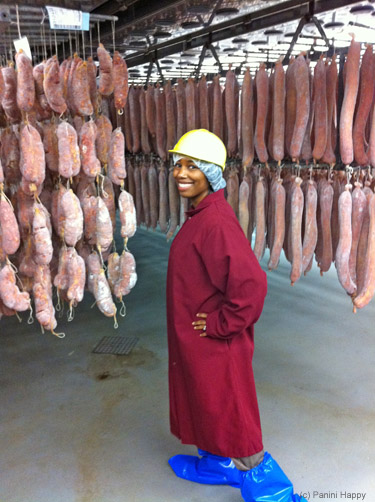 These more rustic looking salami are from Columbus' artisan line, hand crafted from fresh pork and cured in natural casings (aka pork intestines).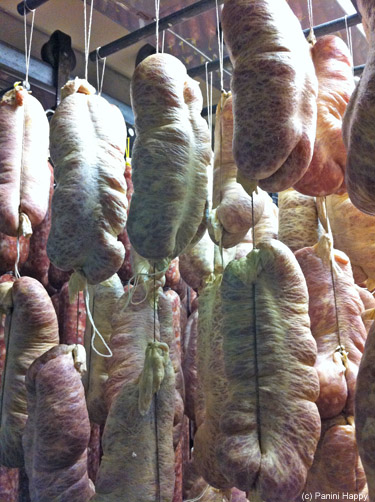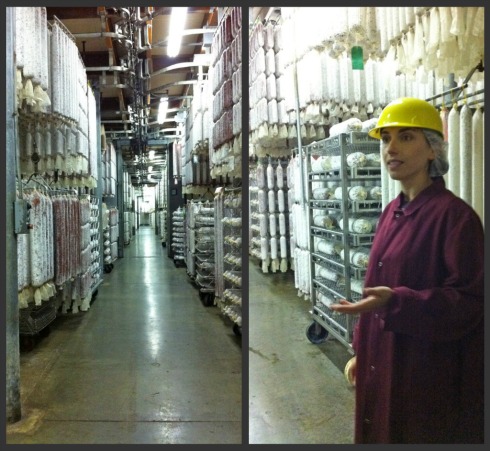 The hallway in this final room seemed to extend forever. The holiday season is, of course, the busiest time of year for Columbus and they are stocked and ready to go. From here, the salami go to packaging and distribution. We watched as several employees actually wrapped the product in paper by hand.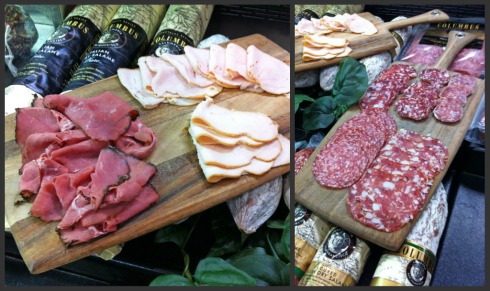 We saved the best part for last – the tasting! In their little mock deli setup they have in their offices, Senior Marketing Manager Valeria Fiorito sliced up a salami feast as well as a few samples from their line of deli meats. We ate so much! Now that we had learned so much about the nuances of the grind, the spices, the casings, the aging – well, we just had to taste everything. Our favorite was the hot sopressata from the Artisan line – a little bit spicy with a kick of fennel. My other favorite was the finocchiona mini (a smaller version of the big finocchiona we saw hanging in the plant) which also has pronounced fennel flavor. Who knew I was such a fennel fan?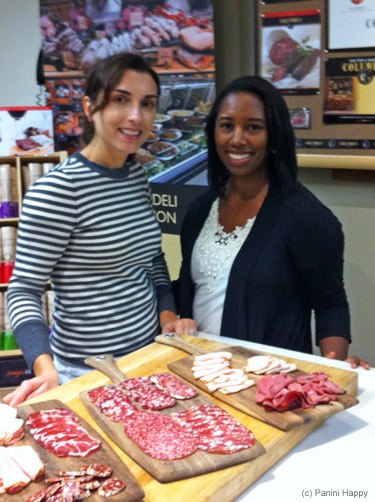 Thanks so much to Valeria, Ken and Tom for taking the time to put together an incredibly tasty and informative morning for us!