Happy New Year!! And a big WELCOME to all of our new Panini Happy community members who received a panini press as a holiday gift – here's to lots more fun grilling in 2013.
Are you in the mood for something a little on the lighter side? Yeah, me too. I'm pretty sure you'll love these Grilled Shrimp Tostadas with Mashed Black Beans and Avocado Salsa Fresca – not only for their big fresh flavor, but also for how quickly you can pull them together. You can grill half a pound of shrimp on the panini press in about 90 seconds. That is reason alone to have panini-grilled shrimp in your regular weeknight dinner rotation, don't you think?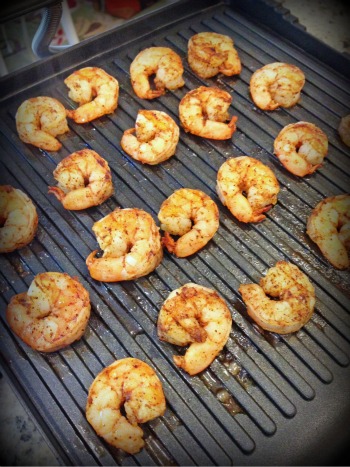 For these tostadas I first let the shrimp bathe in a chili-lime marinade before they hit the grill. Also grilled on the panini press: the tostada shells. You just brush a little oil on regular tortillas and after a minute or so on the grill they're toasty, crisp, and ready for toppings. Black beans mashed with garlic (I love this technique from Rick Bayless) and sprinkled with queso fresco make a flavorful base to hold the shrimp on the tostada, and an avocado salsa fresca brings a punch of bright, southwestern flavor to the dish.
Whether you've resolved to eat lighter in the new year or you just want to have fun trying out your panini press in a new way, enjoy these tasty tostadas!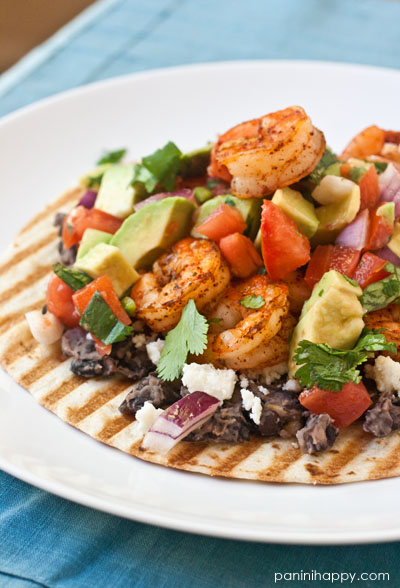 [print_this]
Grilled Shrimp Tostadas with Mashed Black Beans and Avocado Salsa Fresca
Prep time: 32 minutes | Cook time: 20 minutes | Total time: 52 minutes
Yield: 4 tostadas
INGREDIENTS:
Avocado Salsa Fresca:
1

ripe medium avocado, pitted, peeled, and diced

2

medium ripe tomatoes, diced

3 tablespoons

chopped red onion

1/2

jalapeno pepper, seeded and finely chopped

2 tablespoons

chopped fresh cilantro

1/4 teaspoon

coarse salt
Shrimp:
2 tablespoons

vegetable oil

1 teaspoon

fresh lime juice

1 teaspoon

chili powder

1/4 teaspoon

ground cumin

1/4 teaspoon

coarse salt

1 pound

large raw shrimp, peeled and deveined
Mashed Black Beans:
2 tablespoons

vegetable oil

3

garlic cloves, minced

1 (15-ounce) can

black beans, rinsed and drained well

1 to 2 tablespoons

water

Coarse salt
Tostadas:
1 tablespoon

vegetable oil

4 (8-inch)

flour tortillas

Coarse salt

4 ounces

crumbled queso fresco or shredded Monterey Jack cheese
DIRECTIONS:
Avocado Salsa Fresca:

Toss the avocado, tomatoes, onion, jalapeno pepper, cilantro, lime juice, and salt together in a medium bowl. Cover the bowl and refrigerate for 30 minutes to allow the flavors to combine.

Shrimp:

In a medium bowl, stir together the vegetable oil, lime juice, chili powder, cumin, and salt. Add the shrimp and toss to coat them in the marinade. Cover the bowl let the shrimp marinate in the refrigerator while you prepare the rest of the tostada. (Note: Since this marinade contains lime juice, which is acidic and can start to "cook" the shrimp after a while, I don't recommend marinating the shrimp for longer than 30 minutes.)

Mashed Black Beans:

Heat the vegetable oil in a large skillet over medium heat. Add in the garlic and stir it in the oil for until it's fragrant and just beginning to brown, about 1 minute. Add the black beans. Give the beans a rough mash with a potato masher (they should still be a bit chunky) and cook them for another minute or two until they're heated through. Take the pan off the heat and stir in 1 to 2 tablespoons of water until the beans are spreadable. Season the beans with coarse salt to taste and partially cover the pan to keep them warm.

Tostadas:

Heat the panini press to medium-high heat.
Lightly brush a tortilla with vegetable oil and transfer it to the grill. Sprinkle the tortilla with a little salt and close the lid. Grill the tortilla until it's crisped, with golden grill marks, 1 to 2 minutes. Repeat with the rest of the tortillas. Keep the grill heated.
Remove the shrimp from the marinade (discarding the remaining marinade) and put half of them on the grill. Close the lid and grill the shrimp until they're cooked through and opaque, 1 to 2 minutes. Repeat with the remaining shrimp.
Spread one-quarter of the Mashed Black Beans over each grilled tortilla (if they have cooled off too much to be spreadable, put them back on the stove over low heat for a few minutes and stir in water 1 teaspoon at a time). Top them with queso fresco, grilled shrimp, and Avocado Salsa Fresca and serve.
[/print_this]