If Double Chocolate Panini are wrong, I don't think I want to be right. 🙂
My little kids came home from the park yesterday just as I was finishing up with these photos, and their jaws kind of dropped when they saw the mischief I had gotten into in the kitchen. A chorus of "Can I have chocolate sandwich?!! I want bite!!" began immediately. Nutella and mini chocolate chips on grilled challah isn't quite an everyday sandwich in our house. But as a special sweet treat every once in a blue moon? Yeah, I'll go there.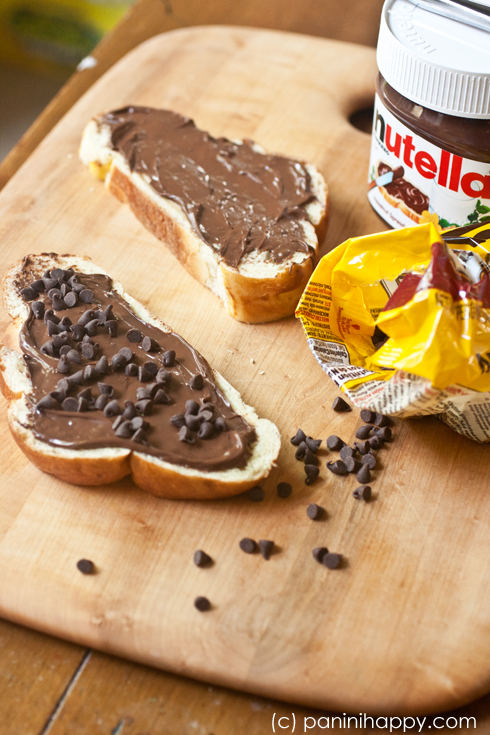 This is definitely dessert…a very rich and sharable dessert. To keep the mini chocolate chips intact — I like their crunchy texture amidst the creamy Nutella — I grill these quickly on high heat. The bread toasts and gets grill marks easily, due to the oil in the bread, but the chips in the middle of the sandwich don't have a chance to melt.
If these sound like they were inspired by a pregnancy craving, it's because they were. Not mine, but my friend Bev's from Bev Cooks. If you follow Bev's blog, you know she arguably has the most humorous voice in food blogging. She's wacky, super-cute, self-deprecating and, of course, a wonderful cook. And now she's expecting twins!
In between her delicious savory recipes, Bev has been chronicling her "Thoughts On This Whole Being Knocked Up Business" – in this latest one she's found herself clamoring for chocolate. So these Double Chocolate Panini are in honor of her (double for twins, get it?). A bunch of us are throwing a virtual baby shower for her on our blogs today – be sure to check out the full buffet!
Appetizers
Bacon Cotija Guacamole from Gaby Dalkin
Gruyère Gougères from Shaina Olmanson
Lemon Risotto Tarts from Kelly Salemi
Goat Cheese Crostini with Pesto and Roasted Red Peppers from Liz Della Croce
Spinach and Feta Quinoa Bites from Aggie Goodman
Roasted Red Grape, Brie and Rosemary Flatbread from Laurie McNamara
The Fastest Appetizer Ever from Brooke McLay
Apple Pear Tart – Two Ways from Sarah Glyer
Drinks
Chocolate Chai Frappe from Brandy O'Neill
Cherry Chocolate Kiss Smoothie from Amy Flanigan
Cranberry Sorbet Bellini – Non-Alcoholic and Alcoholic from Megan Keno
Peppermint Mocha Affogato from Christina Lane
toasted marshmallow cream hot chocolate from Jessica Merchant
Pomegranate Lemonade Punch from Heather Christo
Salads
Kale Salad with Pomegranate, Orange and Pine Nuts from Rachel Gurk
Pear Cranberry Arugula Salad from Tracy Benjamin
Brussels Sprout Salad + maple roasted cranberry dressing from Katie Unger
Gluten-Free Pasta Salad from Lisa Thiele
Hearty Roasted Winter Vegetable Salad with Honey Ginger Dressing from Heather Disarro
Winter Citrus Salad from Catherine McCord
Entrees
Creamy Roasted Red Pepper and Chicken Sausage Pasta from Heidi Larsen
Eggplant Parmesan Lasagna from Joanne Ozug
cheesy chicken enchilada 'double' stacks from Lauren Grier
Jalapeno Popper Chicken Soup from Kevin Lynch
Thai Spiced Chicken with Coconut Cream Swiss Chard from Brandi Evans
Sausage and Red Pepper Quiche from Tasty Kitchen
Roasted Red Pepper Pasta with Goat Cheese from Julie Deily
Desserts
Soft and Chewy Oatmeal Coconut Chocolate Chip Cookies from Averie Sunshine
Glazed Dulce de Leche Pound Cake from Meagan Micozzi
Mississippi Mud Pie Brownie Ice Cream from Megan DeKok
Buttermint Frosted Sugar Cookie Cups from Shelly Jaronsky
4-Ingredient Peanut Butter Chocolate Cookies from Ali Ebright
Sweet Potato Creme Brulee from Brian Samuels
Whole Wheat Double Chocolate Mint Cookies from Aimée Wimbush-Bourque
Mini Chocolate Stout Cheesecake with Salted Beer Caramel Sauce from Jackie Dodd
Red Velvet Hi Hat Cookies from Kristan Roland
Double Chocolate Panini from me!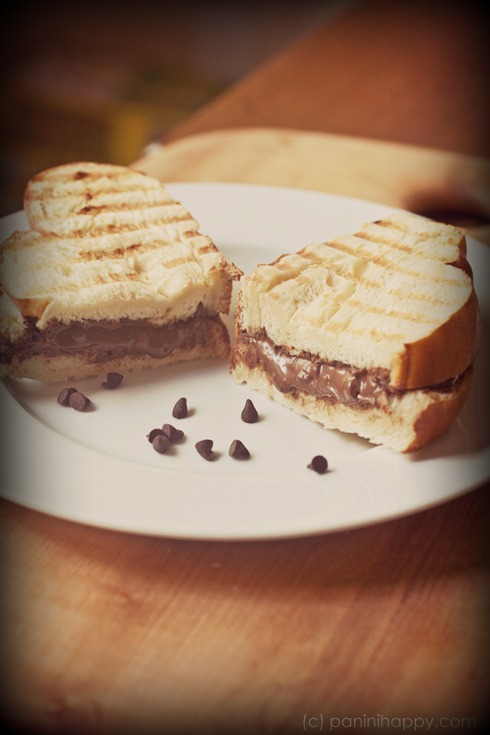 [print_this]
Double Chocolate Panini
By Kathy Strahs, PaniniHappy.com
Prep time: 10 minutes | Cook time: 2 minutes | Total time: 12 minutes
Yield: 4 panini
INGREDIENTS:
8 slices

challah, brioche or other enriched bread

8 tablespoons

Nutella or other chocolaty spread

4 tablespoons

mini chocolate chips
DIRECTIONS:
Heat the panini press to high heat.
For each sandwich: Take two slices of bread and spread a tablespoon of Nutella on each. Scatter a tablespoon of mini chocolate chips over one slice of bread, and close the sandwich with the other slice.
Grill two panini at a time, with the lid closed, for 1 minute until the bread is toasted with grill marks (don't grill too long, or the chocolate chips will melt).
[/print_this]