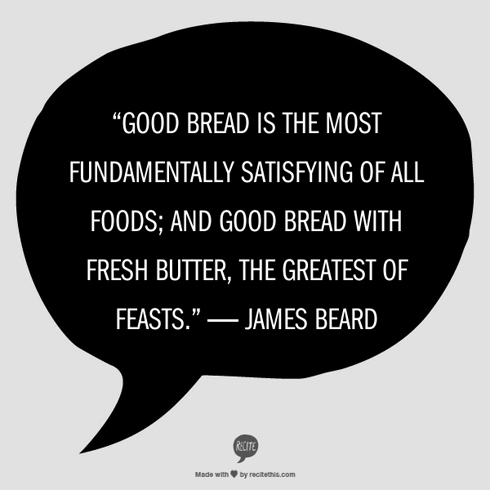 Happy New Year! We've got a lot of new friends joining the Panini Happy community after the holidays — let's start out 2014 going back to the basics. Over the next month or so we'll take a closer look at the ingredients and techniques to make excellent panini (you can also find more of my ingredient advice in the intro section of The Ultimate Panini Press Cookbook).
We all know the foundation of good panini is good bread. But what's really the best bread for making panini? I'll help you choose!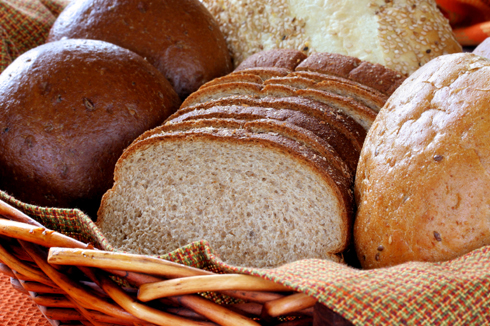 Which Bread Should I Choose?
You're standing in the bakery department, with a slew of bread choices displayed before you. Whole loaves, sliced loaves, long baguettes, "panini rolls", flatbreads — how do you know what to choose? My advice is to think about your bread in the context of the rest of the ingredients in your sandwich, and consider the following:
Will the sandwich fillings hold up well on sliced bread (e.g., not overly wet), or do they need a more substantial base, like a baguette?
Are we looking for the bread to contribute flavor to the sandwich — such as with an olive or rosemary bread — or should it play more of a neutral supporting role?
Are there specific breads that match the cultural heritage of the sandwich, such as a telera roll for a Mexican torta or ciabatta for a sandwich with lots of Italian meats?
There's no real "right" or "wrong"– it's all a matter of personal preference — but it's helpful to have some idea in mind of what you're looking for your bread to "do" for your sandwich.
My favorite breads to slice (for grilled cheese and other panini with minimal wet ingredients):
Sourdough (my San Francisco Bay Area roots are showing)
Levain
Multigrain
Brioche (yes, it's soft, but I slice it thick and use very light pressure)
Challah (sliced thick, just like with brioche)
My favorite rolls (for panini with wet ingredients):
Baguette (I slice off the dome to create a flat grilling surface)
Ciabatta
Other Italian "panini rolls" (often softer ciabatta-style bread)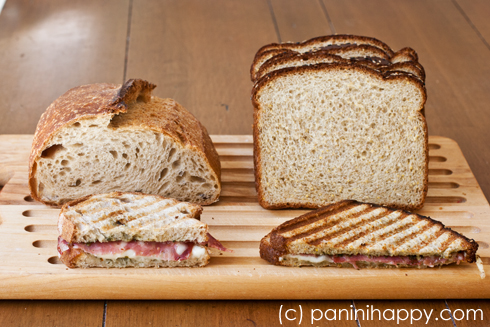 Denser is Better
You'll notice throughout my recipes that I often call for bread that is "sliced from a dense bakery loaf". Generally speaking, denser is best when it comes to grilling panini. Dense bread — such as the freeform loaves you find at the bakery department — will hold its shape better than soft, pre-sliced sandwich bread when it gets between the two grates of a panini press.
In the photo above, I grilled two sandwiches with the same fillings but different breads. The sandwich on the left is grilled on a country levain, which I sliced about 1/2-inch thick. As you can see, the bread maintained its thickness, for the most part, and didn't get soggy. On the right is the same sandwich grilled on regular pre-sliced sandwich bread. The soft, airy bread — which is normally very desirable for cold sandwiches — flattened to nearly a cracker. The weight of the panini press plates is simply too much for softer breads. Dense is the way to go.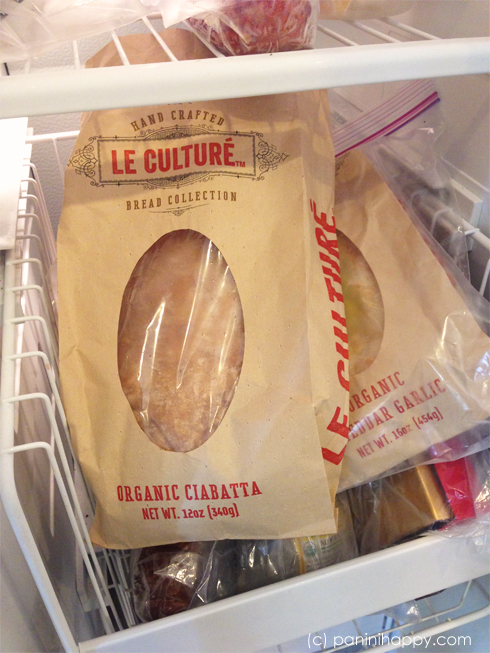 Saved By the Grill
Rustic artisan loaves can sometimes be a little pricier than everyday sandwich bread. If you want to enjoy artisan-quality bread, but rather not pay artisan prices, consider the day-old basket. Day old bread is typically sold at a discount, and once it's toasted it usually tastes just as good as fresh-baked.
Another great option is to keep par-baked loaves (I often see them at Trader Joe's), which tend to be less expensive, on hand in the freezer. When you're ready to make panini, just finish baking the bread in the oven and — voilà — you've got a fresh-baked loaf (and your kitchen smells pretty terrific).
Beyond the Baguette
I've been talking a lot about traditional breads, but I encourage you to also experiment with nontraditional options: pound cake, banana bread, tortillas, zucchini bread, corn bread — whatever you can possibly "sandwich." The idea is to have fun and make something delicious. Happy Grilling!