Potatoes, butter, salt and pepper — that's all it apparently takes to get me very excited about a side dish! I was inspired to make today's Grilled Potatoes Anna on the panini press after tasting the Pommes Anna (the Frenchier name for it) at Brooklyn Girl, a popular new(ish) restaurant in the Mission Hills neighborhood of San Diego. My husband, Mike, and I were there to preview their prix fixe menu lineup for San Diego Restaurant Week, which runs next week (Jan 19-24, 2014).
Read on to see the highlights from our terrific dinner at Brooklyn Girl, and my recipe for a simply delicious side dish on your panini press, Grilled Potatoes Anna!


Mike and I love the opportunity to get a great deal and try out new-to-us restaurants during Restaurant Week. More than 180 restaurants are participating this time around (two-course lunch menus are $10, $15 or $20; three-course dinners are $25, $35 or $45).
Brooklyn Girl, which is offering a $35 dinner menu, started things off by bringing a simple bowl of buttery, salty popcorn to the table. Between that and the canvas portraits of Christopher Walken and Woody Allen (painted by one of the waiters!) gazing down at us from the walls, we felt right at home, Brooklyn-style.

Mike and I debated over which was our favorite bite of the evening — this was mine, Bacon Wrapped Vietnamese Meatballs with Quick Tiger Slaw and sweet chili glaze. The meatballs were made with shrimp and pork, they were incredible. I should mention, by the way, that there are a variety of dishes representing different cultures throughout the menu, reflecting the diversity of food you can get in Brooklyn.

Ok, oysters aren't on the Restaurant Week menu, but Brooklyn Girl is also an oyster bar and we couldn't resist ordering some of these beauties.

Our server recommended the Deep Fried Pickles, which were excellent — they were pickled Brussels sprouts, carrots and cauliflower in a really light, tempura-like batter with a thyme-walnut yogurt sauce for dipping. I'm pretty sure we finished these off!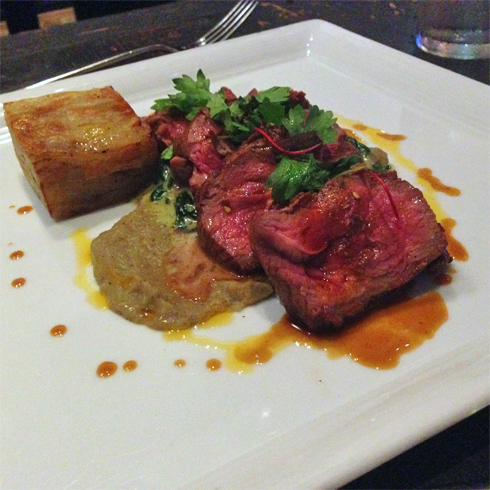 Ok, so here's where the Pommes Anna come in…they were served alongside the Colorado Lamb Sirloin entrée (that layered block at the upper left). I'm not sure how many potato layers there were in there — 10? 20? They were a real treat…so much so that I came home and made my own!
Mike likes meat a little rarer than I do — this was medium-rare — but I really liked this dish too. The lamb was served over an eggplant purée and za'atar creamed spinach (which wasn't overly heavy, like creamed spinach can sometimes be).