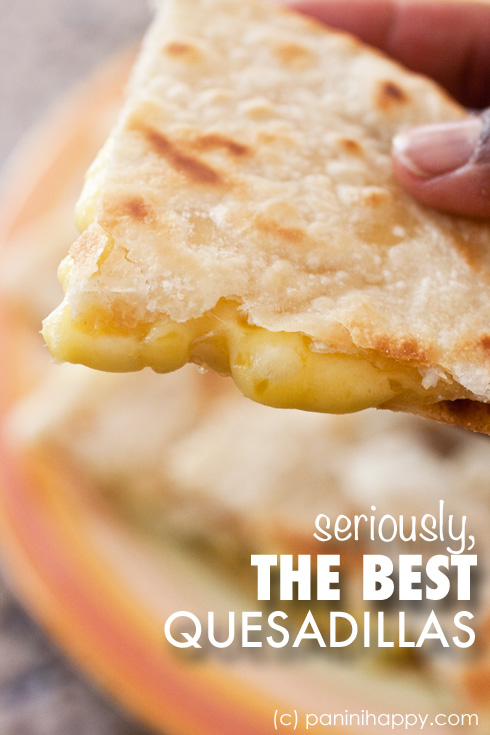 Over the years I've noticed there's kind of a "difference", shall we say, between the quesadillas I get at a Mexican restaurant or taquería and the ones I make at home. The restaurant flour tortillas taste a whole lot better than my store-bought ones (or have flavor at all!) — they're very savory, with soft and flaky texture. The restaurant cheese, which always seems to melt smoother than the cheddar blend I usually buy, is stretchy, like mozzarella, but still buttery.
I've finally figured out why!
I now know how to make Seriously, The Best Homemade Quesadillas and you will too, by the end of this post! And, yes, we're going to use the panini press to do it. 🙂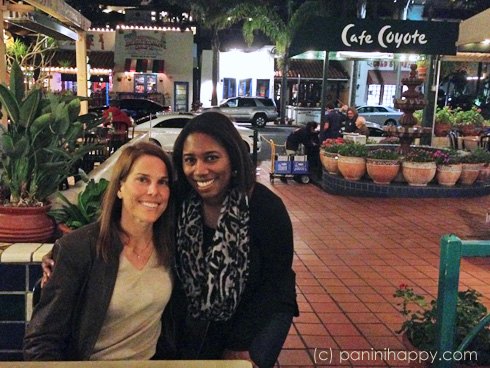 Once again, I was inspired by a night out at a local restaurant — this time my friend Angie joined me for margaritas and Mexican food at Cafe Coyote in San Diego's Old Town.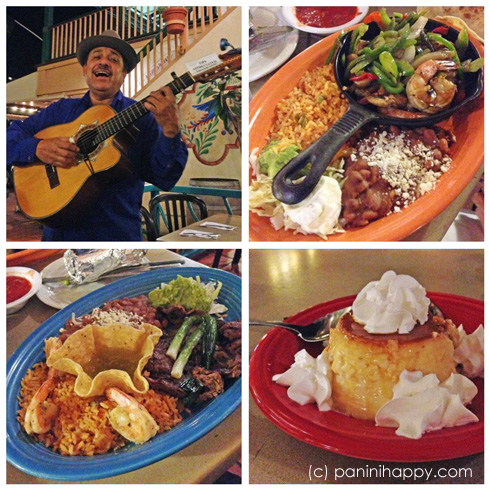 Ladies rolling out homemade tortillas, serenading mariachis, margaritas, and traditional Mexican food on a big outdoor patio — that's Cafe Coyote. It's a fun place for a night out with friends, and Angie and I were long overdue to catch up. She enjoyed her shrimp fajitas, I went with our server's good recommendation for the Tierra y Mar (shrimp and carne asada), and we shared a light flan for dessert. But what stood out to us from the meal more than anything were the homemade tortillas.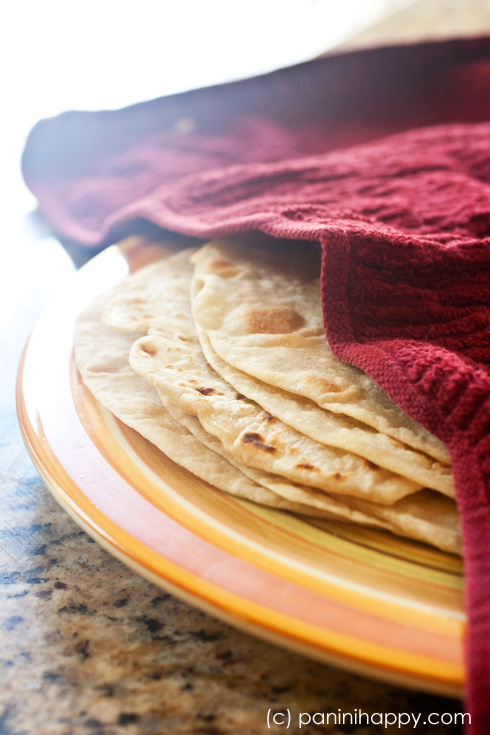 I don't think I'd ever made flour tortillas at home before this past weekend, but if I did I'm quite sure I didn't use a key traditional ingredient that gives tortillas their gently porky flavor and soft, flaky texture…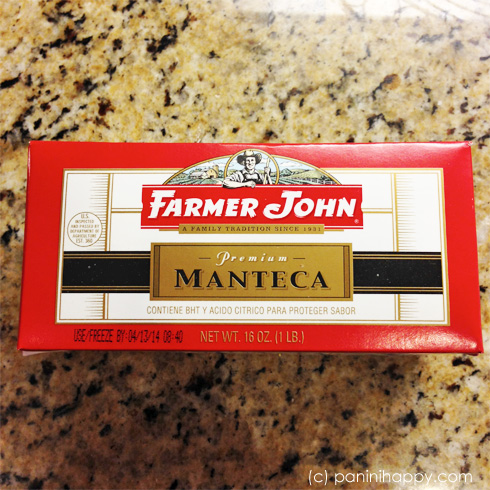 …manteca, aka lard. Honestly, I thought if I showed a photo of the other side of the package which says "LARD" in big letters, a lot of you might cringe. I know I did. Modern day wisdom has taught us to steer clear of animal fats. That said…according to Dr. Andrew Weil (whom I tend to trust), lard actually has nearly one-fourth the saturated fat and more than twice the monounsaturated fat as butter. Interesting. Some commercial lard products are hydrogenated, which is pretty bad, but I called Farmer John directly to confirm that theirs is not hydrogenated.
All I know for sure is that lard makes those nice pockets in the dough that become delightfully flaky layers. And that is pretty good!

It's just four simple ingredients — flour, lard, salt and water — kneaded, rested, rolled and griddled. As you can see above, I opted to griddle the tortillas on my Cuisinart 5-in-1 Griddler, the grill I know many of you have at home. With its flat heated surface, it's pretty similar to the traditional comal that's used for making tortillas in Mexico. Advantages to using the Griddler: it's a large surface area so you can cook two tortillas at a time. A downside: the plates don't seem to get as hot as the stove (even when you turn the heat all the way up) so instead of taking 30-45 seconds per side, it's more like 2 minutes per side. But if you happen to be in a place without a stove (e.g., dorm room, office, hotel) you can still make fresh tortillas on your electric griddle!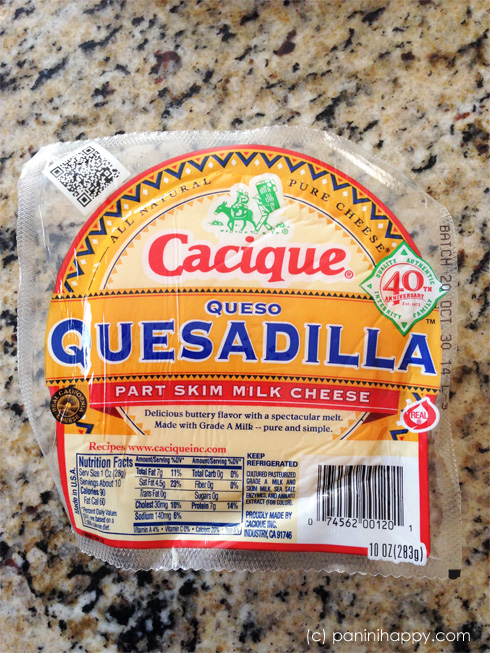 All right, the cheese. Most of us use whatever cheese we happen to have on hand, and that's great. But I finally wanted to find that stretchy, buttery cheese that they use at the taquería. I went to the grocery store, looking for Oaxaca cheese, but instead I came across something called Queso Quesadilla. I'll admit, my first reaction was "Oh, please…that sounds so fake!" But it turns out that Queso Quesadilla is actually a thing, and it melts fabulously.

My favorite quesadillas are the simplest ones — just cheese, and maybe a few jalapeños (I used the tamed kind — more tangy than spicy). Soft, flaky homemade flour tortillas + oozy, stretchy cheese = seriously, the best. 🙂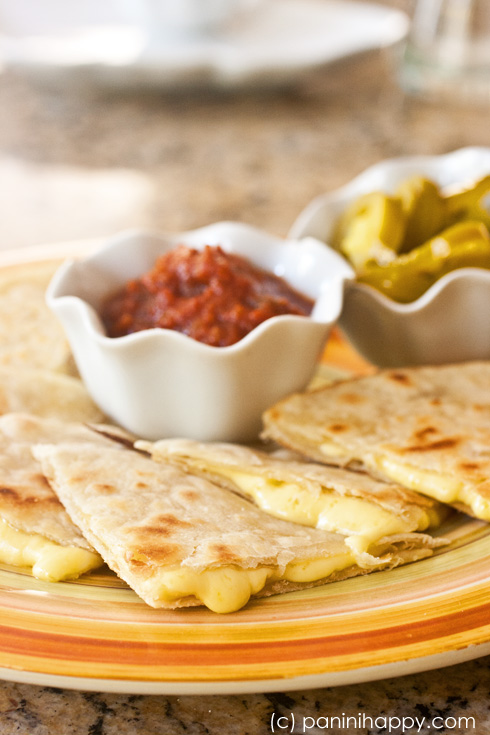 [print_this]
Seriously, The Best Homemade Quesadillas
Prep time: 10 minutes | Cook time: 20 minutes | Total time: 30 minutes
Yield: 6 quesadillas
INGREDIENTS:
DIRECTIONS:
Heat the panini press to medium-high heat. If your panini press comes with flat plates, I'd recommend using them.
For each quesadilla: Arrange a handful of cheese on top of one tortilla. Scatter jalapeños over the cheese, if using. Close the quesadilla with a second tortilla.
Carefully transfer the quesadilla to the panini press and close the lid (if your press has a height adjustment feature, adjust it so the upper plate rests on the quesadilla without squeezing it too much). Grill each quesadilla, one at a time, with the closed until the cheese is melted and the tortillas are browned and toasted, about 3 minutes. Slice into wedges and serve with condiments such as salsa, guacamole and sour cream.
[/print_this]