I'll get right to the punchline – these were over the top, scarf 'em down good! I'm just thankful that I only use still images on Panini Happy rather than any kind of live webcam or you'd have witnessed my husband and I spattering the kitchen countertops with chocolate sauce as we repeatedly dunked more than our fair share of grilled little peanut butter and marshmallow fluff pound cake sandwiches last night.  All that buttery cake soaking up the rich chocolate, with the slightly salty chunky peanut butter and sticky-sweet marshmallow fluff oozing out…it's beyond!
I must thank and give credit to Grace Parisi at Food & Wine magazine for coming up with this idea.  I'd been toying with ideas for s'mores panini so when I came across her recipe for a skillet-grilled s'mores sandwich in this month's issue I knew I had to give it a try.  My adaptation utilizes a panini press rather than a skillet (surprised?) so you get these great crispy golden ridges on the outside – perfect for cradling all of that yummy chocolate sauce.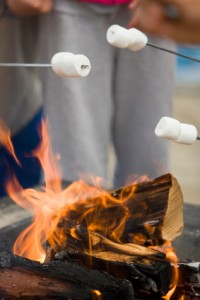 If you spent a good chunk of your childhood attending weekly Girl Scout meetings, as I did, then the mere mention of s'mores instantly transports you back to those days.  It was our camping trip standby – if there was a campfire, we roasted marshmallows for s'mores.
Although I'm not sure you could call my approach to marshmallow prep "roasting".  Probably more like "flash charring".  While the other girls patiently positioned their skewers over just the right section of fire to get a nice even toast on their marshmallows, I took the more direct approach of sticking mine directly into the fire, catching a flame, blowing it out and assembling the melted goodness into my s'more.  By the time their marshmallows were "done", I was licking the last remants of Hershey's chocolate and graham cracker crumbs off of my fingers.  When you know you've got a delicious treat ahead of you, who's got time to waste??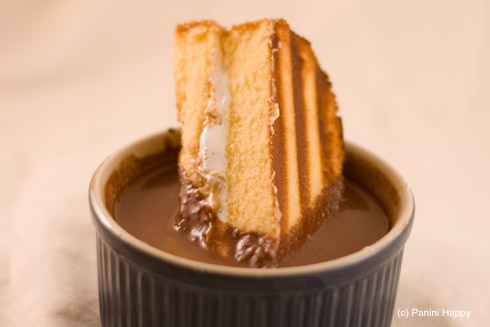 Peanut Butter Pound Cake S'mores Panini
(adapted from Food & Wine, December 2008)
INGREDIENTS:
2 oz. semisweet chocolate, chopped
1/2 cup heavy cream
One 1-pound frozen pound cake, preferably Sara Lee, thawed
1/4 cup chunky peanut butter (not natural)
1/3 cup marshmallow fluff
1 tablespoon unsalted butter, melted
DIRECTIONS:
Put the chocolate in a small heatproof bowl. In a small saucepan, heat the cream until hot to the touch. Pour the cream over the chocolate and let stand until melted. Whisk until smooth.
Preheat a panini grill to medium-high heat (375 degrees).
Using a serrated knife, trim off the top and bottom of the pound cake so that the cake is about 1-1/4 inches thick. Carefully split the pound cake in half horizontally. Spread the peanut butter on one half and the marshmallow on the other, leaving a 1/2-inch border all around (note: the marshmallow fluff will spread when it's heated). Sandwich the two halves together and brush the top and bottom with the butter.
Grill until golden and nearly warmed through, about 2 minutes (depending on the size of your grill, you may need to divide the sandwich in half cross-wise to fit). Transfer to a work surface and cut the cake into twelve 3/4-inch-wide strips. Serve immediately with the chocolate sauce and enjoy!