Can you believe these are lunch bags? How cute are they?!  Lunch boxes sure have come a long way from the Darth Vader and Dukes of Hazzard ones we had in elementary school.  Leave it to the master of Italian cooking, Mario Batali, to come up with insulated lunch bags that not only keep your panini hot (yes, he actually had panini in mind when creating them!) but are also super-chic.  I'm giving away THREE of them! Read on for my review or jump ahead to find out how to win!  THE CONTEST IS NOW CLOSED.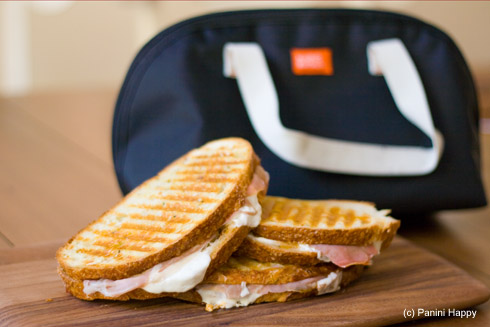 I was really curious to see just how well these cute bags actually performed at keeping food hot.  I tested out the Satchel (pictured above), which is about the size of a small handbag.  I can't say my testing was entirely scientific, but I gave it my best shot.  I grilled three of Mario's Classic Panini, an absolutely delicious combination of olive tapenade, prosciutto and fresh mozzarella on ciabatta, the recipe for which comes as part of the bag's packaging.  I ate half of Sandwich #1 fresh off the grill – a) I was really hungry, and b) I wanted to sample the "best case" – and left the other half on the plate.  I packaged Sandwich #2 in some aluminum foil and let it sit on the counter.  And, lastly, I wrapped Sandwich #3 in aluminum foil and stored it in the Satchel.  Then I waited for 30 minutes.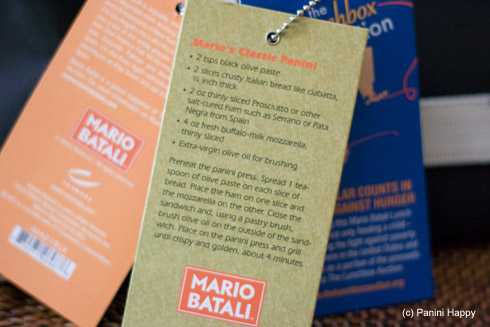 After 30 minutes, Sandwich #1 (left out in the open) was room temperature, as one might expect, and the cheese was rather chewy.  Not great.  Sandwich #2 (packed in foil only) was a bit warmer, a little soggy but generally tasted all right.  Sandwich #3 (packed in foil and stored in the Satchel) was as hot as when I'd put it in the bag! I couldn't believe it.  I honestly hadn't expected there to be any notable difference from wrapping in foil alone.  The only issue was somewhat gummy bread, an unavoidable casualty of steam being trapped inside the foil.  But overall, the Satchel turned out to be an excellent way to keep hot panini hot.  Bravo, Chef Batali!
Win a Mario Batali Lunch Bag of Your Own!

To enter, leave a comment on this post about your favorite lunch box from childhood. Mine?  Well, I loathed it at the time but in retrospect I feel proud to have carried the old Tupperware Pak n Carry lunch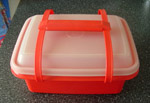 box in red.  THREE winners will be selected at random to receive their choice of one of the following three super-stylish Mario Batali lunch bags: the Satchel, the Messenger or the Collapsible Tote.  Great holiday gift!  The entire line is now available at eBags (10% of the sale of each bag benefits The Lunchbox Fund and Food Bank For New York City).   Apologies to my international readers – we can only ship the prizes to the U.S. Contest closes Wednesday, November 12 at 12 PM PST.  THE CONTEST IS NOW CLOSED.