We've eaten too much, we've shopped too much…it's time to lighten things up a little, don't you think? I've got just the thing: Lemon-Basil Grilled Cheese Panini. Lemon zest and fresh basil make these about the most fresh-tasting grilled cheese sandwiches you're going to find.
As grilled cheese sandwiches go, these are actually a little lighter than most. You might recall this post from a few years ago where I mentioned that feta and mozzarella are a bit lower in fat than other cheeses. I'm fighting the urge to say "tastes great, less filling"…but yeah, pretty much. 🙂 Normally, I butter the bread before grilling, but I do love how well olive oil pairs with lemon and feta, so that's what I use for these panini.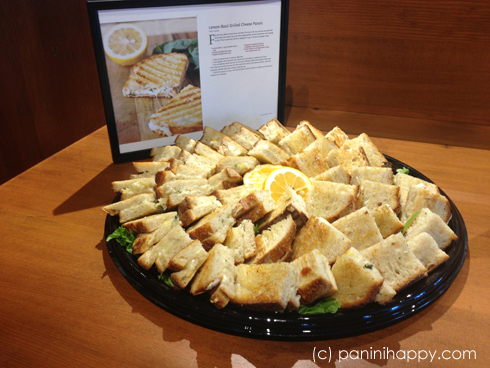 Whole Foods served this beautiful platter of my Lemon-Basil Grilled Cheese Panini at a cookbook party they hosted for me in their Del Mar store a few months ago. It makes terrific party food, and also makes a great accompaniment to soups, such as roasted red pepper or tomato.
[print_this]
Lemon-Basil Grilled Cheese Panini
Prep time: 15 minutes | Cook time: 10 minutes | Total time: 25 minutes
Yield: 4 panini
INGREDIENTS:
4 ounces (about 1 cup)

shredded mozzarella

2 ounces

crumbled feta cheese

2 teaspoons

grated lemon zest

2 teaspoons

chopped fresh basil

1 tablespoon

extra-virgin olive oil

8 slices

Italian or sourdough bread, sliced from a dense bakery loaf
DIRECTIONS:
Heat the panini press to medium-high heat.
Toss together the mozzarella, feta, lemon zest, and basil in a medium-size bowl.
For each sandwich: Brush olive oil on two slices of bread to flavor the outside of the sandwich. Flip over one slice and top the other side with a layer of the cheese mixture. Close the sandwich with the other slice of bread, oiled side up.
Grill two panini at a time, with the lid closed, until the cheese is melted and the bread is toasted, 4 to 5 minutes.
[/print_this]