What a year of panini-making it has been!  Whether Santa just brought you a new panini press this week or you've been grilling with me all year, I hope you'll enjoy this little summary of my best panini of 2008.  And stay tuned in the new year for lots more fun with the panini grill – be sure to subscribe to Panini Happy to keep posted!
PANINI HAPPY'S 10 BEST PANINI OF 2008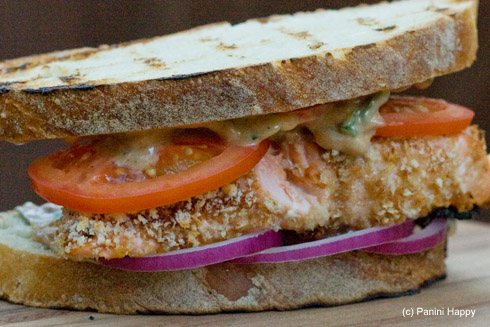 10. Barbecued Salmon Panini Wild coho salmon is basted with a layer of barbecue sauce and crusted in panko bread crumbs before being grilled to perfection.  It's then transferred to some lightly-charred rustic bread, with a generous amount of barbecue remoulade, fresh tomatoes and red onions.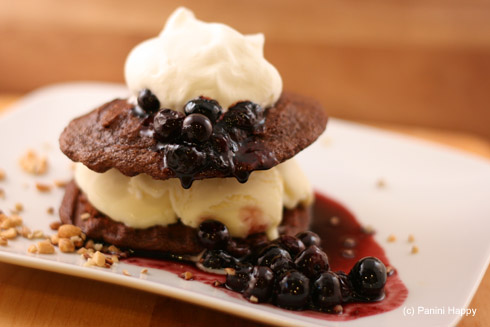 9. Grilled Brownie Sundae Panini Grilling brownies on the panini press – it works!  I grilled these up with some slightly tart frozen yogurt inside, the most wonderful blueberry balsamic syrup, a sprinkling of chopped nuts and some freshly whipped cream.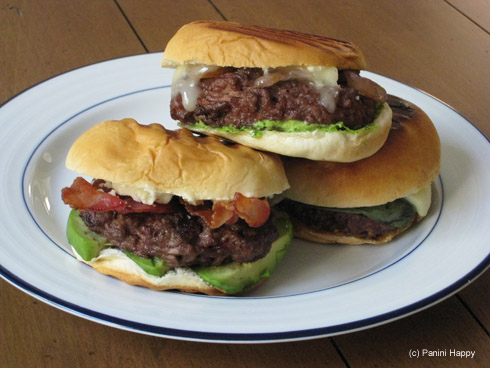 8. Burger Mini-Panini Sliders For the 4th of July this year we had a blast dressing up our mini-panini hamburger sliders with Humboldt Fog, Point Reyes Blue and Old Quebec Vintage Cheddar cheeses, a variety of condiments and other fun toppings.
7. Grilled Cheese & Honey Panini This sandwich pairs smooth and creamy Swiss raclette cheese with a touch of honey on crispy buttered French bread to create and sweet and savory combination you'll want to devour in minutes.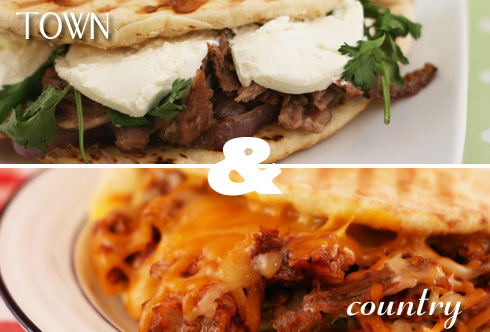 6. "Town" & "Country" Pulled Pork Panini My "Town" version features creamy goat cheese, sweet caramelized onions and fresh cilantro.  The "Country" version – tossed in tangy BBQ sauce and nestled with coleslaw and a blend of cheddar and monterey jack cheeses – is more like the classic southern favorite.  Plus cheese.
5. Tomato, Mozzarella & Basil Panini A classic Italian caprese salad is reinvented as bright-flavored panini…and it's not just for vegetarians either. Sweet heirloom tomatoes and creamy, melted fresh mozzarella are accented by fresh basil and a hint of lemon zest and olive oil on a French baguette.
4. Buffalo Chicken Panini One of my first panini, it's still a favorite. Simmered in wing sauce, the chicken has all the spicy and tangy Buffalo chicken flavors you love nestled with creamy melted blue cheese and sweet caramelized onions. All folded up inside a pita bread, grilled nice and toasty.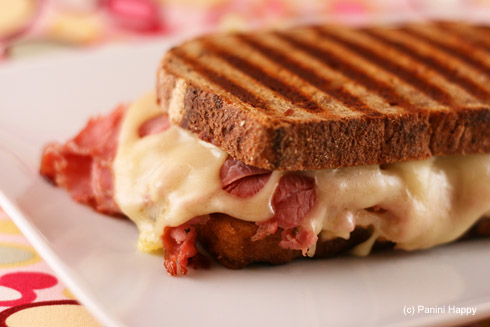 3. Classic Reuben Panini  Just the sight of all of that bright pink, salty corned beef piled on top of mouthwateringly-acidic sauerkraut, with Thousand Island dressing and melted Swiss cheese on rye…you know you're in for a flavor explosion.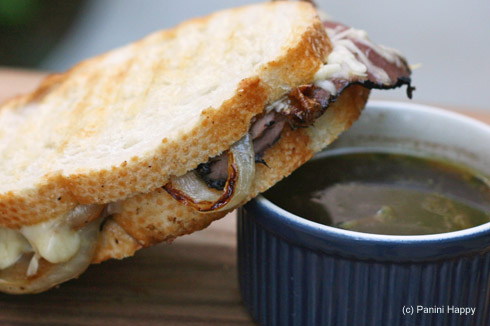 2. French Dip Panini Sweet caramelized onions, tender roast beef, and Gruyere cheese grilled on crispy French bread with a side of richly robust au jus.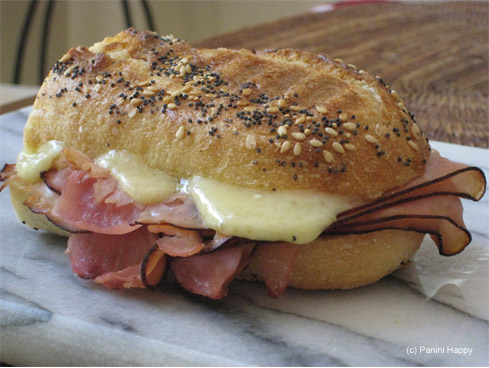 1. Emmental, Honey & Ham Panini My all-time favorite so far! It's a sweet and savory balance of honey, sharp aged Emmental cheese and thin slices of Black Forest ham, all grilled on a seeded French baguette.