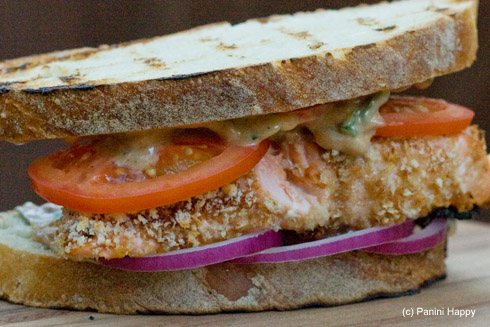 Today's panini recipe is inspired by my new adopted "dad" – Curt from Bucky's Barbecue and Bread.  Curt and I are participating in the Adopt-a-Blogger event and before I tell you more about him and the event, let me describe this Barbecued Salmon sandwich I made to welcome him to Panini Happy.  As his blog name implies, Curt is a barbecue guy and so on this final day of summer I kept my panini maker in its box for a change and fired up my trusty Weber gas grill.   Wild coho salmon is basted with a layer of barbecue sauce and crusted in panko bread crumbs before being grilled to perfection.  It's then transferred to some lightly-charred rustic bread, with a generous amount of barbecue remoulade, fresh tomatoes and red onions.  I want you to know that this sandwich now ranks among my all-time favorites!
If you haven't already heard about the Adopt-a-Blogger event, hosted by Kristen at Dine & Dish, it's a wonderful mentorship opportunity that brings together those of us who are newer on the block and more "seasoned" (pun intended!) food bloggers.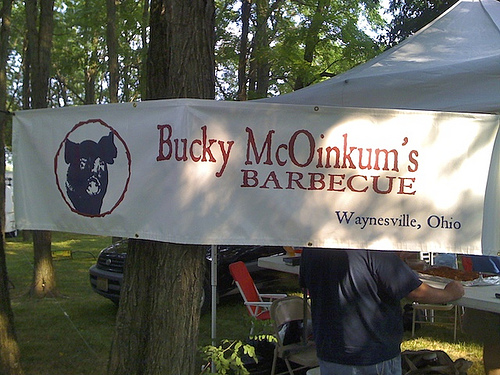 I was pretty impressed when I learned that Curt competes in barbecue competitions – how cool is that?  I've seen those competitions on the Food Network and I'm always in awe of the passion and dedication of these folks who start up their smokers and grills in the wee hours in pursuit of the perfect ribs, brisket, chicken or pork shoulder.  If you've ever wondered what it would be like to be on the competition circuit, you should definitely check out his blog for some really interesting insights.  Curt's been honing his barbecue skills for four years now, and along the way also picked up a keen interest in baking bread.  I'm thinking that between his home-baked bread and his grilled meats it's just a matter of time before he moves into sandwiches too!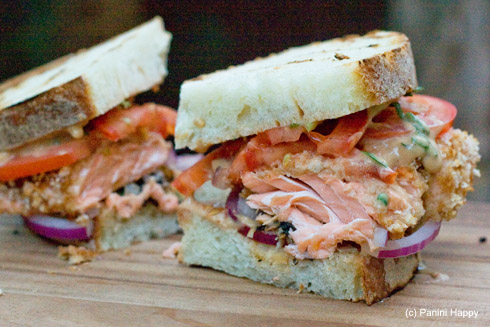 Barbecued Salmon Panini
Serves 4
INGREDIENTS:
1 cup mayonnaise (I used reduced-fat)
1 cup barbecue sauce (I used KC Masterpiece Original)
1 green onion, chopped
2 tablespoons fresh parsley, chopped
2 tablespoons celery, minced
1 clove garlic, minced
Salt and pepper
1 lb. fresh salmon
1 cup panko bread crumbs
Canola oil (for brushing the grill)
8 slices rustic bread
1 red onion, thinly sliced
2 tomatoes, thinly sliced
DIRECTIONS:
To make the barbecue remoulade: Combine mayonnaise and 1/2 cup of the barbecue sauce in a medium bowl.  Mix in green onions, parsley, celery and garlic.  Season with salt and pepper to taste.  Cover and refrigerate until sandwich assembly.
Heat the barbecue grill to high heat.*
Divide salmon into 4 equal portions.  Brush remaining barbecue sauce over the top and sides of the salmon (not on the outer skin).  Press panko crumbs onto the top and sides of the salmon.  Brush oil onto the grill grates to prevent sticking and grill salmon, skin side down, for 8-10 minutes until cooked through.  When salmon is nearly done, place the bread slices on the grill to toast for about 30-60 seconds.
To assemble each sandwich: Spread a generous amount of the barbecue remoulade on two slices of bread (NOTE: You will likely have extra remoulade left over).  Arrange a layer of red onions on one of the slices of bread.  Remove the skin from the salmon and place the salmon on top of the onions.  Add tomato slices and close the sandwich with the other slice of bread.  Serve and enjoy!
* You can also broil the salmon in a regular oven or toaster oven for 8-10 minutes.