As I was browsing through my favorite food blogs in my RSS reader this morning, I was drawn in by the French Dip Sandwiches on For the Love of Cooking.  Specifically, I was captivated by the thought of sweet caramelized onions, tender roast beef and piping hot au jus.  There was just something so homey and inviting about Pam's photos.  I hadn't been planning to grill any panini today, but now I wanted this sandwich.  Badly.
I commented that if Gruyère cheese were added to the mix, it would kind of be like French onion soup – another comforting favorite of mine.  Now I was really revved up on the idea, so I had no choice but to gather my ingredients and get grilling.
Pam was not kidding – this was an amazing sandwich.  My roast beef was store-bought at the deli counter, so I can just imagine how much better it would have been if I'd roasted it myself like she did.  The addition of the Gruyère and crispy grilled French bread, dipped into the richly robust au jus, really did conjure up fond memories of the French onion soup my mom used to make.  Next time I might brush a little melted butter on the bread before grilling to get better grill marks, but otherwise I was incredibly satisfied with how this sandwich turned out.  Here's to succumbing to inspiration!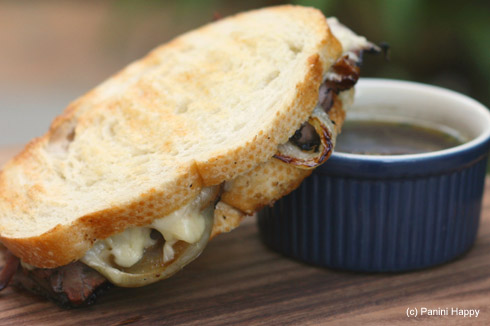 French Dip Panini
INGREDIENTS:
1 sweet yellow onion, sliced into 1/4″ rings
1 tablespoon olive oil
Salt and pepper
French bread, thick slices
Mayonnaise or roasted garlic aioli (here's an easy recipe on Art & Aioli – thanks, Nicole!)
Roast beef, thinly sliced
Gruyère cheese, grated
Au jus (see recipe on For the Love of Cooking)
DIRECTIONS:
In a skillet, heat olive oil over medium heat.  Season onions with salt and pepper and sauté in the olive oil for 15-20 minutes until caramelized.
Preheat panini grill to medium-high heat (375°F).
Spread a thin layer of mayonnaise or roasted garlic aioli on a slice of bread.  Top with roast beef, onions and cheese.  Close the sandwich with another slice of bread.  Grill 7-8 minutes until cheese is melted and grill marks appear.  Serve immediately with au jus and enjoy!