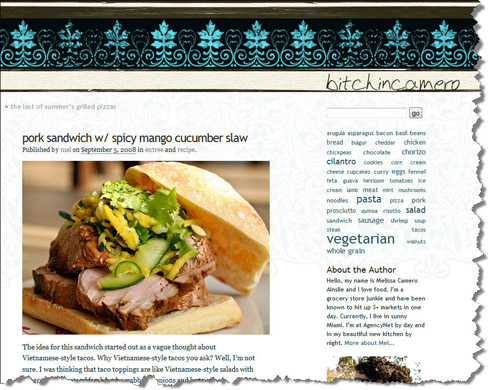 Isn't that photo a sight to behold?

I'm giving Melissa from Bitchincamero my One Tasty Sandwich award for her absolutely incredible Asian-inspired Pork Sandwich w/Spicy Mango Cucumber Slaw.  Not only is it a mouthwatering photo, but the flavor combination of savory pork tenderloins with sweet and spicy mangoes sounds just out of this world.
The pork is marinated in shoyu (a type of soy sauce), honey and ginger.  And she made a flavorful slaw from mango, cucumber, serrano peppers, mint, cilantro, green onions and lime juice.  Everything is piled onto a ciabatta roll.  Can you just imagine that first bite?
Bravo, Melissa!  Now you've inspired me to start thinking about some future pork tenderloin panini…mmm!