I toyed with a bunch of different possible ways to celebrate the milestone of having created 100 different panini on Panini Happy. One thought was to grill 100 mini-panini and arrange them to spell out 1-0-0. Another was to stud a sandwich with edible diamonds (I read somewhere that the traditional gift for a 100th milestone is 10-carat diamonds?? Plus, I have these gorgeous sugar diamonds I've been aching to use). My husband suggested Hundred-Year Egg Panini, for a Chinese-inspired approach (I told him we didn't have time to wait for that one…ha ha).
To hone my brainstorming, I reflected a little on what Panini Happy is really about…what it's become over the past 99 recipes. As much as I've enjoyed recreating the "standards" on the blog – the Reuben, the French Dip, the Monte Cristo – I've had the most creative fun with some of my more original sandwiches. Among my favorites have been this summer's Peach Caprese Panini, with fresh peaches, mozzarella and prosciutto and my Gingerbread Blondie S'mores Panini from the last holiday season, with marshmallow cream, dark chocolate and clementine zest. Now I can add to the list today's Pumpkin, Duck Confit & Feta Panini – my 100th recipe!
You know I had to pull The Flavor Bible out to guide me on this one! It turns out that both duck and feta go well with pumpkin, who knew? The key to these panini is to not overdo it with the pumpkin. You'll see in the photos that I have a pretty good ooze factor going – that's for show. Treat the pumpkin more like a condiment than a sandwich ingredient. It adds a gently sweet complement to the duck confit as well as a bit of moisture to the sandwich overall. The salty, creamy feta and sweet drizzle of honey further amp up the flavor. Add the buttery crunch of the toasted flatbread and you've got an amazing autumn combination you have to taste to believe.
Here's to the next 100!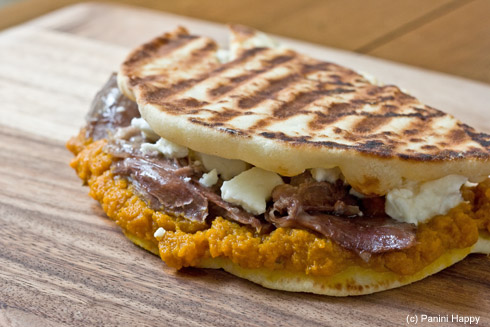 Pumpkin, Duck Confit & Feta Panini
Makes 4 panini
INGREDIENTS:
1 cup pumpkin purée
1/4 teaspoon dried sage
1/4 teaspoon dried thyme
Salt and pepper
4 flatbreads (e.g., naan, pitas), cut in half
2 duck legs confit (you can buy them ready-cooked at Whole Foods or you can make your own), meat removed from the bone
4 ounces feta, crumbled
Honey for drizzling
Melted butter for brushing
DIRECTIONS:
In a small saucepan, heat pumpkin purée, sage and thyme over medium heat. Season with salt and pepper to taste. Keep warm.
Preheat panini grill to medium-high heat.
For each sandwich: Spread a moderate amount of seasoned pumpkin purée on one flatbread half (NOTE: You probably won't want to use quite as much as I did in the pictures – I added extra so you could see the pumpkin!). Add layers of duck meat and crumbled feta. Drizzle honey on top and close the sandwich with the other flatbread half. Brush a little melted butter on the outside of the flatbread.
Grill for about 5-6 minutes until the feta softens and the flatbread is toasted. Cut in half, serve immediately and enjoy!