My "valentine" (aka, my dear husband of almost 3 years) suggested Monte Cristos when I conferred with him for ideas for my annual Valentine's Day panini (see last year's Chocolate Raspberry Croissant Panini for Two!).  Hot ham and swiss sandwiches grilled French toast style with powdered sugar and jam sounded sufficiently decadent  to be considered special occasion fare. It's a simple way to say "I love you", but man is it a tasty one.
It's funny how my concept of celebrating special occasions has changed over the years. As a little kid I tricked out my bedroom for each and every holiday. Markers, construction paper and Scotch tape were my best friends. I would cover the walls with cutouts of hearts, shamrocks, Easter eggs, autumn leaves, snowmen.  Whatever the season my little blunt scissors and I were ready to ring it in.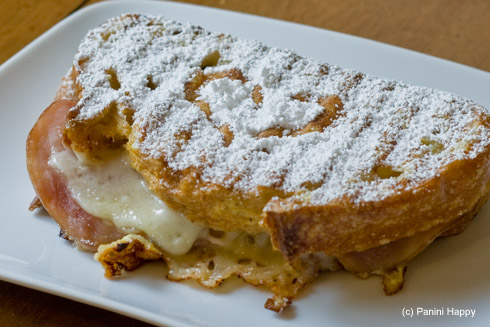 In junior high, all the holiday regalia shifted to my earlobes. Oh yes, I was "that girl" with the big, orange dangly jack-o-lantern earrings at Halloween.  Bear in mind this was the 80's, folks.  I was ecstatic when an accessories store called Piera opened up in our local strip mall with walls of terrifically gaudy costume jewelry for the bargain price of $1!  Even with our paltry allowances, my friends and I could do a bit of damage in this place.  And so we did.
Now that I'm a wisened adult in my 30's I've toned down my celebration style to a great degree…but I still look forward to holidays and doing something a little special.  Just simpler.  My husband and I don't really "do" Valentine's Day with all the typical fanfare (roses, chocolates, reservations) anymore.  Instead, we just write each other a nice card and enjoy a quiet evening at home. Because all the commercial hoopla aside, Valentine's Day is really about love. Love and decadent food. 🙂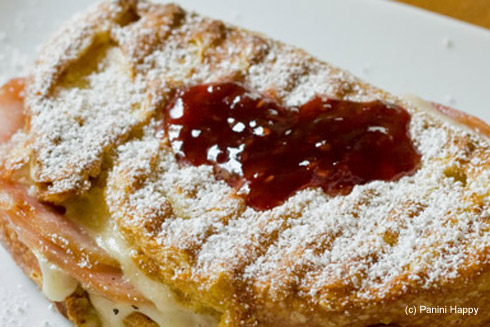 [print_this]
My Valentine's Monte Cristo Panini
Adapted from Everyday Food
Serves 2
INGREDIENTS:
Dijon mustard
4 slices country bread (I used Bread & Cie's country levain)
Swiss cheese, thinly sliced
Ham, thinly sliced
2 eggs
1/4 cup milk
1/2 teaspoon salt
1/4 teaspoon pepper
1/8 teaspoon nutmeg
Confectioner's sugar
Raspberry preserves
DIRECTIONS:
Preheat the panini grill to medium heat (350 degrees).
Spread mustard on the bread. Layer 2 of the bread slices with Swiss cheese, ham, and cheese again. Place remaining bread slices on top.
In a shallow dish, whisk together eggs, milk, salt, pepper, and nutmeg. Dip each sandwich in the egg mixture, turning to coat well.
Carefully place the sandwich onto the panini grill.  Close the lid and grill for 4-5 minutes until the bread is lightly browned and the cheese is melted.
Dust the top with confectioner's sugar and, if desired, spoon a little raspberry preserves in the shape of a heart in the center. Another idea is to stencil in a little heart motif with the confectioner's sugar.  Happy Valentine's Day – enjoy!
[/print_this]