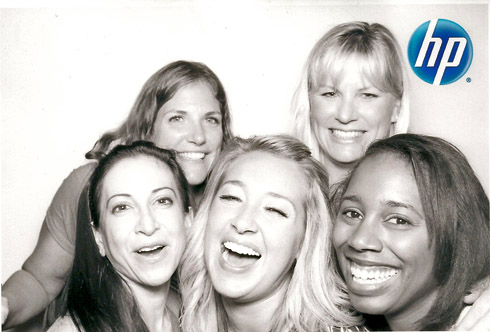 This photo booth pic from the closing party says it all – the two-day BlogHer Food '10 conference in San Francisco this past weekend was an absolute blast. I had anxiously awaited this trip for months, a rare opportunity for me to step out of my day-to-day routine and immerse myself with the food blogging world and its inhabitants. This was my third BlogHer conference and every time I leave inspired, exhausted and with a renewed understanding of why I love cooking and blogging.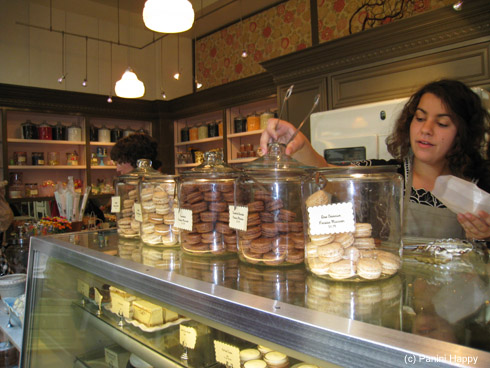 MY TOP 10 MEMORABLE MOMENTS FROM BLOGHER FOOD '10
10. Having continual open access to more Scharffen Berger chocolate than I ever thought I could want. I will definitely have to borrow the make-your-own-cupcake bar concept they featured during one of our breaks. Of course, it works best if you have Elizabeth Falkner on hand to bake the cupcakes.
9. Posing with my San Diego/Orange County "lunch bunch" girls – Marla (Family Fresh Cooking), Amanda (What We're Eating), Jenny (Picky Palate) and Lori (RecipeGirl) – in the photo booth at the closing party for about 10 seconds before any of us realized no one was holding the clicker to take the picture. SoCal in the house!
8. Sampling bacon vodka. It actually wasn't bad – would be great in a Bloody Mary.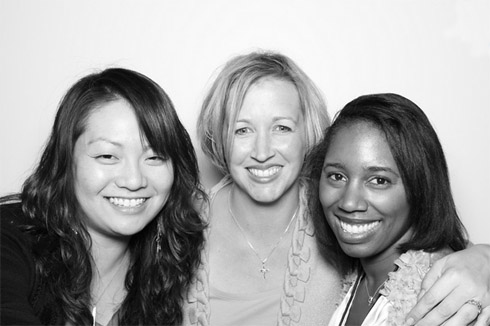 7. Hearing Anupy Singla utter the words "Indian Slow Cooker", the title of her new cookbook, during the Brands and Media session and beelining to the book table to buy it 5 minutes later. I can't wait to make Indian food in my crockpot!
6. Having my heart torn apart by Shauna James Ahern's moving story about her daughter's early challenges and then having it restored and enlivened by watching that beautiful little girl happily run and play at the conference all weekend.
5. Riding in the elevator with the person I was most looking forward to meeting: Dorie Greenspan (author of my favorite baking cookbook, Baking: From My Home to Yours). She. Knew. Who. I. Was!!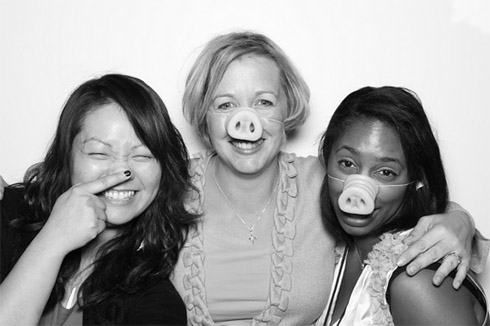 4. Joining two lovely and inspirational ladies, Carolyn Jung (FoodGal) and Brooke Burton (Food Woolf), on our panel about blogging ethics. And discovering that our moderator, BlogHer co-founder Elisa Camahort Page, and I grew up in the same town and attended the same high school!
3. Finally trying my first-ever macaron, from Miette in the Ferry Building – Chocolate Lavender. And immediately thereafter my second and third, Vanilla and Rose Geranium.
2. Ruhlman.
1. Every minute that I spent reconnecting with blogging friends who I'd previously had the chance to get to know in real life:
…meeting Twitter/blog/Facebook friends in person for the first time:
…and, of course, getting acquainted with new friends:
I sincerely hope I didn't miss anyone! Suffice it to say, it was a packed weekend full of memorable moments for me. That said, I couldn't have been happier to return home to San Diego to hug my two energetic little folks and my weary-but-still-smiling husband who took up the reins to watch them both on his own for the first time. Until next time, friends!