My husband ventures to cook only a handful of times per year, so when it happens I clear the way. This time, not only did he feel compelled to recreate a mouthwatering sandwich he saw Bobby Flay demonstrate on TV…he also needed to write about it on my blog. Everyone, please give a warm welcome to Mike in his first-ever blog post! P.S. One bite of this sandwich confirmed in my mind why he wanted to make and share it. Amazing!
* * *
Hi, this is a guest post from Mike, Kathy's husband.  I've never posted before, and I don't often cook.  BUT, this past week, when Kathy was out of town and I was home from my "workjob" to watch our kids, a segment on daytime TV rang my bell.  Bobby Flay was on Access Hollywood Live making Grilled Brie and Goat Cheese with Bacon and Green Tomato sandwiches to promote his Bobby Flay's Throwdown! cookbook.  Co-hosts Billy Bush and Kit Hoover did a great segment, but Bobby had me with this sandwich long before The Talent offered their rave reviews.  This Daddy knew immediately that he was going to make that sandwich.
And why not?  First, Kathy and I love all the key ingredients.  Goat cheese?  Yuppers.  Brie?  Why not.  Bacon?  You betcha.  Second, Kathy and I are big Bobby Flay fans.  We've made our pilgrimage to Mesa Grill in New York (yes, we met Bobby there), and we've watched all his shows on Food Network. If Bobby says a sandwich works, then we trust it will be good.  Lastly, it looked simple and easy enough that I wasn't intimidated, and I knew I could pull it off.  I found the recipe on FoodNetwork.com, Kathy approved my selection, and we found some time this weekend to proceed.
We made a couple minor substitutions.  First, the recipe calls for a loaf of Pullman bread.  I didn't know what this was, but through the magic of Google I found it is a white sandwich loaf.  We couldn't find that at our grocery store so we went with a rustic country levain loaf.  Second, we replaced the green tomato with tomatillos. We had some debate about this, whether green tomatoes and tomatillos are actually the same thing, whether we should scrap tomatoes altogether and switch to Granny Smith apples since they're in season. We actually bought some apples just in case, but we ended up loving the tomatillos.  We considered losing the watercress, but I'm glad we kept it in.
The sandwich came out great.  The goat cheese and the Brie worked well together – the goat cheese "good cop" was balanced perfectly by the more in your face smelly Brie "bad cop".  The bacon added flavor and personality.  The acid in the tomatillo framed the richness of the cheese, and the peppery watercress added freshness, texture and tang.  The bread worked fine – it wasn't the star but it didn't distract from the contents of the sandwich.  Great sandwich.  Really tasty.  Kathy liked it too.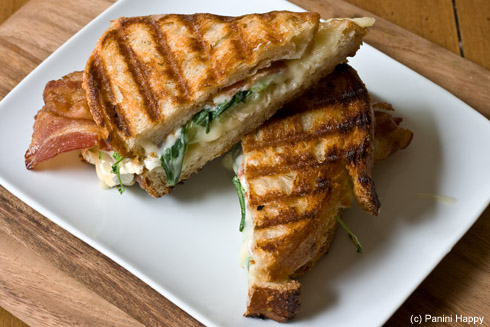 [print_this]
Brie & Goat Cheese Panini with Bacon and Green Tomato
Adapted from the Grilled Brie and Goat Cheese with Bacon and Green Tomato recipe on FoodNetwork.com.
Makes 4 panini
INGREDIENTS:
1 lb. sliced bacon
½ lb. good quality Brie
1/3 lb. soft Boucheron goat cheese
2 or 3 tomatillos
Watercress
1 stick unsalted butter, at room temperature
8 slices country bread
Salt and pepper
DIRECTIONS:
Cook your bacon. You can do this however you like. While it seems most traditional to do this in a skillet, Kathy and I like to use the broiler tray in our toaster oven, which we line with aluminum foil and bake at 375°F for 15-18 minutes, flipping once.
Heat your cast iron skillet or griddle over medium heat. You can also use a panini press if you like.
On top of your bottom slice of bread, add 3-4 slices of Brie, sliced tomatillo, watercress, 2-3 slices of goat cheese, and 2-3 slices of bacon. Season with salt and pepper. Liberally apply butter to your top piece of bread, butter side facing up.
Carefully put your sandwich onto the skillet with the butter side facing down. When you are golden brown, butter the top bread and flip the sandwich so the newly buttered bread faces down onto the cooking surface.
Grill for about 3-5 minutes on each side until golden brown and the Brie gets soft and gooey.  On TV, Bobby said that you can always finish it in the oven if you want to cook it through, but our Brie melted fine in the skillet so we didn't bother.
Enjoy!
[/print_this]