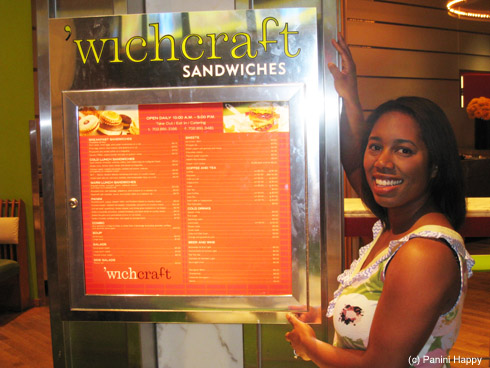 From the moment we booked our hotel and lured my parents out from New York to watch the kids for the weekend my husband Mike (thanks for all the love on his guest post last week!) and I could not wait for our Vegas fooding extravaganza to commence!
Crab legs and filets at Joe's Seafood, Prime Steak & Stone Crab at Caesar's, Thomas Keller's famed Chicken & Waffles at Bouchon at the Venetian, duck and seared foie gras and a true Michelin 3-star dining experience at Joël Robuchon at the MGM Grand – we ate our way up and down the Strip. But, oddly enough, the one place we were probably the most curious about was the casual sandwich chain owned by Top Chef's Tom Colicchio, 'wichcraft.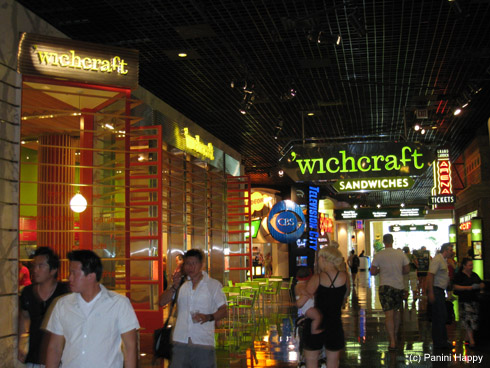 It's not that we thought we'd like 'wichcraft the most. It's just that I've been talking about the 'wichcraft cookbook for over a year now on this blog and this was our first opportunity to actually try the place out.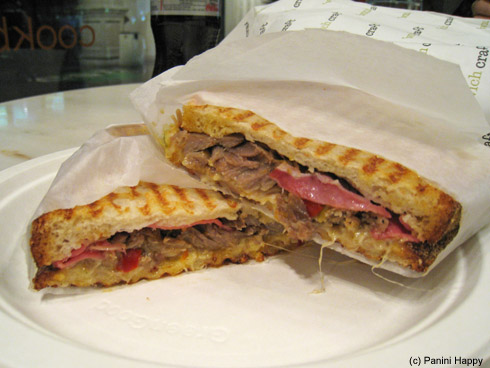 I couldn't resist the call of the Roasted Pork and Coppa with Pickled Pepper Relish and Fontina. The look on my face was positively gleeful from the first bite. The coppa, in particular, was a standout for me. That salty, porky flavor just enhanced the whole sandwich. I got some nice acidity from the pepper relish, which got an extra kick of heat from pickled jalapeños. At the time I mentioned to Mike that it seemed like a variation on a traditional Cuban sandwich, with the roast pork, ham, pickles and cheese. Sure enough, when I looked it up in the cookbook back at home that was the inspiration. This sandwich didn't get too many shout-outs on Yelp but it was definitely a great choice.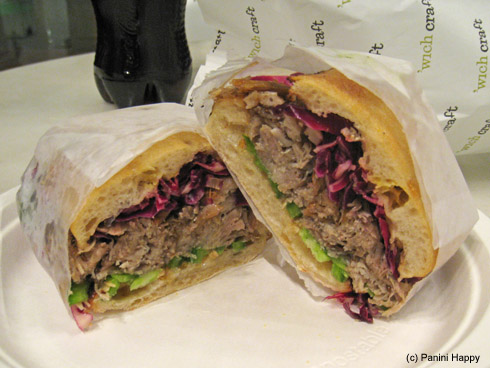 Mike's choice – Slow-Roasted Pork with Red Cabbage, Jalapeños and Mustard – did come highly recommended on Yelp. This was not a bland sandwich in the least. See the green jalapeños in there? Yup, those are pretty hot. The jalapeños you typically see in sandwiches are usually pickled, but Mike was a fan of the fresh ones here. The peppers were a little too spicy for my taste, but I did love the pork. I couldn't readily identify the wonderful flavor that came through strongly, but a quick check of the recipe in the cookbook solved the mystery: caraway seeds.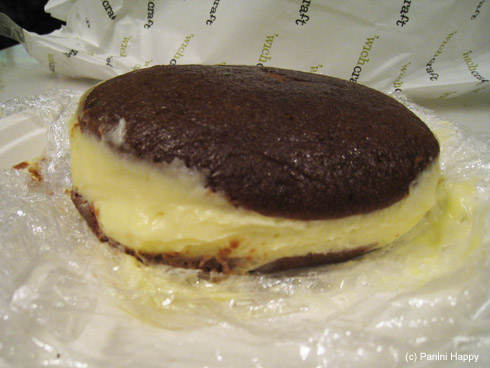 Look at this thing. I should have shown my hand or something in this picture so you could appreciate the enormity of this whoopie pie. I actually referred to it as a "monstrosity" at the time. The incredibly soft chocolate cake rounds were at least 5 inches in diameter with an extraordinary volume of fluffy pastry cream between them. There is no polite way to eat these, you practically need a spoon. They taste fantastic, but they're ridiculously messy. I'm not sure how this item earned its spot on the menu – kind of a deviation from upscale artisan sandwiches – but we did enjoy it.
* * * * *
NOTE: In addition to Las Vegas, 'wichcraft has several locations in San Francisco and New York City.
This post was not sponsored in any way. Mike and I paid for both of these fantastic sandwiches and that crazy whoopie pie.