I've got another dinner-themed cookbook to share with you today – Simply Suppers. This time it's all about comfort food and familiar classics.
In the book, Memphis-based author Jennifer Chandler shares her tried and true recipes for homemade family meals. Since I've been focused on weeknight meals this month, I gravitated to the "30 in about 30" category of dishes that can be prepared in about 30 minutes. The Cuban sandwich (see the recipe at the end of this post!) was hugely flavorful and an excellent use of my leftover roast pork. I couldn't resist the urge to discover what the Cheeseburger Pie was like – it took a bit longer than 30 minutes but worth the wait for a hearty, unique savory pie. Our favorite recipe of all so far is definitely the Shrimp and Grits, seasoned with Cajun spices, bacon and garlic. Yum!
—–
Win a copy of Simply Suppers!
To enter: Leave a comment on this post with your favorite comfort food. (I have many favorites in this category, but my ultimate would have to be fries).
The giveaway ends Monday, September 27, 2010 at 12 PM PDT. [GIVEAWAY IS CLOSED] One winner will be selected at random via Random.org and announced by Tuesday, September 28, 2010. One entry per person, please. Due to shipping costs, you must have a U.S. or Canadian address to be eligible.
—–
Read on for my interview with author Jennifer Chandler. And, YES, we've got a panini recipe today as well – Jennifer's mouthwatering Cuban!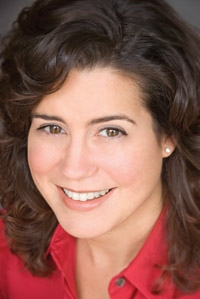 Q & A WITH JENNIFER CHANDLER, author of SIMPLY SUPPERS
What does comfort food mean to you?
Comfort food is all about home-cooking. Dishes that warm our souls and put a smile on our faces. That's what I want for supper. Don't you?
Good food isn't about being gourmet…it's about being delicious. In fact, some of our favorite foods are the simplest dishes.
Think about it. Aren't there certain foods that make you feel good inside just thinking about them?
Maybe a gooey mac-n-cheese, a perfectly roasted chicken, or creamy mashed potatoes? For me, it's warm brownies fresh from the oven, a simple grilled cheese sandwich, and my grandmother's eggplant casserole.
Simply Suppers is all about showing you how easy it can be to put a homemade meal on the table each night. This book includes my tried and true recipes that I make over and over again. My wish is that some of the recipes in this book will become your favorites too.
Many of the recipes in Simply Suppers are familiar favorites many of us will recall from our childhoods. Does comfort food tend to evoke a bit of nostalgia?
Yes! Comfort food does tend to evoke a bit of nostalgia. Some of the dishes we love the most have a happy memory associated with them. The comfort not only comes from the satisfying taste of the dish but also from the memories that come when you savor that first bite. For example, whenever I eat the Cauliflower Au Gratin in Simply Suppers, I can't help but think of family get-togethers at my Dad's house.
I will point out that whereas many of the recipes in Simply Suppers will be familiar, many offer a modern twist in the classics we grew up with. For example, my Mac-n-Cheese has a twist with the addition of fresh herbs and country ham. Also, I add white cheddar cheese to the sauce and pecans to the topping of my Green Bean Casserole.
What are your best tips for making getting dinner on the table easier for busy families?
• Be armed with a repertoire of basic cooking techniques. When choosing the recipes to include in this book, I intentionally included a variety of cooking skills. Sautéing, pan-roasting, braising, baking, and making sauces are all simple techniques that can be used to make an infinite number of dishes.
• Make it easy on yourself and take the stress out of cooking. Use short-cut ingredients like rotisserie chickens and frozen vegetables. Do whatever you can in advance, keeping in mind that some dishes actually taste better the next day. Make double-batches of recipes that freeze well so you will always have a home-cooked meal available in the freezer for those days when you really don't have time to cook but still want to feed your family a home-cooked meal. (Look for my list of "Freezer Go-To's" on page xi.)
• Use the best ingredients. The key to delicious food is simple: use fresh, in-season, top-quality ingredients. And remember, best does not always mean the most expensive. Let flavor be your guide when choosing what goes into your food.
• Maintain a well stocked kitchen. Having the right ingredients in your pantry, refrigerator, and freezer can make the difference between ordering take-out pizza and having a delicious last minute meal. Mustards, vinegars, and dried spices can all help turn a bland dish into something your whole family will enjoy.
Describe your ideal dinner at home.
No matter how simple the meal, the ideal dinner is when we all sit down together and enjoy the comfort of good food and good company. Our family has had just a memorable meal enjoying a simple soup or sandwich as they have had eating my Boeuf Bourguignon. It's about eating a delicious and nourishing meal while we take a break from the busy day to re-connect with each other.
Thanks so much, Jennifer, for taking the time to share your delicious insights! Read more about Jennifer and her recipes on her website, Cook with Jennifer.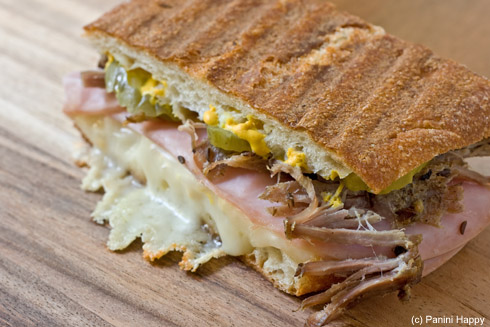 [print_this]
Cuban
From Simply Suppers, by Jennifer Chandler – reprinted with permission
Jennifer's note: "You don't have to head to Miami to enjoy this Cuban favorite. It's easy to make this popular pressed sandwich at home. It's so easy to put together …plus it's a delicious way to give leftover roast pork a makeover! Crusty warm bread, tangy mustard, gooey melted cheese and crunchy dill pickles transform a ham and pork sandwich into a tasty treat. We like to serve it with plantain chips on the side. ¡Buen Provecho!"
INGREDIENTS:
1 1-pound loaf of ciabatta bread, ends trimmed and cut into 4 pieces
4 tablespoons prepared yellow mustard
4 teaspoons unsalted butter
8 slices Swiss cheese
1/2 pound thinly sliced baked ham
8 ounces roast pork, sliced*
1/2 cup sliced dill pickles
DIRECTIONS:
Cut the bread in half lengthwise and place on a work surface. To assemble the sandwiches, evenly spread the insides of each sandwich with 1 tablespoon of the mustard and lightly butter the outside of each sandwich with 1 teaspoon of the butter. Inside each sandwich, layer 2 slices of the cheese, 1/4 of the ham, 1/4 of the pork, and 1/4 of the pickles. Close the sandwiches.
Heat your panini maker or sandwich press to medium-high. Place the sandwiches inside, press down, and grill until the cheese is melted and the bread is toasted, about 8 minutes. Serve warm.
Serves 4.
* I opted to use leftover shredded roast pork
Cooking Tip: If you don't have a panini press, you can cook the sandwiches on a griddle or skillet. To create the "pressed" sandwich, place a heavy skillet on top of the sandwich and press down as it cooks.
Variation: Ciabatta bread is an Italian white sandwich bread. If you can't find it at the bakery, use crusty sandwich rolls instead.
[/print_this]
The publisher of Simply Suppers is providing one copy of the book for me to review and one to a reader for this giveaway.