Let's see…so far we've discussed the secrets to getting dinner on the table and flavor-boosting ingredients that make meals taste great with less work. Continuing with this month's Get Dinner on the Table series, I think it's a good time to talk about leftovers.
Have you noticed that leftovers tend to make great panini? Often it's just a matter of adding some good bread, cheese or flavorful condiments to last night's dinner and you've got a pretty fabulous sandwich. This week, I decided to parlay the first meat loaf I've ever made into Meat Loaf Patty Melt Panini.
With my meat loaf already done the previous day, the only task left for me to do for these panini was to caramelize some red onions (which took me all of 30 minutes and required hardly any work at all). Then I just piled the sweet onions onto some rye bread, added a slice of my leftover meat loaf and topped it with Swiss cheese. And grilled. That was it – patty melt! I actually think this meat loaf version is even better than a traditional patty melt, at least from a panini-making perspective. The meat comes in nice even slices so it lays flat on the bread, which in turn allows the panini grill to press the sandwich evenly.
I didn't say it was a photogenic sandwich…but it's tasty.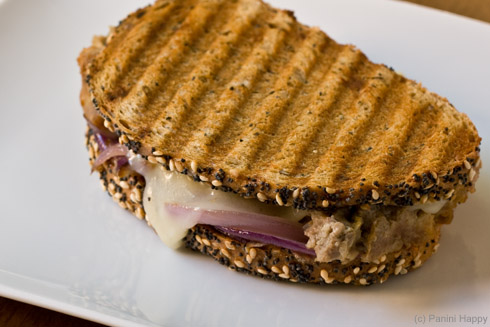 [print_this]
Meat Loaf Patty Melt Panini
Serves 2
INGREDIENTS:
1 tablespoon olive oil
2 red onions, halved and sliced thinly
8 slices rye bread (if possible, slice it yourself from a bakery loaf)
4 slices leftover meatloaf (use your favorite or try the recipe I posted on Cooking On the Side)
4 slices Swiss cheese
1 tablespoon melted butter
DIRECTIONS:
Heat the olive oil in a large skillet over medium heat. Add onions and sauté until caramelized, about 30 minutes.
Preheat the panini grill to medium-high heat.
For each sandwich: Place 1/4 of the caramelized onions on a slice of bread. Top with a slice of meat loaf and a slice of cheese. Close the sandwich with a second slice of bread. Brush a little melted butter on top.
Grill for 3-4 minutes until the cheese is melted and the bread is toasted. Serve immediately and enjoy!
[/print_this]