Whether you're cooking for one or for a crowd, getting dinner on the table every night is often a real challenge. How do people manage it? I'm about to divulge their secrets.
As part of this month's "Get Dinner on the Table" series, I asked Panini Happy readers and other food blogging friends to share their strategies for getting dinner on the table every night. Interestingly, three distinct strategies emerged among their responses – and, no, they don't involve packaged meals or fast food! Read on to learn these secrets and see which approaches might work well in your household.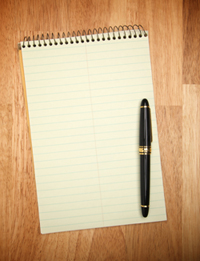 Secret #1: Plan Your Menu

"The one and only way I manage to get dinner on the table is by menu planning. Without a plan I am totally lost!!" – Kristen, Dine & Dish
If you've never sat down to plan out your meals for the week the task can sound a bit daunting. But it really isn't – I actually take this approach myself. Many of the folks who shared their weeknight dinner strategies find menu planning to be the easiest way to save time and ensure they have all the ingredients they need on hand.
"My best strategy for getting home cooked meals on the table each and every night of the week is to meal plan and grocery shop just once a week, with every night's meal figured out and purchased for. That way at 4:30pm there's no thinking to do. I just check my list for what to cook that night and I know I already have all the ingredients. And you'll often find me in the kitchen with 3 eager helpers, too!" – Celeste
"What helps me the most is spending a few hours on Saturday deciding what I want to make for the week, creating a list of all the ingredients I need (and which meals needs to be made first because of fresh produce, etc.), and then grocery shopping on Sunday. It leaves a lot of the guess work out of the equation when it comes time to make dinner." – Amy, Very Culinary
"Planning ahead is key for getting dinner on the table in our house. Everyone knows I do a menu plan every week, thanks to my blog. What everyone doesn't know is that my natural tendency is to NOT plan. The blog keeps me accountable and my life is SO much better now that I plan a weekly menu. I base my grocery list on the plan so I always have the ingredients I need on hand. For me that's the key." – Jane, This Week for Dinner
"Every weekend I look at our calendar for the week and plan meals accordingly (easy meals for busy nights, more complex meals for days when I have time to actually cook). Then I shop once that week for all of the ingredients." – Mindy, Mindy's Mouthful
"I sit down once a week with a calendar stocked with the kids' (and parents'!) activities, so I know as I make our meal plan which nights need to be super-fast, which nights need to be "reheatable" and which nights we are going to have a bit more time to enjoy the process. Once I have that figured out, I can start pulling appropriate recipes/ideas." – Claire
Of course, planning your meals ahead of time means you're going to have some decisions to make. How do people narrow down their dinner options?
"I recently discovered a great website which is very helpful, so I don't have to start from scratch every week figuring out what we want – it's MealsMatter – on the site, you can search for recipes or input your own recipes; you can then plug them into your calendar (which allows you to repeat a meal as often as you would like, so we have homemade pizza every Friday and it's on there every week indefinitely). If you plug in the recipes to your calendar, it will create a shopping list with the quantities, and that's half the battle for me…once the list is made, I shop once a week." – Cindy
"My husband and I usually have a running dialogue in the morning or the days before about what we are going to eat…" – Dani
"I don't use a lot of cookbooks but do use blogs and magazines a ton. I just have a blank grocery list and a menu list and sit down and do the two together on Sunday afternoons." – Kristen, Dine & Dish
"Every week I read through everyone's menus that were shared the previous week [on This Week For Dinner] to get ideas…it works great and really helps me come up with good ideas week-to-week." – Jane, This Week for Dinner
"In one book I read, it suggested having a theme night, e.g. Monday is Italian Night, Tuesday is Mexican Night, Weds is Meatless/Fish night, Friday is pizza night, etc. That helps too, narrowing down the decisions each week." – Lynne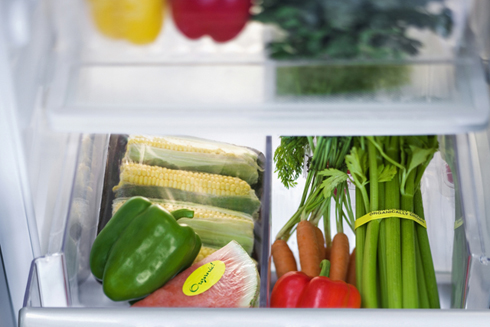 Secret #2: Stock Your Kitchen
"I aim to always have veggies, a whole grain, some sort of protein and fruit in stock so that on those crazy busy nights I can just whip up a dinner that at the very least has a little of everything (whether they go well together or not is another story!)." – Karen, The Graceful Chicken
Keeping a well-stocked fridge, pantry and freezer is another way that many people make sure they have everything they need for a good home-cooked meal on hand at any given time. Better yet, some save time by prepping those ingredients (i.e., clean, chop, pre-cook) so they're all ready to go when it's time to cook. This approach offers the greatest flexibility, as you can decide what to make for dinner on a moment's notice.
"I try to keep stocked on basic staples at all times: milk, bread, flour, eggs, pasta, chicken, ground beef or turkey, a tenderloin or roast, and an assortment of fresh fruits & veggies. From those ingredients, I can usually pull together a decent meal in about 60-90 minutes (sometimes less—I'm not Rachael Ray), but the key is having what you need already on hand (you can't cook what you don't have)." – Sandie, A Bloggable Life
"We always have in the house the staples that make for quick meals (ie. cheese and whole wheat bread or whole wheat tortillas for the quick grilled cheese or quesadilla!)…" – Karen, The Graceful Chicken
"Prep when you can so ingredients are ready when you need them. Have fruits & veggies cleaned, chopped and at the ready for grab & go meals. They can be steamed, roasted, grilled, added to soups, chili etc." – Marla, Family Fresh Cooking
"I always keep a "go-to" meal on hand for those days where things just don't work out like I planned. My favorite right now is to keep a pizza crust on hand. I always have homemade pizza sauce in the freezer and can come up with toppings. I also keep a lot of ingredients for different meals in the freezer, often already chopped or partially cooked for certain recipes, to make a more complex meal easier to make." – Mindy, Mindy's Mouthful
"My best strategy is to have good, healthy ingredients in the house. [This does take the commitment of shopping and planning!] Know what items you use a lot, and keep them in stock. If I have to defrost some meat/chicken/fish, I take it out in the morning. I always have grains/pasta /couscous, fresh veggies (frozen in a pinch), and marinades and seasonings." – Ilene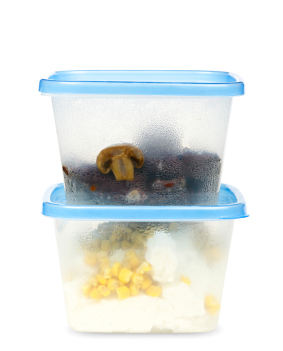 Secret #3: Prepare Meals Ahead
"The only way I can get home cooked meals on the table every night is to have leftovers. For example, we had baked chicken, enough for two nights with different side dishes. Then tonight, we sliced up the chicken and made wraps. Good thing we like leftovers, lol." – Scrapper Al
This third secret makes perfect sense: prepare extra food when you have the time and save it for when you don't. If you've got space in your fridge and freezer, this strategy may be the one for you.
"My most favorite way to have dinner on the table with less stress is to do a batch freezer cooking session. That way I can just pull out in the morning what we'll have for dinner that night and heat/cook it when the homework/after school/afternoon craziness sets in. I'm actually starting a freezer exchange group this month with a group of friends…we'll all make the same dinner eight different times then get together to swap, coming home with eight different items to go into the freezer. Much easier than doing it all alone!" – Brenda, Meal Planning Magic
"I like to buy in bulk; the freezer is my friend! Freezing pre-made meals (lasagna, eggplant parm, mac and cheese, chili, sauce) makes life so much easier down the line as well." – Christine
"When I cook I make extra and freeze the extra portions for another night." – Susana
"I love to make casseroles. Usually there are enough leftovers for another night or 2 and I don't have to cook each night." – Kristie
"I always try to make sure I have something pre-made in my freezer that I can whip out in a hurry – soup is a good one." – Sagan
"I make double batches of every soup, chili and sometimes casseroles to stash in the freezer and pull out when things get crazy! – Claire
"I double recipes that freeze well, so I can put the extra in the freezer for latter. It helps to know I have a couple of ready made meals to ease planning the rest of the week." – Robbi
Ultimately, the one true secret to getting dinner on the table – it's the overarching theme of each of these strategies – is to make family meals a priority. Katie from goodLife {eats} said it best:
"I'm able to get dinner on the table most every night because I'm committed to family dinner. I think if something is a priority you find ways to make it happen even on the busiest of days. Often I do prep work and clean up during my daughter's nap while my son is at school so that the after school hours aren't so crazy. I just have to put the ingredients together and cook the meal and that makes things a lot faster. It's important to me to provide delicious and (mostly) healthy foods for my family so that is added motivation."