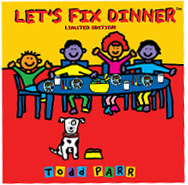 Thanks to all who shared their weeknight dinner strategies in last week's "Let's Fix Dinner" giveaway. I was so inspired by your insightful advice that I decided to compile them in an upcoming post – stay tuned!
Random.org selected entry #3 to win the limited edition "Let's Fix Dinner" children's book and placemats by Todd Parr – congratulations to Celeste!
"Get Dinner on the Table" month has only just begun – I've got more giveaways, recipes and tips to come. And, yes, we're going to be using the panini press!