With the exception of our family vacations and the occasional parental date night, my mother prepared a home-cooked dinner every night of the week. And we all sat down together to eat it.
How did she do it??
To this day, I have no idea how she made it happen with three daughters needing to be picked up from two or three different schools and shuttled around to soccer practice, cheerleading practice, saxophone lessons, Brownies. I sure wish I'd been more appreciative at the time. Now that I have a family of my own, and do nearly all of the cooking, I understand the challenge of getting a healthy meal on the table every night.
Welcome to my month-long series, Get Dinner on the Table. My goal is to help us all learn and share strategies for preparing stress-free weeknight meals. I'll have several great giveaways (including one today – read on for details! [THE GIVEAWAY IS NOW CLOSED]), cookbook reviews and new recipes for easy dinners on the panini grill.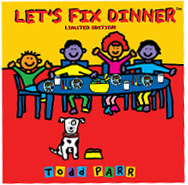 Win a copy of the limited edition book Let's Fix Dinner by beloved children's author, Todd Parr! ?
Let's Fix Dinner, by Todd Parr (we have another of his books, his illustrations are so fun), is a 24-page limited edition children's book all about the ways dinner can bring families closer together. STOUFFER'S, which teamed up with Parr to create the book, will donate 100% of the net proceeds from the sales of the book – a guaranteed minimum of $125,000 – to Habitat for Humanity. Plus, they're giving a copy to one lucky Panini Happy reader for free!
In addition to the book, the winner of this giveaway will also receive two sets of very cute matching placemats, custom-designed by Todd Parr.
To enter the giveaway:
Leave a comment on this post sharing your best strategy for getting a home-cooked dinner on the table during the week. Having trouble getting dinner on the table in your house? Tell us about your struggle. Hopefully by the end of this series you'll discover some good solutions.
Contest ends Tuesday, September 7, 2010 at 12 PM PDT. [THE GIVEAWAY IS NOW CLOSED] Winner will be announced on Wednesday, September 8, 2010. One entry per person, please. Due to shipping costs, this giveaway is open to readers with U.S. and Canadian addresses only.
* While the book is sponsored by STOUFFER'S, rest assured that the content of the book does not feature advertising messages. It talks about enjoying dinner as a family without mentioning any specific food brands or frozen food. STOUFFER'S sent me a copy of the book and placemats and has provided the prizes for this giveaway.