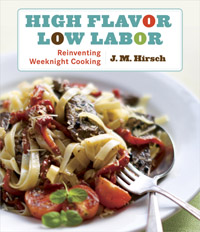 Thanks to everyone for submitting your tasty flavor-boosting ideas in last week's High Flavor, Low Labor giveaway. It's a pretty compelling concept – use flavorful ingredients to start and it'll take you less work to make your weeknight meals taste good.
Random.org selected entry #20 to win a copy of High Flavor, Low Labor, by J.M. Hirsch…congratulations to Cindy! Her favorite flavor-boosting ingredient is tried and true:
"If I have to narrow down to one ingredient I use in everything it would be salt. I may not always use a lot of but it's something I think definitely adds flavor when you need it."
I've got more dinnertime panini and one or two more giveaways to round out the rest of Get Dinner on the Table month – stay tuned!