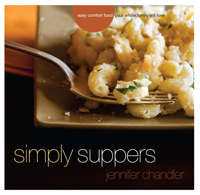 Clearly, you guys love your comfort food! Mac and cheese was, by far, the most popular comfort food mentioned in last week's "Simply Suppers" cookbook giveaway. Guess it's a good thing that's the image they used for the book cover – I'm ready for a forkful just thinking about it.
Random.org selected entry #2 as our cookbook winner – congrats to Julie from Willow Bird Baking! Julie's favorite comfort food? You guessed it: "Macaroni and cheese, without a doubt!!"
The end of the month is near, which means we're almost at the conclusion of the Get Dinner on the Table series. I still have one more delicious dinner panini recipe for you!