Here it is – my final post in the Get Dinner on the Table series. Hopefully you've gleaned some helpful new ideas, tips and recipes to make weeknight meals a little easier. Let me add one last dinner idea to the mix: Garlic Chicken Panini.
Garlic Chicken is more like a nickname for this sandwich. It's full name should really be Garlic & Herb-Brined Chicken Breast Panini with Roasted Red Peppers, Marinated Artichokes, Swiss Cheese and Basil Garlic Mayonnaise on a Baguette. Truly a mouthful! It's inspired by a sandwich they serve at a local chain I like called Champagne French Bakery Café.
As you might imagine from that ingredient list, it's an incredibly savory, flavorful combination. Don't worry – the garlic in these panini isn't at all overwhelming (you can still plan to kiss your loved ones). If you have leftover chicken on hand you can always incorporate that and forego the brining (although the brined chicken breast is pretty amazing). Add a green salad and dinner is served.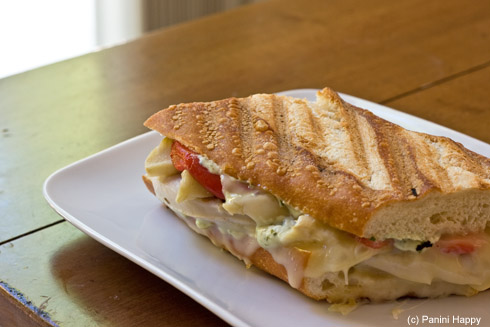 [print_this]
Garlic Chicken Panini
Brine adapted from Chowhound; Basil Garlic Mayonnaise from Epicurious
Makes 4 panini
INGREDIENTS:
1 quart water
1/4 cup kosher salt
2 tablespoons honey
1 bay leaf
1 crushed garlic clove
6 whole black peppercorns
A dash of dried thyme
A dash of dried parsley
Juice of 1/2 lemon
1 lb. boneless, skinless chicken breast cutlets (thin-sliced)
1 baguette, cut into 4 pieces, halved lengthwise
Basil Garlic Mayonnaise (see recipe below)
1 small jar of marinated artichoke hearts, sliced about 1/4″ thick
1 small jar of roasted red peppers
4 slices Swiss cheese
DIRECTIONS:
In a large bowl, combine water, salt, honey, bay leaf, garlic, peppercorns, thyme, parsley and lemon juice. Add chicken. Cover and refrigerate for 30-40 minutes.
Preheat the panini grill to medium-high heat.
Grill the chicken breasts for 3-4 minutes until cooked through. Set chicken aside. Turn off the grill, wipe it clean and preheat it again to medium-high heat.
For each sandwich: Spread Basil Garlic Mayonnaise inside two baguette halves. Place a chicken breast cutlet on the bottom bread half. Arrange layers of artichoke hearts and roasted red peppers on top of the chicken. Add a slice of cheese and close the sandwich with the top bread half.
Grill the sandwich for 4-5 minutes until the cheese is melted and the bread is toasted. Slice in half, serve immediately and enjoy!
Basil Garlic Mayonnaise
INGREDIENTS:
1 cup coarsely chopped fresh basil
1 garlic clove, smashed
1/4 teaspoon salt
1/8 teaspoon cayenne
3/4 cup mayonnaise
DIRECTIONS:
Pulse basil, garlic, salt, and cayenne in a food processor until finely chopped. Add mayonnaise and blend until smooth. Chill, covered, 1 hour (for flavors to develop).
[/print_this]