It started with thoughts of gingerbread…
Could I make dessert panini with gingerbread?

Nice, semi-thick, cake-like gingerbread might really work on the grill. It would get all crispy on the outside and soft on the inside.
I should do blondies. Is there a recipe for gingerbread blondies? Oh, thank God – Martha's got one. Perfect.
Now I'm thinking s'mores. But s'mores with what?

Martha's recipe calls for white chocolate, but if I put white chocolate next to marshmallow cream they'll be indistinguishable in the photos. Plus, I kind of overdid white chocolate during that major Nestlé Alpine White kick of mine back in the '80s.

The Flavor Bible says dark chocolate is also great with ginger. As is citrus.
Didn't I just buy a whole palette of Cuties?
Thick, cakey gingerbread blondies filled with dark chocolate, marshmallow cream and clementine zest, grilled on the panini press…and cut into gingerbread men shapes!
I'm so doing this.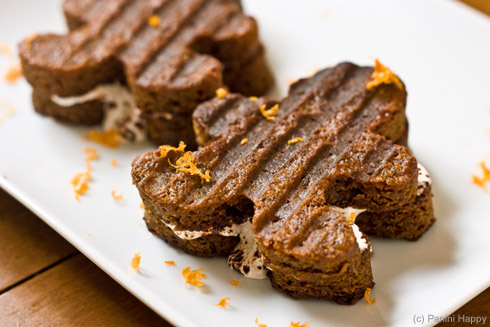 I'm sure you can imagine how these tasted – sweet and spicy, chewy and gooey, over-the-top and decadent. I loved them!
I never know where I'll end up once I start concocting some of these ideas in my head. But it's definitely fun to sample the results once they become a reality on the panini grill. 🙂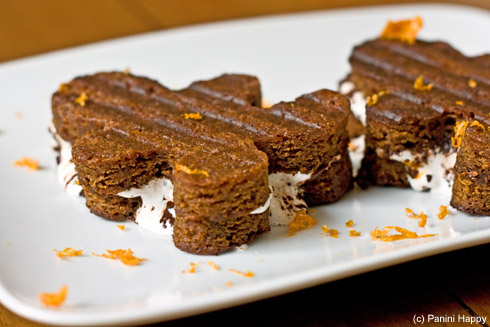 Gingerbread Blondie S'mores Panini
Adapted from Martha Stewart's White Chocolate-Gingerbread Blondies

Brownie recipe makes about 4 dozen 2-inch squares – yield will vary if you cut out gingerbread people shapes
INGREDIENTS:
Vegetable-oil cooking spray
2 3/4 cups plus 1 tablespoon all-purpose flour
1 1/4 teaspoons baking soda
1 1/4 teaspoons salt
1 1/4 teaspoons ground cinnamon
1 teaspoon ground ginger
1/4 teaspoon ground cloves
2 1/2 sticks (20 tablespoons) unsalted butter, room temperature
1 1/4 cups packed light-brown sugar
1/2 cup plus 2 tablespoons granulated sugar
2 large eggs plus 1 large egg yolk
1 1/4 teaspoons pure vanilla extract
1/3 cup unsulfured molasses
Marshmallow cream
Dark chocolate (70% cacao), grated
Clementine or orange zest
DIRECTIONS:
Preheat oven to 350°F. Coat a 17-by-12-inch rimmed baking sheet with cooking spray. Line bottom with parchment cut to fit, and coat parchment. Whisk together flour, baking soda, salt, and spices.
Beat butter and brown and granulated sugars with a mixer on medium-high speed until pale and fluffy. Add eggs and yolk, 1 at a time, beating well after each addition and scraping down sides of bowl as needed. Beat in vanilla and molasses. Reduce speed to low. Gradually add flour mixture, and beat until just combined.
Spread batter into prepared pan. Bake until edges are golden, about 25 minutes. Let cool completely in pan on a wire rack. Cut into 2-inch squares or desired shape. Blondies can be stored in an airtight container for up to 1 week.
Preheat the panini grill to medium-high heat.
For each sandwich: Spread marshmallow cream inside one blondie. Top with clementine or orange zest and a generous amount of chocolate. Close the sandwich with another blondie.
Grill for about 3 minutes until the chocolate is melted and the outer surface of the blondies are crisp (watch closely to ensure they don't burn). Serve immediately and enjoy!