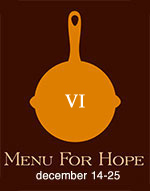 I'm very excited to be participating in the 6th annual Menu for Hope charity raffle this year! The event benefits the UN World Food Program, the world's largest food aid agency, working with over 1,000 other organizations in over 75 countries. Each December, food bloggers from all over the world join the campaign by offering a grand array of food-related items. You can buy $10 raffle tickets to bid on these items. At the end of the two-week campaign, the raffle tickets are drawn and the results announced on Chez Pim.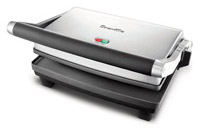 SIX Panini Presses Up for Bid!
In honor of it being Menu for Hope's 6th year, the lovely and generous folks at Breville USA have donated six Breville Panini Duo Presses to the raffle:
Features a brushed stainless-steel exterior, ridged nonstick grill plates and an adjustable-height top plate
A floating hinge allows you to grill sandwiches of different thickness at the same time
Each valued at US$69.95 – with 6 presses being offered, you'll have more chances to win one!
Bid item code

UW39

Shipping to U.S. and Canada only
To Donate and Enter the Menu for Hope Raffle
Here's what you need to do:
1. Choose a bid item or bid items of your choice from the Menu for Hope main bid item list.
2. Go to the donation site at Firstgiving and make a donation.
3. Please specify which bid item you'd like in the 'Personal Message' section in the donation form when confirming your donation. You must write-in how many tickets per bid item, and please use the bid item code.
Each $10 you donate will give you one raffle ticket toward a bid item of your choice. For example, a donation of $50 can be 2 tickets for EU01 and 3 tickets for EU02 – 2xEU01, 3xEU02.
4. If your company matches your charity donation, please check the box and fill in the information so Menu for Hope can claim the corporate match.
5. Please check the box to allow Menu for Hope to see your email address so that they can contact you in case you win. Your email address will not be shared with anyone.
Check back on Chez Pim on Monday, January 18 for the results of the raffle.
Thanks for your participation, and good luck in the raffle!