Many of you commented that the Roasted Garlic & Onion Jam was your favorite of the three spreads I featured last week. I really enjoyed that one too. It's so versatile – I've mainly been incorporating it into panini (no surprise) but it also goes well alongside roasts, tossed with pasta, mixed into frittatas…the list goes on.
Since this is a panini blog, you've got a grilled sandwich from me today. The sweet roasted garlic and onions were such a great match for the herb-roasted turkey breast and the saltiness of the Gruyère. If you haven't tried Ina Garten's Herb Roasted Turkey Breast recipe, it's incredibly easy and wonderfully flavorful! You could also use deli turkey instead, but I generally prefer the carved kind if I have the time to make it. To round out the meal, I also made some Creamy Broccoli Soup, the easy recipe for which is posted on my other blog, Cooking On the Side.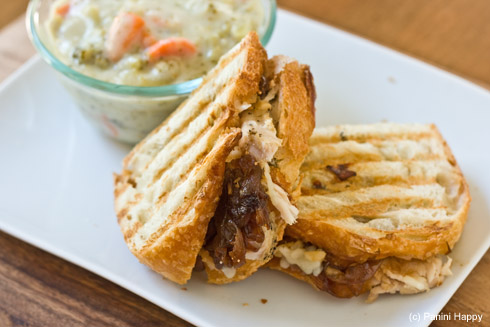 [print_this]
Turkey & Gruyère Panini with Roasted Garlic & Onion Jam
INGREDIENTS:
Sliced sourdough bread
Mayonnaise (better yet – Lemon Aioli)
Leftover roast turkey breast, carved (I highly recommend this recipe from Ina Garten)
Roasted Garlic & Onion Jam
Gruyère cheese, grated
DIRECTIONS:
Preheat the panini grill to 375°F.
For each sandwich: Spread mayonnaise or aioli on one slice of bread. Top with carved turkey slices, and a generous amount of Roasted Garlic & Onion Jam and cheese. Close the sandwich with a second slice of bread.
Grill for about 3 minutes until the cheese is melted and golden grill marks appear. Serve immediately and enjoy!
[/print_this]