Since I was so busy preparing spreads for Condiment Week last week and didn't have a chance to share any new panini recipes featuring them, that's what I'm doing this week. I must say, it's a real treat to try out new sandwiches when you have a bunch of homemade condiments on hand!
From the moment I tasted last week's Apple Chutney I knew I was going to have to try it with cheddar. Tart apples and tangy mustard are both such tried and true complements to cheddar. The combination was as amazing as I'd hoped. Now, I could eat grilled cheddar and sourdough grilled cheese sandwiches all day long on their own, but the addition of the apple chutney really takes things to the next level. It's sweet-tart-tangy-spicy-buttery-creamy all at the same time – talk about happy tastebuds!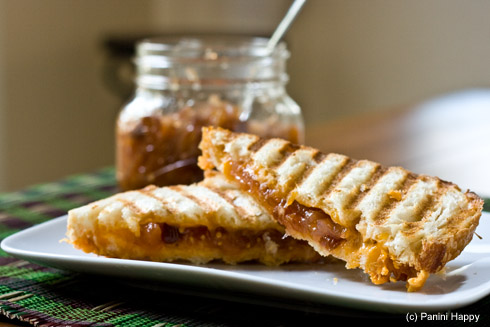 Grilled Cheddar with Apple Chutney
Serves 4
INGREDIENTS:
8 slices sourdough bread
8 slices sharp cheddar cheese
Apple chutney
DIRECTIONS:
Preheat the panini grill to medium-high heat.
For each sandwich: Place one slice of cheese on top of a slice of bread. Top with a few tablespoons of apple chutney. Place another slice of cheese on top of the chutney. Close the sandwich with another slice of bread.
Grill for about 3 minutes until the cheese is melted and golden grill marks appear. Serve immediately and enjoy!