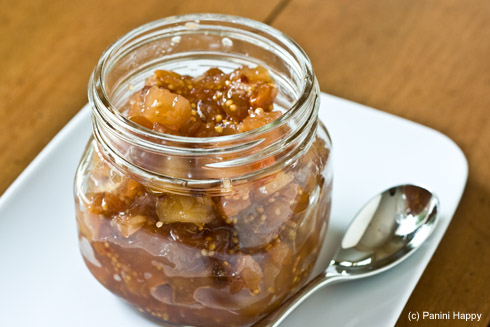 Me: By the way, apple chutney contains 10 cloves of garlic…
Husband: <grumble, grumble, zzzzzzzzzzzzzzzzzzz…>
Something about the architecture of our house seems to drive kitchen aromas straight upstairs to the bedrooms to linger for many hours after the meal is over. My husband is always a bit curious to see what I'm concocting on the stove to get a heads up on what his nose will be falling asleep to later in the evening. Last night's Apple Chutney definitely sent him to dreamland with a high degree of pungency. But in a good way!
Sweet heat is what this third and final Condiment Week recipe brings. Tart Granny Smith apples are slowly simmered in a sugar-vinegar solution along with the aforementioned 10 cloves of garlic, fresh ginger, red chili flakes, golden raisins and mustard seeds. The flavor is incredibly robust – and just begs to be nestled inside grilled cheddar cheese panini. I'm also thinking pork tenderloin or turkey breast would love a little kick from these apples with attitude.
I hope Condiment Week – featuring Roasted Garlic & Onion Jam, Lemon Aioli and today's Apple Chutney – has inspired you to dress up your panini and other sandwiches with some fun homemade spreads. We'll be back to grilling next week!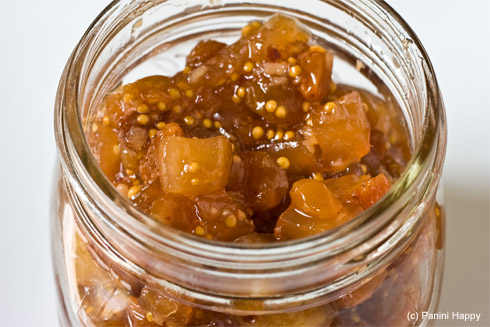 Apple Chutney
From Epicurious
Makes 3 cups
INGREDIENTS:
2 cups apple cider vinegar
2 cups sugar
1 1/2 pounds tart green apples (such as Granny Smith), peeled, cored, chopped into 1/2-inch pieces
3 tablespoons fresh lemon juice
10 large garlic cloves
1 2-ounce piece fresh ginger, peeled, coarsely chopped
1 1/2 teaspoons salt
1 teaspoon dried crushed red pepper
1 1/2 cups (packed) golden raisins
2 tablespoons yellow mustard seeds
DIRECTIONS:
Bring vinegar and sugar to boil in heavy large nonaluminum saucepan, stirring until sugar dissolves. Reduce heat and simmer 10 minutes. Remove from heat.
Toss apples and lemon juice in large bowl. Combine garlic, ginger, salt and red pepper in processor; blend until finely chopped. Add apple and garlic mixtures, raisins and mustard seeds to vinegar. Simmer until apples are tender and chutney thickens, stirring occasionally, about 45 minutes. Place in bowl. Cool. Cover; chill. (Can be made 1 week ahead. Keep chilled.)