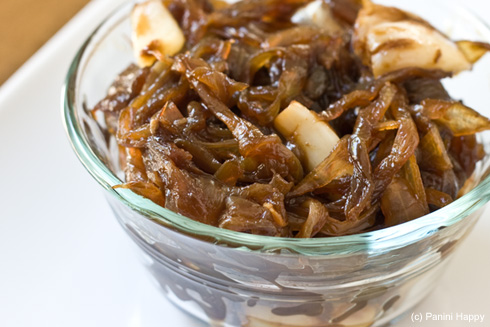 It's Condiment Week on Panini Happy!
There's nothing like bright, flavorful condiments to kick up panini, so I thought I'd step away from the grill this week and focus on these often unsung treats. I'll be making three different ones this week – first up is Roasted Garlic & Onion Jam.
It's no secret that I'm a huge fan of caramelized onions – I've used them again and again in past panini. Onion jam takes the concept to the next level – a bit more sugar, balsamic vinegar for a little acidity, and even longer cooking time. It's worth it, believe me. I never knew onions could be this (pleasingly) sweet. This particular recipe incorporates roasted garlic, which makes it even better!
You could easily substitute this jam in any panini recipe calling for caramelized onions (such as the Gruyere with Caramelized Onions Panini or French Dip Panini) – it'll add unbelievable sweet and savory flavor. I tried it on a simple turkey and Swiss sandwich just today for lunch and it was divine.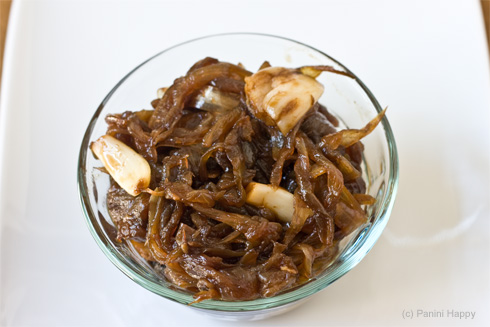 Roasted Garlic & Onion Jam
From a recipe that appeared on the Chow.com message boards
INGREDIENTS:
3 large sweet onions
2 heads garlic, roasted*
2 tablespoons sugar
2 tablespoons brown sugar
4 tablespoons balsamic vinegar
DIRECTIONS:
Squeeze roasted garlic cloves unto a small plate. Set aside. Cut onions in half lengthwise; peel. Cut off ends; cut lengthwise into 1/4-inch thick pieces.
Coat a 13″ skillet with cooking spray, and set over medium heat. Add onions, and cover. Cook, stirring occasionally, until softened and translucent, about 15 minutes.
Add sugars; re-cover. Cook, stirring occasionally, until onions are golden, 20 – 30 minutes.
Add 1/4 cup water and stir. Cover and cook until dark brown, 20 -30 minutes.
Add balsamic vinegar, roasted garlic cloves, and another 1/4 cup water. Continue cooking until liquid has been absorbed, about 10 minutes. Transfer to a bowl to cool. Store in an airtight container in the refrigerator for up to 1 week.
*See Elise's helpful guide to roasting garlic on Simply Recipes