Would you believe me if I told you this was among the most challenging panini I've posted thus far?
Before I explain why all the fuss, I'll first let you in on what you're looking at. We've got homemade peanut butter, homemade strawberry jam (my first jam ever!), and fresh banana grilled on sliced buttery brioche. Luxe all the way!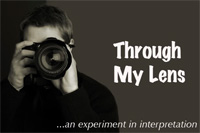 Through My Lens is a blog event that my friend Kristen (of Dine & Dish) recently launched in conjunction with her new food photography blog, Culinary Snapshot. This time around participating bloggers will be posting their best shots of peanut butter and jelly sandwiches. As someone who photographs sandwiches on a pretty regular basis, I thought this event would be right up my alley.

Ideally, a simple sandwich such as PB&J would be equally simple to photograph…but au contraire. We get excited about how PB&J is going to taste, but I'm afraid there's generally not a lot going on in the looks department.  My approach to making PB&J look appealing on camera was threefold – 1) use extra-special ingredients, like my own homemade peanut butter and jam and a brioche loaf requisitioned from my local bakery, 2) place emphasis on the "ooze factor" and 3) Photoshop, Photoshop, Photoshop.
For details on how I captured and edited these photos, be sure to check out the Through My Lens roundup, which will be posted on Culinary Snapshot on September 10.  In the meantime, enjoy the recipe below!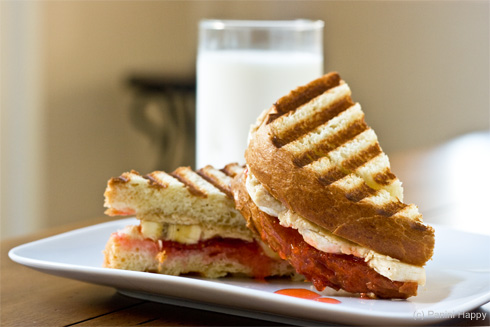 PB & J (and B!) Panini
INGREDIENTS:
Brioche loaf, sliced thickly (I called my bakery 24 hours in advance and they made one for me)
Homemade strawberry jam (see recipe on my other blog, Cooking On the Side)
Homemade peanut butter (see recipe below)
Sliced banana
DIRECTIONS:
Preheat the panini grill to medium-high heat (375°).
Spread jam inside one slice of bread. Top with banana slices. Spread peanut butter inside another slice of bread. Bring the two sides together to form a sandwich.
Grill 2-3 minutes until the bread is toasted (the brioche will brown rather quickly). Serve immediately and enjoy!
Homemade Peanut Butter
INGREDIENTS:
Adapted from Joy the Baker
1 1/2 cups roasted unsalted shelled peanuts
1 teaspoon honey
1/4 teaspoon salt
DIRECTIONS:
Place peanuts in the bowl of a food processor with blade. Make sure the lid is on tight and turn on the food processor. Nuts will transform from coarse to finely ground then begin to form a paste. Scrape the sides of the bowl as needed. Process until the peanuts resemble a thick, but mostly smooth, and shiny peanut butter, about 4 minutes.