As much as I enjoyed the summer, for some reason I couldn't be happier for the arrival of autumn. The seasons don't really change here in San Diego but the temperature does slip below 75°, the locals return to the tourist attractions without long lines and folks switch out their white shorts for khaki. It's how we know autumn is here.
I mostly look forward to autumn for the food. Pumpkin tops the list of foods I pretty much only eat at this time of year.  Pumpkin French Toast was a real hit in our house – homemade pumpkin yeast bread cut into fun pumpkin shapes, soaked in a spiced egg batter and grilled on the panini press (grill marks make them look even more like pumpkins, right?).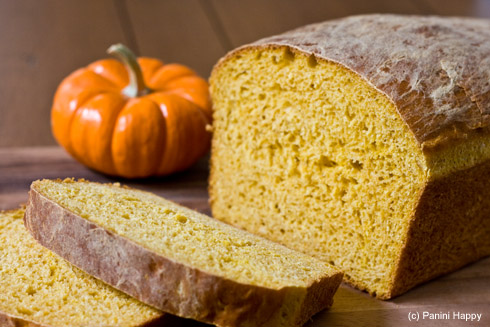 When I first came up with the idea to grill Pumpkin French Toast, I envisioned baking some kind of pumpkin yeast bread – the more orange in color the better. Fortunately, King Arthur Flour had such a recipe on its website. It was the perfect opportunity for me to re-enter the world of bread baking.
As you might recall, I'm taking part in the Bake Your Own Bread (BYOB) Challenge this year. Even though I haven't been baking as much of my own bread as I'd originally intended, I must say that participating in the challenge has helped me to conquer my fears in this area. I just followed the King Arthur recipe as closely as I could and – voilà – I had a lovely, gently spiced, deep-golden loaf that was going to make excellent French toast.
Between the cardamom and ginger in the pumpkin bread itself and the maple syrup, vanilla and pumpkin pie spice in the egg batter, this French toast was a real blast of autumn flavor. Of course, this didn't stop us from drizzling on a little more maple syrup when it came time to partake of this harvest.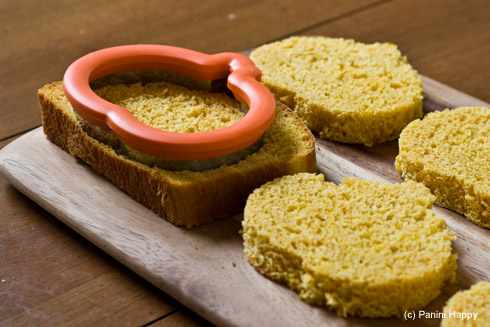 Pumpkin French Toast
Makes 6 slices
INGREDIENTS:
2/3 cup whole milk
4 eggs
2 tablespoons pure maple syrup
1 teaspoon vanilla
1/4 teaspoon pumpkin pie spice
1/4 teaspoon salt
6 slices Pumpkin Yeast Bread , 1/2″ to 3/4″ thick (optional: cut into pumpkin shapes)*
DIRECTIONS:
Preheat the panini grill to medium heat.
In a shallow bowl, whisk together milk, eggs, maple syrup, vanilla, pumpkin pie spice and salt. Dip bread slices into the egg batter until they're thoroughly saturated.
Place the bread slices onto the panini grill (depending on the size of your grill you may need to do this in batches) and close the lid so that it's touching the tops of the bread without pressing them. Grill 2-3 minutes until a crisp, golden crust has formed on both sides. Serve immediately with maple syrup.
* Ideally, bake the bread a day or two in advance – it will absorb the egg batter better if it has time to dry out a little bit.