When I'm at the hair salon, the conversation between my incredibly cool British stylist and me quite often turns to food. Sometime around the blow dry and flat-iron stage I usually extract one or two excellent recommendations from him of places to eat downtown. The best one so far has been the Turkey Cobb sandwich from a lovely bakery café called Con Pane, in Liberty Station (yes, it's featured in my sandwich guide!).
Roasted turkey, bacon, avocado, sweet roasted Roma tomatoes, just a sprinkling of Gorgonzola cheese and romaine lettuce on their airy, house-baked rosemary olive oil bread – Con Pane has created an absolute masterpiece with this one. For my grilled version, I waited until after the sandwich came off the grill to add in the romaine. That way I could have the toasted bread and melted Gorgonzola while still keeping the greens fresh and crisp. In celebration of the upcoming Fourth of July, I've dubbed these sandwiches Red, White & Blue Cheese Panini. 🙂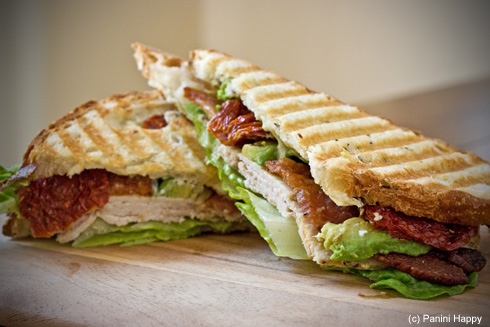 [print_this]
Red, White & Blue Cheese Panini
Inspired by the Turkey Cobb sandwich at Con Pane in San Diego, CA.
Prep time: 15 min | Cook time: 16 min | Total time: 31 min | Yield: 4 panini
INGREDIENTS:
8 slices

rosemary olive oil bread or sourdough bread

Mayonnaise, to taste

1/2 lb.

good quality turkey breast, sliced

8 slices

cooked bacon

1

avocado, thinly sliced

8-12

oil-packed sundried tomatoes, drained or oven roasted tomatoes

4 ounces

Gorgonzola cheese

Olive oil, for brushing

8 leaves

romaine lettuce
DIRECTIONS:
Preheat the panini grill to medium-high heat.
For each sandwich: Spread a thin layer of mayonnaise on one slice of bread. Add 3-4 slices of turkey, two slices of bacon, 1/4 of the avocado, 2-3 sundried or oven-roasted tomatoes and 1-2 tablespoons of Gorgonzola cheese. Close the sandwich with a second slice of bread. Brush a little olive oil on top.
Grill the sandwich for 3-4 minutes until the bread is toasted the cheese has softened.
Remove the sandwich from the grill, flip it over and carefully remove the bottom slice of bread. Add in two slices of romaine lettuce and replace the bottom slice of bread.
Turn the sandwich right-side up, slice it in half and serve immediately.
[/print_this]