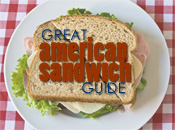 Welcome to Panini Happy's Great American Sandwich Guide ~ California! Here you'll find some of the best sandwiches in California, as recommended by Panini Happy readers and other local sandwich fans.
To learn more about this guide and browse sandwiches in other regions, return to the Main Guide.
Browse the best sandwiches in California by metro area:
Eureka | Los Angeles | Orange County | Sacramento | San Diego | San Francisco | San Jose | San Luis Obispo
A. Tri-Tip BBQ Sandwich @ Porter Street BBQ of Arcata
665 Samoa Boulevard, Arcata
"Probably my favorite sandwich place around. They BBQ their meats on a huge grill in front of the restaurant and you can smell it blocks away! I always get the tri-tip BBQ sandwich. The fresh tri-tip paired with their home made BBQ sauce is to die for, it's the only thing that I order." – Rachael
B. Meatball Sandwich @ Hole in the Wall
590 G St, Arcata
"I always order it on a fresh Brio (a local bakery) roll. Not only are their sandwiches delicious, but they're enormous too!" – Rachael
A. Charbroiled Pork Banh Mi @ Banh Mi My Tho
304 W Valley Boulevard, Alhambra
B. Cuban Sandwich @ Porto's Bakery
3614 W Magnolia Boulevard, Burbank
C. Pastrami Sandwich @ The Oinkster
2005 Colorado Boulevard, Eagle Rock
D. Salami sandwich @ Larchmont Village Wine
223 North Larchmont Boulevard, Los Angeles
E. Ice Cream Sandwich @ Diddy Riese
926 Broxton Avenue, Westwood
F. Pastrami Sandwich @ Langer's Delicatessen & Restaurant
704 South Alvarado Street, Los Angeles
"World's best pastrami, with Swiss cheese, Russian dressing, and cole slaw on unbelievably tasty rye. This sandwich has no equal!" – Christine
G. Ricotta Tartine @ Le Pain Quotidien
8607 Melrose Avenue, West Hollywood
"It's got this really minimalistic open-faced sandwich, with the freshest, riches ricotta cheese. Amazing." – Sophia
H. Highway 128 @ Mendocino Farms
300 South Grand Avenue, Lower Level Plaza, Los Angeles
"The goat cheese in there was generous, and the hazelnut bread actually had whole toasted hazelnuts in there! Humba-humba!" – Sophia
I. Sandwich au Brie @ Mr Marcel Pain Vin Et Fromage
6333 West 3rd Street, Los Angeles
"Toasty fresh-made baguette with slightly melted high quality French brie, tomatoes, and mixed greens. Mmmm. They only serve it at lunch." – Marissa
J. French Dip Sandwich @ Philippe the Original
1001 North Alameda Street, Los Angeles
K. The Godmother @ Bay Cities Italian Deli & Bakery
1517 Lincoln Boulevard, Santa Monica
L. Duck Confit Sandwich @ Artisan Cheese Gallery
12023 Ventura Boulevard Studio City
Duck Confit, Fig Jam, and Le Marechal Cheese (Unpasteurized Cow's Milk from Switzerland) on Ciabattina
Cheesy Mac & Rib Sandwich @ The Grilled Cheese Truck
Check the website for the week's locations
Macaroni and cheese with sharp cheddar, bbq pork, caramelized onions
A. Prime Angus Ribeye Sandwich @ Harry's Deli
17881 Sky Park Circle, Irvine
with grilled onions and peppers and housemade mayo
B. BBQ Pork Bánh Mì @ Banh Mi & Che Cali Bakery
15551 Brookhurst St, Westminster
C. Starving Artist Grilled Cheese @ The Crosby
400 North Broadway, Santa Ana
D. Arepas @ Mil Jugos Restaurant
318 W 5th St, Santa Ana
E. Bali Bliss @ The Veggie Grill
4213 Campus Dr, Irvine
Indonesian styled tempeh, sautéed and grilled, lettuce, tomato, red onion, chipotle ranch.
Yum Yum Lamb Sandwich @ The Lime Truck
Check website for daily location
A. Roast Beef, Cheese & Jalapeño Sandwich @ Nugget Markets
1414 East Covell Blvd., Davis
"Topped with a little spicy mayo, and it's amazing." – Karen
B. Warm Brie & Prosciutto Sandwich @ La Bonne Soupe Cafe
920 8th Street, Sacramento
C. Garlic Steak Sandwich @ Jamie's Bar & Grill
427 Broadway Street, Sacramento
D. Salmon Sandwich @ Cafe Rolle
5357 H Street, Sacramento
A. Grilled Chicken Club and Baja Chicken Sandwich @ Board & Brew
1212 Camino Del Mar, Del Mar
"[The Grilled Chicken Club] comes wrapped up in tin foil and stays nice and hot; perfect for a beach lunch or dinner. My sister and her college roommate used to drive down from LA to have it." – Joanna
"[Baja Chicken Sandwich] Has jalepenos…mmm… oh man… mouth. is. watering…" – Chelsea
B. Ba-Da-Bing! @ BMH Italian Deli
7670 El Cajon Boulevard, La Mesa
Turkey, ham, pastrami & provolone cheese
C. Spicy Tuna Sandwich @ The Rubicon Deli
3819 Mission Boulevard, San Diego
D. Turkey Cobb @ Con Pane Rustic Breads & Cafe
2750 Dewey Road (at Historic Decatur), San Diego
"Sliced turkey, bacon, blue cheese and roasted Roma tomatoes on rosemary olive oil bread. Even if you don't like blue cheese I'd urge you to still taste this sandwich – there's not much on it but wow does it turn up the flavor of the whole sandwich." – Kathy, Panini Happy
E. Cheesesteak @ Gaglione Brothers Famous Steaks & Subs
3944 W. Pt. Loma Boulevard, San Diego
F. Marinated Flank Steak Sandwich @ Tender Greens
2400 Historic Decatur Road, San Diego
On ciabatta with roasted red peppers and aioli
G. El Toro Sandwich @ Phil's BBQ
3750 Sports Arena Boulevard, San Diego
H. Torpasta @ Devine Pastabilities
3545 Midway Drive, San Diego
"a delicious Italian roll that is hollowed, perfectly toasted and stuffed with amazing Italian dishes"
A. Roasted Turkey Breast Sandwich @ Smart Alec's Intelligent Food
2355 Telegraph Avenue, Berkeley
"It was a big and fat sandwich, with juicy turkey, and the cranberry mayo was the star, of course. So creamy, rich, and tart and sweet at the same time!" – Sophia
B. Tri Tip Sandwich @ Brazil Fresh Squeeze Cafe
2161 University Ave, Berkeley
C. Lobster Roll @ Sam's Chowder House
4210 Cabrillo Highway North, Half Moon Bay
D. Fried Chicken Sandwich @ Bakesale Betty
5098 Telegraph Avenue, Oakland
"Perfectly crispy and flavorful with a big pile of yummy coleslaw. There's always a long line, but don't despair – they often bring around free chocolate chip cookies to help make the wait feel better!" – Sara
E. Porchetta Sandwich @ Roli Roti at the Ferry Building Farmer's Market
1 Ferry Building, San Francisco
F. Torta Cubano @ That's It Market
2699 Mission Street, San Francisco
G. Salami sandwich @ Molinari Delicatessen
373 Columbus Avenue, San Francisco
H. Jalapeno Popper Grilled Cheese @ The American Grilled Cheese Kitchen
1 S Park St, San Francisco
I. Fresh Mozzarella Sandwich @ Cheese Boutique
666 Chenery Street, San Francisco
"The French bread is baked daily at a bakery up the street. Be sure to pick up some baklava for dessert!" – Julie
J. Turkey Sandwich @ Tommy's Joynt
1101 Geary Boulevard, San Francisco
"Hand carved right before serving..nothing better than roasted turkey, hot on a sandwich!" – Kim
K. Lobster Roll (Sandwich) @ Woodhouse Fish Co.
1914 Fillmore Street, San Francisco
L. Prosciutto Cotto with Provolone & Whole Grain Mustard @ Boccalone Salumeria
One Ferry Building, San Francisco
"Another fun thing to do is to order their platter with a variety of meats, then head down to Cowgirl Creamery for your cheese and then Acme Bread for some sourdough and head outside to enjoy your lunch by the water!" – Mary
M. Grilled Cheese Sandwich @ Hog Island Oyster Co.
One Ferry Building, San Francisco
N. Porchetta Sandwich and Clover Farm Warm Egg Salad @ Il Cane Rosso
One Ferry Building, San Francisco
O. Roast Pork Banh Mi @ Saigon Sandwiches
560 Larkin Street, San Francisco
P. Manage a Trois @ Ike's Place
3506 16th Street, San Francisco
Halal chicken breast, honey, honey mustard, BBQ, PepperJack, Swiss, Smoked Gouda
Q. Slow Roasted Shoulder Porchetta @ barbacco
220 California Street, San Francisco
R. Corned Beef Sandwich @ The Sentinel
37 New Montgomery Street, San Francisco
Lemongrass Grilled Pork Banh Mi @ Little Green Cyclo
Check website for daily locations
"The bread is amazing and the food is delicious." – Julie
A. Spicy Turkey Sandwich @ California Sourdough
1150 Murphy Avenue, San Jose
B. Grilled Pork Sandwich @ Huong Lan Sandwich
1655 Tully Road, San Jose
C. Grilled Pork Sandwich @ Thanh Huong Restaurant
2050 North Capitol Avenue, San Jose
A. Tri Tip Sandwich @ Firestone Grill
1001 Higuera Street, San Luis Obispo
Don't see your favorite listed? Please feel free to nominate it in the comments. To learn more about this guide and browse sandwiches in other regions, return to the Main Guide.