It's probably a good thing that the fair only comes to town once a year. Yes, that's a "nurse" positioned at the ready with a defibrillator in the middle of this sign for "Deep Fried" and "Chocolate Covered" everything-you-can-think-of at the San Diego County Fair. And while I can't bring myself to actually consume Garlic Butter Bacon Fries or a Chocolate Covered Corn Dog with sprinkles (my apologies for even mentioning that one), I do have a kind of fascination with all of the outrageous fair foods that are served every year.
You can't talk about fair food without mentioning food-on-a-stick. But before I get to today's recipe for Grilled Fruit Skewers – a much healthier and refreshing food-on-a-stick than you'll typically find at the fair – I thought I'd share a few photo highlights (all taken with my iPhone) of the food I spotted at the San Diego County Fair this past weekend. Hold onto your stomachs!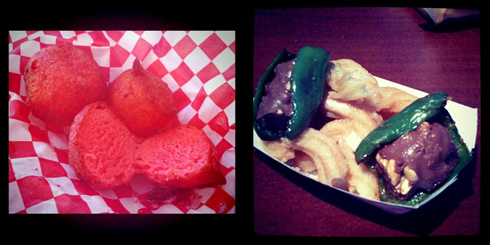 Deep Fried Kool-Aid. Baby Ruth-Stuffed Fried Jalapeños over Churros. Don't even allow the question of "Why?" enter your head. There is no good answer. After all the national hype, I just had to see what the Kool-Aid entailed, so I paid my $5.95 and waited in the line (yes, there was actually a line). I anticipated the Kool-Aid to have a liquid center but it was more like a doughnut hole engulfed in neon pink Kool-Aid powder. I'll be as polite as I can and say "it wasn't for me".
I had to entrust my fellow San Diego-based food blogger friend Leanne from Three Dog Kitchen to try the Baby Ruth jalapeños served over churros. Above is her photo that she posted to Twitter (and gave me permission to share here). Leanne's verdict: "Churros were good." I guess we'll leave it at that.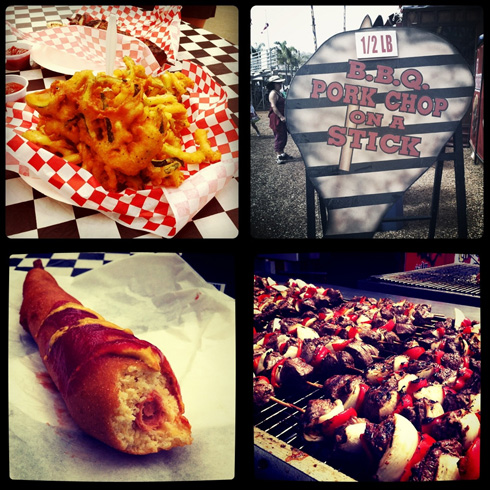 Over-the-top creations aside, the fair also offered many of the more traditional mainstays like fried zucchini curls, half-pound barbecued pork chops on a stick, beef kebabs and corn dogs. I'd estimate there was the equivalent of about 4-5 hunks of corn bread surrounding my footlong dog, that was pretty outrageous in itself. My in-laws ordered the zucchini curls – those were actually pretty good.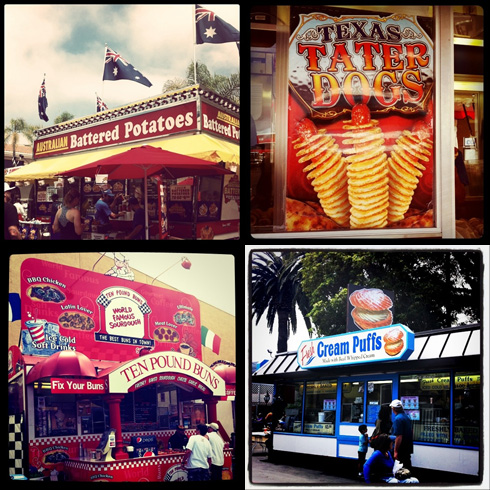 I wish I'd gone for one of those Tater Dogs instead of my corn dog. I'm really curious to know how that works, with the potato spiraling around the hot dog. Maybe next year. Those cream puffs on a stick were calling our name too, but we passed on those as well. If there ever was a situation where "window eating" was called for, this was it. 🙂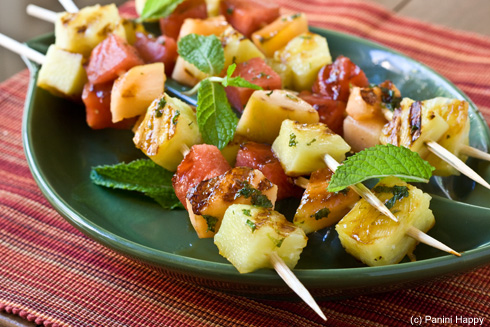 Now that we've all gained 10 pounds just looking at all of this over-the-top decadence, how about a light, bright , refreshing food-on-a-stick option? This Grilled Fruit Skewers recipe comes from On a Stick by Matt Armendariz of the food blog Matt Bites – a new cookbook full of fun party food recipes that are served on skewers and other stick-like objects.
When you prepare the fruit skewers on a panini grill, as I did, you can still get those nice, dark grill marks without having to flip the kebabs. The pineapple, cantaloupe and watermelon caramelizes on the grill, becoming extra sweet and is drizzled with a honey-mint syrup that tastes like summer.
Most of the recipes in this book are of a "comfort" nature, like Bacon-Wrapped Shrimp, Fish and Chips (yes, on a stick!) and Frozen Elvis bananas, and would be delicious conversation pieces to make for any party or potluck. But after browsing my fair food photos, in this very moment I'm sure you're feeling like fruit is the way to go right now too. 🙂
Get Grillin' with Family Fresh Cooking and Cookin' Canuck, sponsored by Ile de France Cheese, Rösle, Emile Henry, Rouxbe and ManPans.
[print_this]
Grilled Fruit Skewers
Adapted for the panini grill from the Grilled Fruit Skewers recipe in On a Stick, by Matt Armendariz.
Prep time: 25 min | Cook time: 30 min | Total time: 55 min
Yield: 4 servings
INGREDIENTS:
Honey-Mint Syrup:
1/2 cup

sugar

1/4 cup

honey

1 cup

mint, minced

2 tablespoon

lime zest
Skewers:
1

pineapple, peeled, cored and cut into 1-inch chunks

1/2

small seedless watermelon, peeled and cut into 1-inch chunks

1/2

small cantaloupe, peeled, seeded and cut into 1-inch chunks

Salt to taste

8

bamboo skewers
DIRECTIONS:
Make the honey-mint syrup:
In a small saucepan over medium-high heat, bring the sugar, honey and 1/2 cup water to a boil. Stir occasionally, until sugar dissolves.
Remove the syrup from the heat and let it cool slightly. Stir in the mint and lime zest.
Make the skewers:
Preheat the panini grill to medium-high heat.
Thread the fruit onto the skewers and sprinkle with salt.
Grill the skewers in batches for 3 to 4 minutes each. Remove them from the grill and drizzle with honey-mint syrup before serving.
[/print_this]