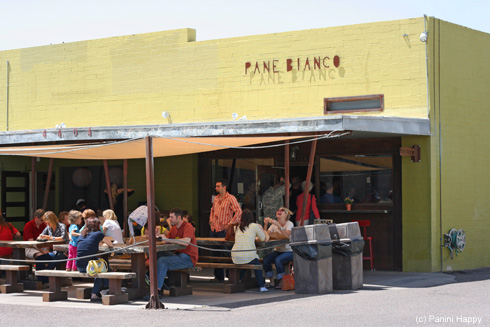 The best part about compiling Panini Happy's Great American Sandwich Guide is that I now have a checklist of more than 200 excellent sandwiches to try as I travel throughout the country. My family and I drove out to Arizona back in April and you can be sure that we stopped in to review one of the state's most well-known sandwich shops: Pane Bianco.
A sunbleached, nondescript cement building on a fairly busy Phoenix street houses the outpost where Chris Bianco (the James Beard award winner from Pizzeria Bianco, "the best pizza in America") delivers a menu of just three sandwiches plus a daily special. At 11:30 AM on a weekday, Pane Bianco is full but they've got the ordering process down to a brisk system: you stand in line to order, step aside and wait till your name is called to pay, then hang for a while again to receive your food. A set of communal picnic tables are positioned just outside the doors, shielded from the desert sun by a large canopy.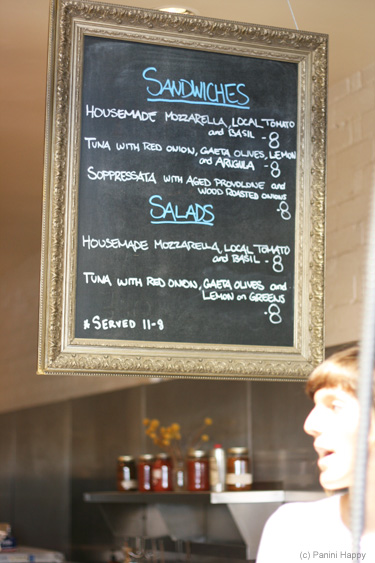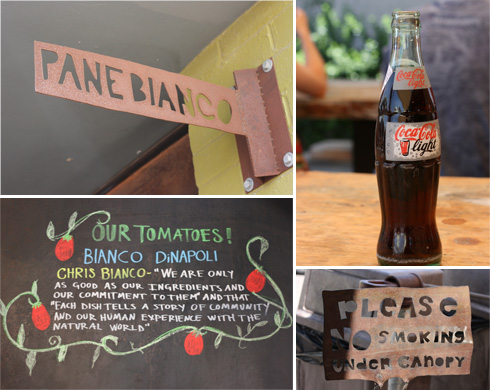 "We are only as good as our ingredients and our commitment to them…" reads a chalkboard sign adjacent to the counter inside. That, in a nutshell, is what Pane Bianco is all about: superbly high-quality ingredients. The bread? Baked right in front of you in a wood-burning hearth. The mozzarella? Housemade as well. The tomatoes? Local. The Coca-Cola? Mexican. It just doesn't get better than this.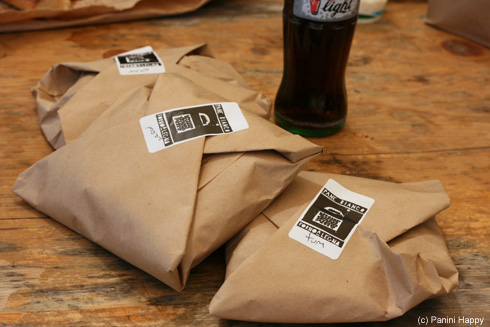 We had dined at Pizzeria Bianco (braving the 3-hour wait!) on our last trip to Phoenix so our expectations for its Pane Bianco sibling were quite high. But knowing about all the top-notch ingredients that were going into these sandwiches, it was certainly no surprise that some pretty fabulous results came out.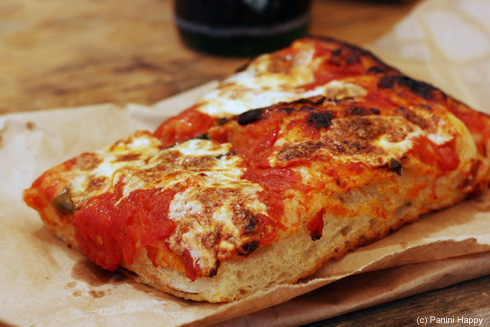 Despite the fact that we'd ordered all four sandwiches on the menu, we couldn't pass up the chance to sample the fresh mozzarella focaccia on special that day. The housemade mozzarella and sweet tomatoes were wonderful, but I just couldn't get enough of that perfectly spongy bread. You just can't replicate something like this at home – that wood-burning oven does some magnificent stuff with these simple, fresh ingredients.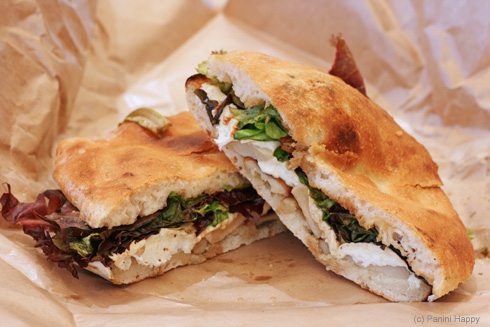 The "market sandwich" that day featured smoked mozzarella, meaty mushrooms and local greens. I'm not much of a mushroom fan but I loved these – they were incredibly flavorful. The true taste of smoke filled the smoked mozzarella, unlike the "smoke flavor" I often encounter in commercially-made cheese.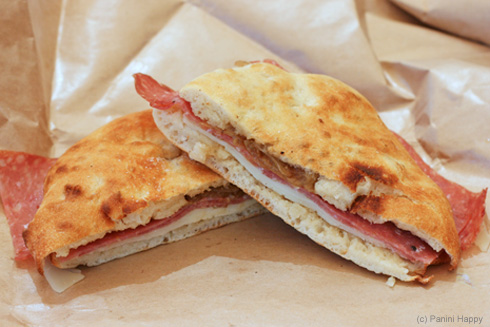 The soppressata with aged provolone and wood-roasted onions was my personal favorite. That provolone…the aging just makes the flavors so pronounced. I'd never had anything like it. And, of course, sweet roasted onions are the perfect accompaniment for just about anything.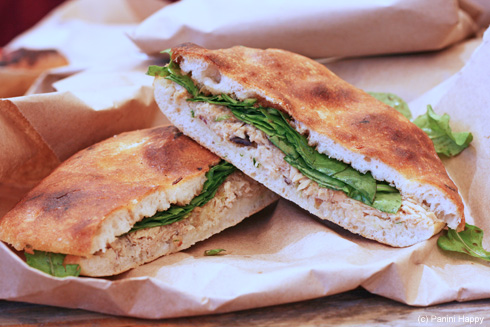 If I had a least favorite, it was probably the tuna with red onion, Gaeta olives, lemon and arugula sandwich. The tuna was a bit dry for my taste. I also missed the wonderful cheese that the others had.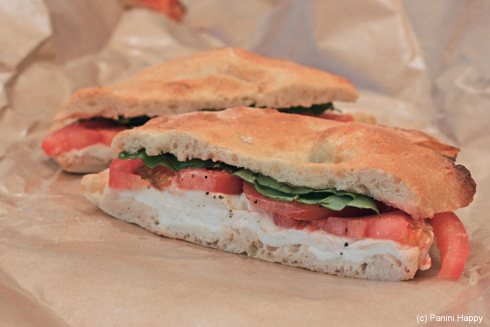 The tomato, mozzarella and basil is a tried-and-true classic. This is the Pane Bianco sandwich that's listed in my Great American Sandwich Guide – it's the fresh-flavored favorite at its finest.
Chris Bianco is committed to quality ingredients and it shows. It's how a simple menu comprised of simple ingredients can be extraordinary. If you're in the Phoenix area, treat yourself to a sandwich (or four) at Pane Bianco and taste how it's supposed to be done.

Pane Bianco
4404 North Central Avenue # A
Phoenix, AZ 85012
(602) 234-2100