I love the Panini Happy family. It's not just me in my home office typing on a computer. There are a whole bunch of you out there who are grilling along with me, suggesting new combinations and bringing up interesting ideas and opportunities. Today's Bacon Breakfast Burritos recipe was inspired by one reader's comment…and it's featured as a guest post for another reader.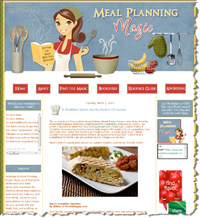 My guest post for these burritos is over on Meal Planning Magic, a blog written by a longtime Panini Happy reader, Brenda. She launched a Breakfast Challenge for the month of March in an effort to "stop boring breakfasts" and encourage folks to exchange fun breakfast options. When Brenda invited me to create a breakfast recipe for the panini grill I recalled a recent comment from Andrew Davis in which he mentioned that he wanted to try making my Ham, Eggs & Cheddar Breakfast Crepes recipe with tortillas. I realized that I've never grilled a burrito on this blog. I've done a wrap and a quesadilla before, so it wouldn't be that much of a stretch. Plus I always appreciate it when taquerias give the burritos a little toast on the flat top before serving. In my breakfast version I cook bacon in a skillet, sauté potatoes, onions and peppers and scramble eggs in some of the leftover bacon grease, roll it up with cheddar cheese inside a flour tortilla and grill the whole thing for those crispy, golden grill marks. With a little salsa and sour cream on the side, this is definitely a breakfast my family looks forward to. 🙂
Check out my guest post on Meal Planning Magic – many thanks, Brenda and Andrew!