Last Saturday night a very rare event occurred – one that had eluded us for more than a year. My husband and I went out for dinner. By ourselves.
While our two little kiddies were home entertaining our fabulous, brand shiny new babysitter, we treated ourselves to a nice dinner at one of our favorite local restaurants, Savory. Like most parents who are ecstatic to finally have time alone, we spent most of it talking about the kids. We reminisced about the darndest things our daughter has said and the milestones our infant son has recently conquered (he's smiling quite a bit now, by the way!). Still, it was such a pleasure to finally take those few hours out of the house to enjoy a great meal and catch up like old times.
Valentine's Day was the next day and I wanted to have another special dinner, this time at home. After coming across a guest post on Simply Recipes last week on how to make an Easy Duck Confit I decided to recreate a goat cheese salad with duck confit I once ate at The 3rd Corner Wine Shop & Bistro up the road in Encinitas. True to its name, the duck was incredibly easy – took just a few hours rather than a whole day – and resulted in fall-off-the-bone tender meat and wonderfully crispy skin. To make the salad extra special I panko-breaded and fried the goat cheese and added in some fresh strawberries. The combination is sweet and salty, crunchy and tangy – just amazing.
As we were devouring the salad we realized that the components would translate really well into panini. My husband practically insisted that I make this one! A boon to those of you without a panini grill – this one actually works best if you don't grill it.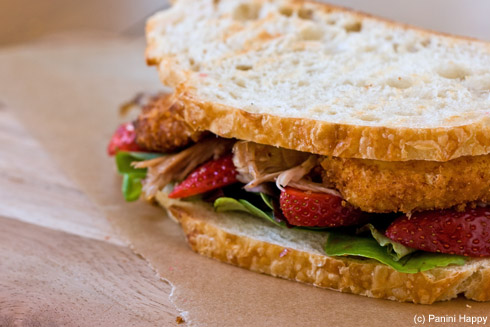 Duck Confit, Strawberries & Fried Goat Cheese Panini
Serves 4
INGREDIENTS:
4 duck legs confit, meat removed from the bone (see the incredibly easy recipe on Simply Recipes)
3 tablespoons olive oil
1/4 cup panko breadcrumbs
1/4 cup plain breadcrumbs
Salt and pepper
1/4 cup flour
1 egg, beaten
5 oz. goat cheese log, sliced into 1/8″ medallions*
8 slices artisan white bread (I used sourdough)
Mixed baby greens
Raspberry vinaigrette (bottled or make your own)
Strawberries, sliced
DIRECTIONS:
Fry the goat cheese: In a small skillet heat olive oil over medium heat. Combine the panko and plain breadcrumbs in a small bowl and season with salt and pepper. Place the flour and beaten egg each in their own separate small bowls. Dredge each goat cheese medallion first in flour, then in egg and lastly in the breadcrumbs. Carefully place the cheese into the hot oil (be sure not to overcrowd the skillet – work in batches if necessary). Brown the cheese on each side and drain on a paper towel.
To assemble each sandwich: Toast the bread slices in a toaster, toaster oven or panini grill. Toss the baby greens with raspberry vinaigrette (as much or as little as you like) and place a good amount of greens on one slice of bread. Layer strawberry slices on top of the greens. Add the meat from one duck leg and two to three fried goat cheese medallions. Close the sandwich with a second slice of bread. Slice in half, serve immediately and enjoy!
* TIP: Use a piece of unflavored dental floss to make clean slices with the goat cheese.