For those of use whose culinary affinities lean strongly toward the…um… "comfort" variety, the month of January can make us feel a little conflicted.  Weight-loss companies urge us to make a New Year's resolution to go on a diet and to eat healthier but what we like to eat most isn't usually what one might call "diet friendly".  Lifestyle magazines show fit everyday Joes holding out the waistbands of their former enormous pants. A verklempt Valerie Bertinelli checks in to see if we've "called Jenny yet?"  Even the Food Network airs the Paula Deen episodes where she holds back on the butter (heavens, Miss Paula!) and bakes with Splenda.  I kind of feel like the world is trying to tell us something?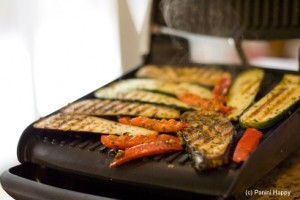 All right, I hear you world.  I don't like what you're saying but I understand where you're coming from.  Maybe it wouldn't be the worst thing in the world to integrate some healthier eating into my diet in the New Year.  I guess I can't call those last nagging 10 lbs. "baby weight" if I had them before I was pregnant.  And my daughter's over a year old now.  Sigh.
So rather than make one of my usual comfort fare panini recipes this time around (don't worry, they'll be back!), I used my panini press to grill up a lighter wrap.  My Mediterranean Vegetable Grilled Wrap gets a ton of flavor from eggplant, zucchini and red bell peppers that have been marinated in herbs and garlic, a sprinkling of salty feta cheese and some zesty hummus, all rolled up and grilled inside a whole wheat tortilla.  Still comforting, but with less guilt.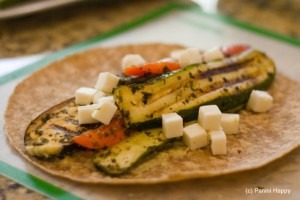 My sister, who's visiting this week, and I agree – the wrap is a keeper.  The marinated vegetables take just 4 minutes to grill on the panini press and are incredibly flavorful.  My kitchen seriously smelled like a pizza parlor with all the garlic and oregano!  With the texture of the hummus adding an element of "creaminess" inside the wrap, you really don't miss having a lot of cheese.  Feta has a pretty strong flavor, so a little goes a long way anyway.  I was incredibly pleased that the whole thing held together well during the grilling – a little dab of hummus provided an excellent seal.
I'll "return to my normal programming" soon enough, but in the meantime do give this one a try!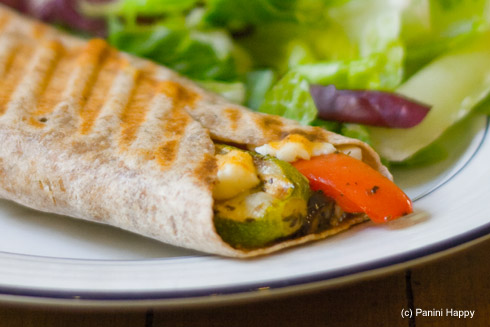 [print_this]
Mediterranean Vegetable Grilled Wrap
Serves 4
INGREDIENTS:
2 tablespoons olive oil, plus a few teaspoons for brushing
1 tablespoon dried parsley
1 tablespoon dried oregano
1 tablespoon dried basil
1 tablespoon balsamic vinegar
1 teaspoon kosher salt
1/2 teaspoon black pepper
6 cloves garlic, minced
2 Italian or Japanese eggplants, sliced lengthwise 1/4″ thick
2 small zucchini, sliced lengthwise 1/4″ thick
1 red bell pepper, sliced into 1/2″ strips
4 whole wheat tortillas
7 oz. hummus
4 oz. feta, crumbled
DIRECTIONS:
In a large, resealable plastic bag, combine the olive oil, parsley, oregano, basil, vinegar, salt, pepper and garlic. Place the eggplant, zucchini and red bell peppers into the bag. Seal and marinate for 1-2 hours in the refrigerator.
Preheat the panini grill to medium-high heat (375 degrees).
Grill the vegetables for 3-4 minutes until tender and grill marks appear. You will probably need to grill in batches, depending on the size of your grill. Turn off the grill and carefully clean the grates.
Reheat the panini grill to medium-high heat (375 degrees).
Microwave the tortillas on High for about 15 seconds (place a paper towel between each one so they don't stick together) to make them easier to fold.  Spread about a tablespoon of hummus down the center of each tortilla.  Divide the grilled vegetables and feta crumbles evenly among the tortillas.  Fold in the sides of the tortillas, dabbing a small amount of hummus where the edges meet to seal.  Brush olive oil over the top of the wraps (this will help it to crisp and make grill marks) and place two at a time onto the grill.
Grill for about 4 minutes until the tortillas are toasted, the cheese is melted and grill marks appear.  Serve immediately and enjoy!
[/print_this]