I don't know why I didn't try this sooner!
Do you follow Bakerella and her ridiculously cute cake pops? Her creativity is truly boundless, I always look forward to see what cuteness is coming up next. It was her venture into pie pops earlier this month that sparked an idea in my head – if you can bake little pies on sticks, why not little sandwiches?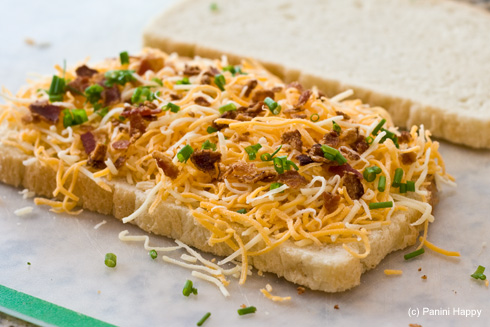 These were incredibly simple to make. The main concern is ensuring enough "adhesive" (a.k.a., cheese) to hold the bread and lollipop sticks all in place. I went with a shredded Mexican blend because I knew it would melt well without becoming too goopy. Crumbled bacon and chopped chives added flavor without disrupting the stickiness factor.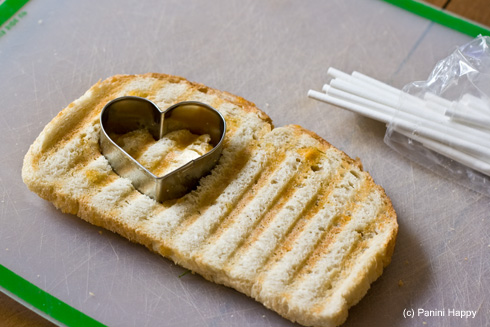 I opted to grill the sandwiches first and then cut out the shapes while they were still hot – the edges stayed nice and clean and the cheese was still melty enough to grip the sticks. I got two cutouts per sandwich, so there were plenty of leftover ends for my toddler ("More!" "More!" "Samwich!") and I to devour. The only issue was that the cookie cutter got really hot really fast, so if you're planning to try this as an activity with kids I'd highly recommend only using cutters with handles.
This was fun! Next time I'll have to figure out how to add on some little faces…this could turn into a whole new level of panini "happiness". 🙂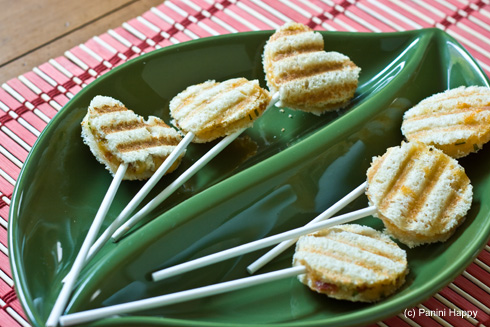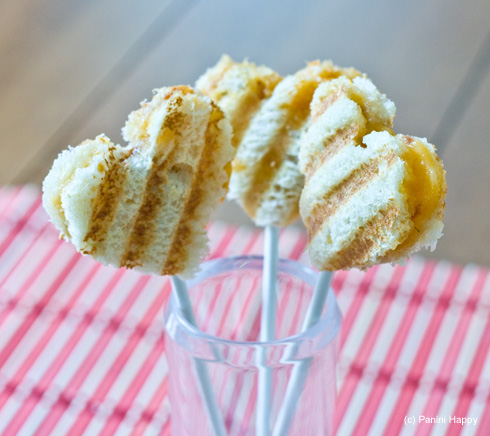 [print_this]
Panini Pops
Prep time: 15 minutes | Cook time: 8 minutes | Total time: 23 minutes
Yield: 8 pops
INGREDIENTS:
4 tablespoons

butter, room temperature

8 slices

rustic white bread, sliced from a dense bakery loaf

1/2 pound

semi-firm cheese (e.g., cheddar, Colby or Swiss), shredded

1/4 cup

finely crumbled or minced mix-ins (e.g., bacon, herbs, peppers), optional

8

lollipop sticks

2-inch cookie cutters
DIRECTIONS:
Heat the panini maker to medium-high heat.
Combine the cheese and your mix-ins in a medium bowl.
Prepare four sandwiches to cut into pops. For each sandwich: Spread butter on two slices of bread to flavor the outside of the sandwich. Flip over one slice and top the other side with a generous amount of cheese to ensure there will be enough to hold the lollipop sticks in place (plus any mix-ins you might be using). Close the sandwich with the other slice of bread, buttered side up.
Grill the panini, two at a time, until the cheese is melted and the bread is toasted, 3 to 4 minutes.
Transfer the panini to a cutting board and immediately cut out shapes with cookie cutters (NOTE: If you're using a metal cutter it will get HOT very quickly, so take care not to burn your fingers) and insert the lollipop sticks. You'll want to get the sticks in there as soon as possible, while the cheese is still hot and soft. Once the cheese cools for a minute or two it should firm up and hold the sticks in place.
* Depending on the cookie cutter shape you use you may wind up with lots of grilled cheese scraps while making these pops. You can either just eat them or perhaps you'll turn them into grilled cheese croutons – see my recipes for Grilled Tomato Soup with Grilled Cheese Croutons and Grilled Cheese Panzanella Salad.
[/print_this]