I'm not sure what sparked my husband's idea for Chicken Cordon Bleu-inspired panini this weekend but it was absolutely brilliant. Crispy panko-crusted chicken breast, layered with smoked ham, Swiss cheese and a sweet-and-tangy honey mustard sauce, grilled on French bread? Yes, please!
It sure has been a long time since I last had Chicken Cordon Bleu. It's kind of one of those classics you don't really see on restaurant menus too often anymore but a lot of people still make it at home. I have a scary hunch that my most recent one might have been a microwaved airplane version, smothered in a white sauce. Sadly, even that was kind of good. When that smoky flavor from the ham works its way into the chicken and the cheese gets all melty inside – well, the dish is almost always a winner in my book.
The components of Chicken Cordon Bleu lend themselves perfectly to panini – I should have made these a long time ago. Add a fresh salad and you've got a relatively quick and easy weeknight dinner!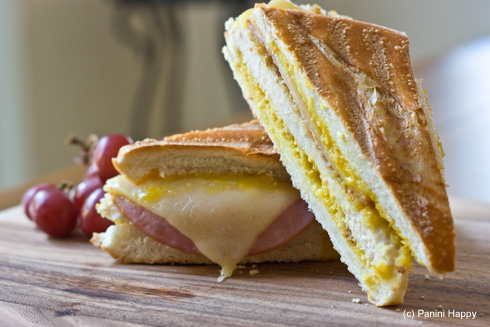 Chicken Cordon Bleu Panini
The honey mustard sauce is from the Aussie Chicken recipe on AllRecipes.com
Serves 4
INGREDIENTS:
1 tablespoon olive oil
1 tablespoon butter
1/2 cup flour
1 egg, beaten
1 cup panko bread crumbs
4 boneless, skinless thin-cut chicken breasts
Salt and pepper
1/4 cup prepared yellow mustard
1/4 cup honey
2 tablespoons light corn syrup
2 tablespoons mayonnaise
1 1/2 teaspoon dried onion flakes
1 loaf French bread, cut cross-wise into 4 ~5″ pieces
4 slices smoked, fully-cooked ham
4 slices Swiss cheese
DIRECTIONS:
Heat the olive oil and butter in a large sauté pan over medium-high heat. Set up a dredging station for the chicken by placing the flour, egg and panko bread crumbs each in separate shallow dishes. Season the chicken with salt and pepper and dredge each piece in the flour, egg and bread crumbs. Place the breaded chicken into the pan and sauté for about 4 minutes per side until cooked thoroughly. Transfer the chicken to a cutting board and set aside.
In a small bowl, whisk together mustard, honey, corn syrup, mayonnaise and dried onion flakes. Set aside (or refrigerate if not using immediately).
Preheat the panini grill to medium-high heat (375°).
For each sandwich: Half the bread lengthwise. Spread honey mustard sauce inside both halves. On the bottom half, layer a chicken breast, a slice of ham and a slice of cheese. Close the sandwich.
Grill panini for 3-4 minutes until the cheese is melted. Serve immediately and enjoy!