Summer is usually a time when I relax a bit but things couldn't be busier around here! In between wrapping up
my cookbook manuscript
, shuttling my two little kids around to their camps and swim lessons and judging two dessert competitions at the San Diego County Fair (ok, that wasn't so difficult) I also managed to put
two
TV cooking demos under my belt within the past week! I told you about
my first-ever live TV cooking demo
on the CW in my last post – this time around I had the opportunity to work with
Tillamook
on a promotional spot that aired on ABC in San Diego (see the video below).
I watch the video and I can't stop thinking to myself, "I spent two hours at Nordstrom shopping for an outfit and I didn't remember to wear the jacket!" Bare arms aside, it was an incredible experience. Tillamook was promoting their
Picnic Photo Contest
, so all four dishes I presented were picnic-worthy:
Grilled Cheese Panzanella Salad
(you can find the recipe at the end of this post!),
Grilled Pineapple-Pepper Jack Bites
(I've shared the recipe on Tillamook's blog),
Grilled Ratatouille Panini
(that's the one we made in the video) and
Homemade Ice Cream Cones
(one of my most popular posts on Panini Happy).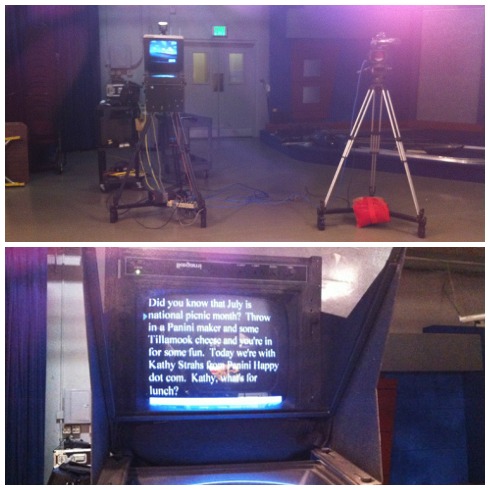 Here's a little behind-the-scenes look. In contrast to the
San Diego Living
segment, which aired live outside with a single handheld camera (and an airplane flying overhead!) this advertising piece was filmed inside the studio with two fixed cameras and was pre-recorded. I imagined that a recorded segment would be far easier than a live one, but it was actually much more challenging to get everything timed just right.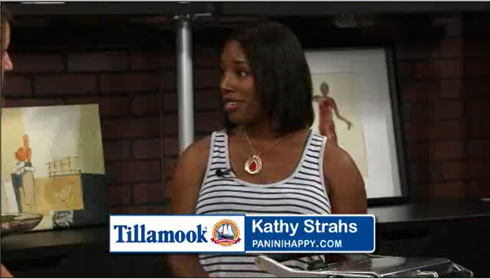 I had practiced being able to talk and assemble the sandwich at the same time, but I actually ended up guiding the segment host, Autumn, to make the sandwich. I think she especially appreciated the part at the end of the piece where she got to sample the ice cream cone. 🙂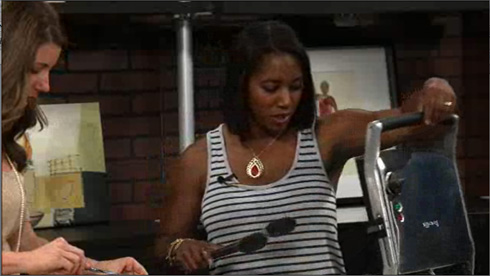 Last, but certainly not least, I want to tell you about my
Grilled Cheese Panzanella Salad
. As I explained in the video, it's a fun twist on the
classic Italian summer panzanella salad
. In place of the traditional panzanella croutons I've made some mini grilled cheese croutons (just like I did with my
Grilled Tomato Soup with Grilled Cheese Croutons
). If you want to keep things Italian you can use mozzarella cheese or, to have them look more like typical grilled cheese sandwiches, you could go with a cheddar like I did for Tillamook. You just toss them in with ripe tomatoes, red onions and basil in a light vinaigrette – a fresh and summery salad and sandwich all in one. 🙂
[print_this]
Grilled Cheese Panzanella Salad
Prep time: 20 minutes | Cook time: 4 minutes | Total time: 24 minutes
Yield: About 4 servings
INGREDIENTS:
Grilled Cheese Croutons:
4 slices

day-old sourdough or other rustic white bread

2 ounces

shredded mozzarella or other semi-firm cheese
Salad:
1 pound

medium tomatoes

1/2

small red onion, sliced thinly

1/4 cup

torn fresh basil
White Balsamic Vinaigrette:
3 tablespoons

white balsamic vinegar

2 teaspoons

chopped shallots

1/2 teaspoon

Dijon mustard

1/2 teaspoon

coarse salt

1/4 teaspoon

black pepper

1/2 cup

extra virgin olive oil
DIRECTIONS:
Preheat the panini maker to medium high heat.
Divide the cheese between two slices of bread. Close each sandwich with a second slice of bread.
Grill both panini until the cheese is melted and bread is toasted, 3 to 4 minutes. Transfer the panini from the grill to a cutting board. Trim the crusts from the panini and cut up each sandwich into 1-inch square pieces.
In a medium bowl, whisk together the vinegar, shallots, mustard, salt and pepper until the salt is dissolved. Gradually whisk in the olive oil.
Cut up the tomatoes into bite-sized chunks.
Add the tomatoes to a large salad bowl, along with the sliced onions, torn basil and grilled cheese croutons.
Toss the salad with enough of the dressing to moisten the croutons without drenching them. Allow the flavors to meld together at room temperature for 30 minutes before serving the salad.
You can keep any extra white balsamic vinaigrette in the refrigerator for up to a week. Allow the dressing to come to room temperature and give it a good stir before using it next.
[/print_this]