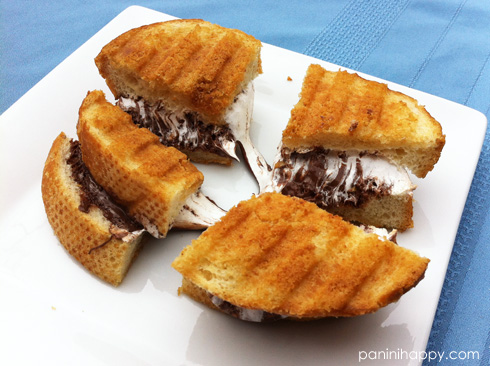 Today marks something of a milestone in my food career…my first live TV cooking demo! A last minute spot opened up on a local show so I decided to give it a shot. Other than my necklace being tucked inside the neckline of my dress (next time I will remember to bring a mirror!) things went rather smoothly and it actually turned out to be a fun experience.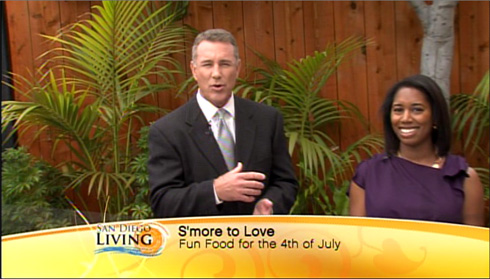 I showed up at the station lugging three bags full of food, cutting boards, cooking utensils and, of course, a grill. Having the chance to chat with some of the other show guests in the green room calmed my nerves a bit. Before I knew it, it was time to set up for my demo.
With it being the 4th of July and all the producer suggested a s'mores theme. Of course, my thing is the panini maker so I came up with an idea for Nutella S'mores Panini. Think classic s'mores meets the fluffernutter: Nutella and marshmallow cream on the inside, crunchy graham cracker crust on the outside. It's oozy and over-the-top s'mores in sandwich form. I had to test these out after my kids had gone to bed because they definitely would be clamoring for them!
 [print_this]
Nutella S'mores Panini
Prep time: 7 minutes | Cook time: 8 minutes | Total time: 15 minutes
Yield: 4 panini
INGREDIENTS:
4 tablespoons

unsalted butter, room temperature

1/4 cup

graham cracker crumbs

1 tablespoon

sugar

8 slices

rustic white bread

1/2 cup

Nutella or other chocolate hazelnut spread

1/2 cup

marshmallow cream
DIRECTIONS:
Heat the panini maker according to the manufacturer's directions.
In a small bowl, mix together the butter, graham crackers and sugar until they're well combined.
For each sandwich: Spread a thin layer of graham cracker butter on top of two slices of bread. Flip over both slices of bread. Spread a few tablespoons of Nutella on one slice and a few tablespoons of marshmallow cream on the other. Close the sandwich, butter side up.
Grill the panini, two at a time, until the crust is crisped and golden and the marshmallow cream has melted, 3 to 4 minutes.
Alternatively, if you don't have a panini maker, you can always grill these sandwiches in a regular skillet for a few minutes on each side.
[/print_this]