We've got teeny tiny grilled cheese sandwiches floating in our soup today! And a Panini Press giveaway sponsored by Sargento!
I was first captivated by the idea of grilled cheese croutons on Pinterest and could not wait to make some of my own. Grilled cheese and tomato soup was my all-time favorite "special" lunch growing up (and probably still is today). It was a back-to-school lunch that I didn't actually eat at school, as it was a challenge to keep a sandwich warm during the school day and forget about trying to wrangle a hot soup in a Thermos. It was a special treat for the weekends.
Now that my own kids are starting school this week (well, preschool, but they're excited) I'm looking forward to continuing the grilled cheese and tomato soup weekend tradition. For my Grilled Tomato Soup, I first grilled the tomatoes and onions on the panini press to help bring out their sweetness. I've made this soup a number of times now – including for a group of San Diego food bloggers – and everyone has loved it. I made my Grilled Cheese Croutons with Sargento Colby-Jack cheese on sourdough bread with some fresh herb butter on the outside to make them extra-crisp and savory.
Read on for my Grilled Tomato Soup with Grilled Cheese Croutons recipe and a chance to win a Breville Panini Press (like the one I use!), sponsored by Sargento.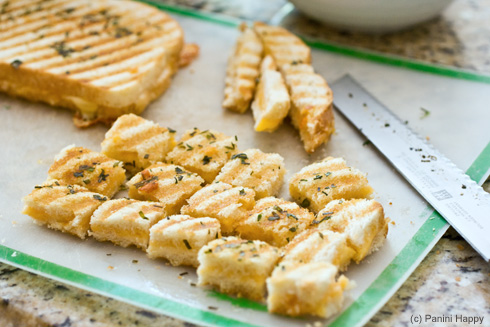 I just think these grilled cheese croutons are so cute. Obviously, they're nothing more than a grilled cheese sandwich that's been cut into small squares. Even though I grew up loving the yellow American slices, today I'm much more of a "natural cheese" kind of girl so the Sargento slices fit the bill. We all love to eat grilled cheese sandwiches with tomato soup…why not put them in the soup? My little kids thought these squares were pretty fun.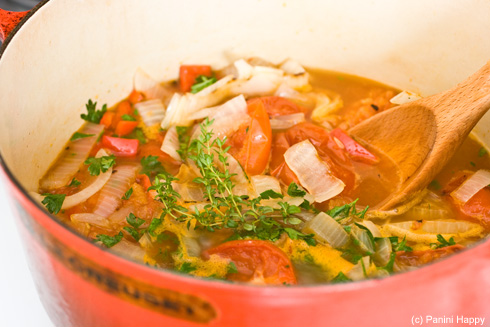 Everyone has their preferences when it comes to tomato soup. For me, it's all about bright, fresh flavors – but I keep basil and oregano out of the mix to keep it from tasting like marinara. Instead, I go for red bell peppers, fresh parsley and thyme and a tiny bit of red pepper flakes for that lingering heat that makes you want another spoonful. Some people like to strain their soup so it's perfectly smooth, but I like to keep the purée rustic and a little bit chunky.
* * *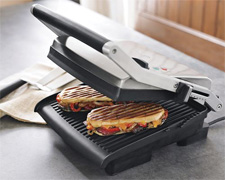 Win a Breville Panini Press! [THE GIVEAWAY IS NOW CLOSED]
Thanks to the folks at Sargento, we've got a fabulous panini press giveaway today. This Breville Panini Press ($119.95 value) is similar to the one I've been using since I started this blog nearly 4 years ago. In addition, Sargento will also send the winner coupons to sample their cheese.
Here are five ways to enter, you can do any or all of them (please leave separate comments for each entry):

The giveaway will close on Monday, September 12, 2011 at noon PDT. [THE GIVEAWAY IS NOW CLOSED] I will use random.org to select one winner to receive the Breville Panini Press and Sargento coupons and announce the winner in this post. Due to shipping costs, the prize can only be shipped to U.S. addresses.
**UPDATE 9/14/11: Congratulations to our winner – #190, Mrs. Mordecai!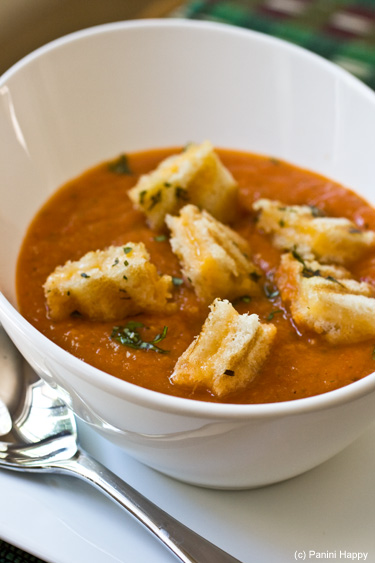 [print_this]
Grilled Tomato Soup with Grilled Cheese Croutons
Prep time: 50 minutes | Cook time: 45 minutes | Total time: 1 hour 35 minutes
Yield: 4 servings
INGREDIENTS:
For the soup:
2 pounds

tomatoes, halved

1-2 cups

vegetable broth

3 tablespoons

extra virgin olive oil, divided

Salt and black pepper

1

medium yellow onion

1

red bell pepper, chopped

3

garlic cloves, minced

1/4 teaspoon

crushed red pepper flakes

1 teaspoon

granulated sugar

2 tablespoons

chopped fresh parsley

1 sprig

fresh thyme
For the grilled cheese croutons:
2 tablespoons

butter, softened

1 teaspoon

chopped fresh basil*

1/2 teaspoon

chopped fresh chives*

1/2 teaspoon

chopped fresh thyme*

4 slices

sourdough bread

6 slices

Sargento Colby-Jack cheese, or other semi-firm cheese
* The herbs are optional, but they do add great flavor if you have them on hand.
DIRECTIONS:
Prepare the soup:
Preheat the panini grill to high heat.
Scoop out the pulp and seeds from the tomato halves into a small bowl. Place a strainer over a liquid measuring cup; pour the pulp and seeds through the strainer to collect tomato juice. Add enough vegetable broth to the measuring cup to bring the total amount of liquid to 2 cups. Set aside.
Drizzle the cut sides of the tomato halves with 1 tablespoon of olive oil and season with sea salt and black pepper. Adjust your grill so that it is at a slight tilt (not completely flat), with drip tray in place to collect the juices that will run off. In batches, place the tomatoes, cut side down, on the grill. Close the lid, making light contact with the tomatoes without pressing them. Grill the tomatoes for 8-10 minutes until the outer skins are wrinkly and the tomatoes are soft.
Slice the onion into 1/2-inch thick rounds (do not separate the rings). Drizzle the onions with 1 tablespoon of olive oil and season with salt and pepper. Place the onions on the grill. Close the lid, making light contact with the tomatoes without pressing them. Grill the onions for 4-6 minutes until they are tender.
Transfer the onions to a cutting board, let them cool a bit and give them a rough chop.
Heat the remaining 1 tablespoon of olive oil in a dutch oven or large saucepan over medium heat. Add the red bell pepper and stir for 4 to 5 minutes until it begins to soften. Add in the garlic and red pepper flakes and cook for another minute. Stir in the grilled tomatoes, onions, sugar, parsley, thyme sprig and vegetable stock mixture. Bring the soup to a boil, reduce the heat and simmer uncovered for 40 minutes.
Purée the soup either with an immersion blender or, in batches, in a blender or food processor. Season with salt and pepper to taste. Serve hot with grilled cheese croutons.
Prepare the grilled cheese croutons:
Preheat the panini grill to medium-high heat.
Mix the butter and herbs together in a small bowl. Spread herb butter on each slice of bread. Turn two of the bread slices over; add three slices of cheese to each slice of bread. Close each sandwich with another slice of bread, buttered side up.
Grill the panini for 3 to 4 minutes until the cheese is melted and bread is toasted. Transfer the panini from the grill to a cutting board. Trim the crusts from the panini and cut up each sandwich into 1-inch square pieces.
[/print_this]